Cruise in Style With a BMW Jacket for the Modern Man and Woman
Are you looking for a way to show off your BMW pride? Look no further than our review of the best BMW jackets! Whether you're a brand fan or just looking for a stylish and comfortable jacket, you'll find something perfect for you on our list.
BMW jackets are high-quality apparel products licensed and designed by the renowned automobile manufacturer BMW and designed with Puma. These jackets are popular among fans of the BMW brand, offering a blend of style, comfort, and function. They often feature the BMW logo and may include other brand-specific details.
Besides fashion items, many BMW jackets are designed with practicality, offering features like insulation for warmth, waterproof materials for weather resistance, and pockets for convenience.
How Mechanicaddicts Chooses the BMW Jacket
At Mechanicaddicts, our selection process for the best BMW jacket involves several in-depth steps. We start by researching popular demand and vetting various jackets based on their quality, durability, material, and comfort levels.
User reviews and ratings are crucial in our selection, offering firsthand product performance information. Finally, the jacket's design and aesthetic appeal are considered, ensuring it fits the stylish image of BMW. We aim to offer a BMW jacket that meets your needs and exceeds your expectations.
---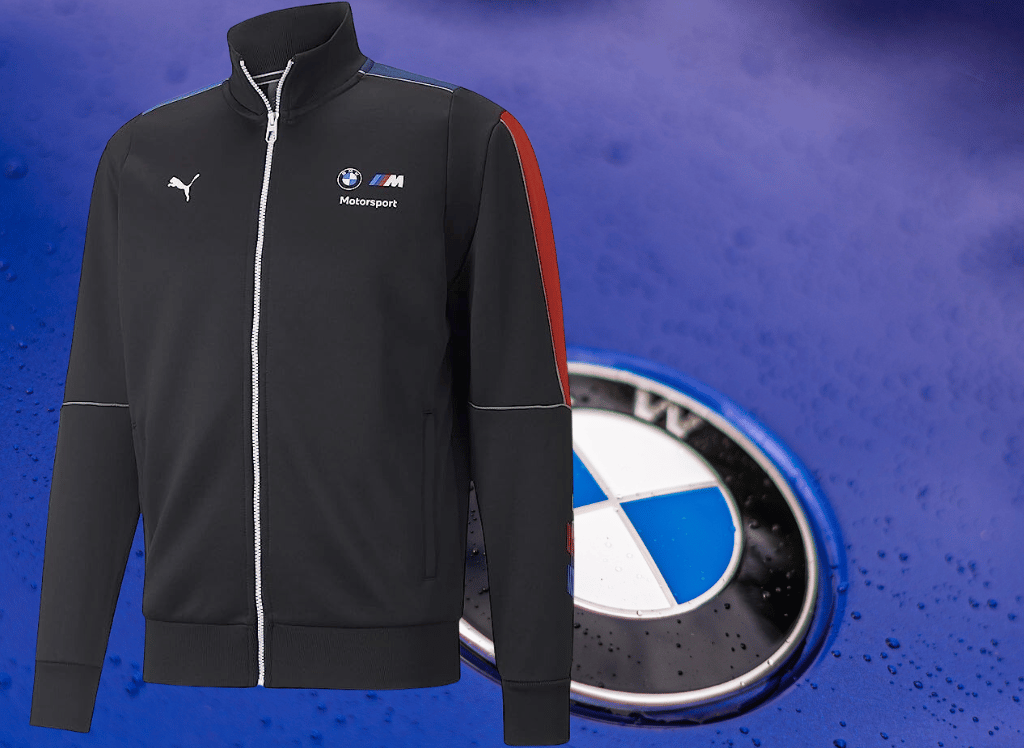 PUMA Men's Standard BMW M Motorsport T7 Full-Zip Jacket
Check Price
Why We Love It
Experience the perfect blend of style and comfort with the PUMA Men's Standard BMW M Motorsport T7 Full-Zip Jacket. Crafted from 66% Polyester and 34% Cotton sourced from the Better Cotton Initiative, this imported jacket delivers durability and breathability.
The full-zip closure with a stand-up collar adds a layer of sophistication to your attire, while the regular fit with dropped shoulders ensures a comfortable, relaxed feel. When( the matter of quality) is a concern, these jackets pass the test and are ready for action.
The ribbed collar, cuffs, and hem provide a snug fit, ensuring you stay warm. The jacket also features zip pockets for convenient storage, and the chevron cut lines offer a stylish finishing touch—red stripping on the left sleeve and blue upper stripping around the shoulder area. With the convenience of a machine wash, this jacket is fashionable and easy to maintain. Elevate your fashion game with this versatile jacket.
Size:
---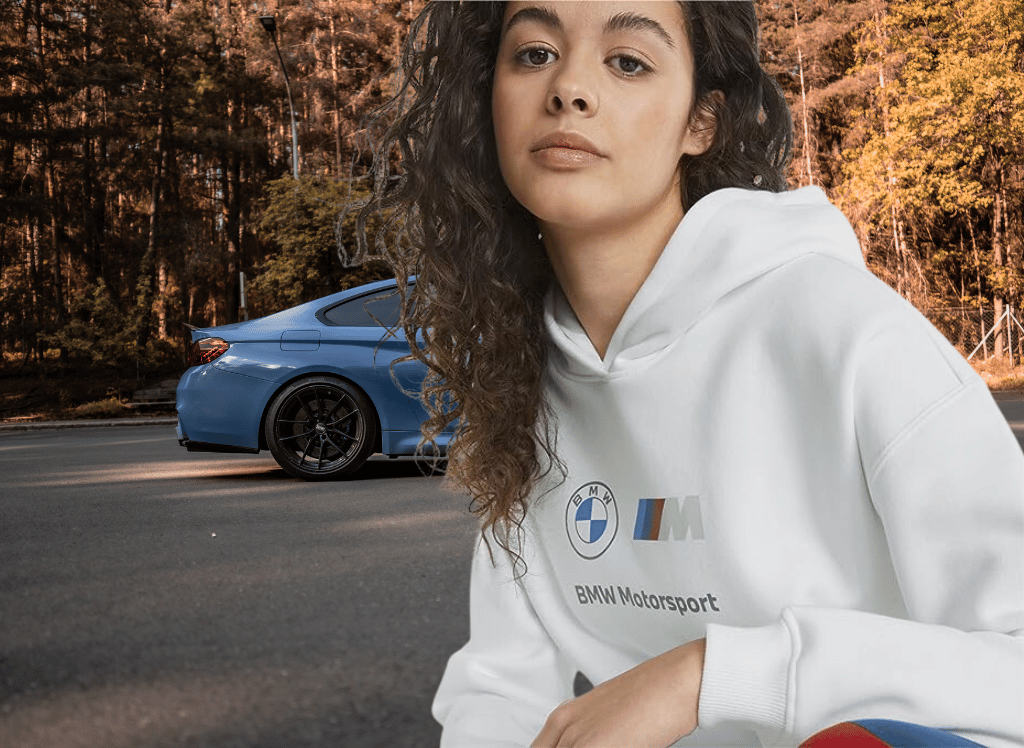 PUMA Women's BMW M Motorsport Essentials Logo Hoodie
Check Price
Why We Love It
PUMA Women's BMW M Motorsport Essentials Logo Hoodie is a sustainable product crafted with a unique blend of 66% cotton and 34% polyester. Imported with care, it's designed for effortless pull-on closure, ensuring uncomplicated wear. This product is machine washable, offering you the convenience of easy maintenance.
The relaxed fit is designed to provide maximum comfort and a laid-back style. We proudly produce it with recycled fibers, embracing our commitment to environmental responsibility. The ribbed cuffs and waistband add a touch of class to its aesthetic, making it a versatile piece in your wardrobe. A true blend of style, comfort, and sustainability, it's more than just an item of clothing—it's a lifestyle choice.
Size:
X-Small
Small
Medium
Large
X-Large
---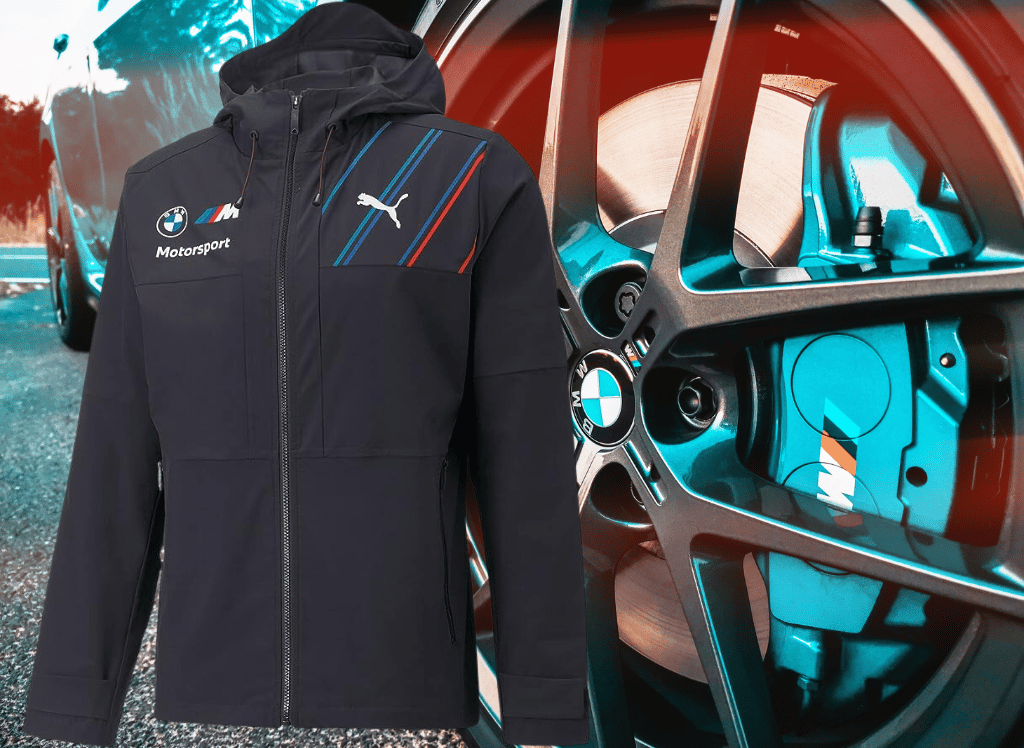 BMW Motorsports 2022 Men's Team Lightweight Rain Jacket
Check Price
Why We Love It
Experience the perfect blend of style, comfort, light design, and eco-consciousness with the BMW Motorsports 2022 Men's Team Lightweight Rain Jacket. This meticulously designed piece, composed of 48% Polyester, 38% Recycled Polyester, and 14% Elastane, demonstrates our commitment to quality and sustainability.
The imported jacket features a secure and convenient zipper closure and water-repellent material, guaranteeing a snug fit for any weather. It is effortless to maintain with its machine-wash compatibility, adding practicality to your day-to-day life. This jacket showcases the prestigious BMW Motorsports team logos on the chest and back, allowing you to wear your support with pride.
The iconic M-Stripes detail on the shoulder insert enhances the overall aesthetic, and the side zip pockets provide a practical solution for carrying essentials. The adjustable cuffs ensure a tailored fit, offering both comfort and functionality. This BMW Motorsports rain jacket is not just a piece of clothing; it's an expression of passion for motorsports.
Size:
---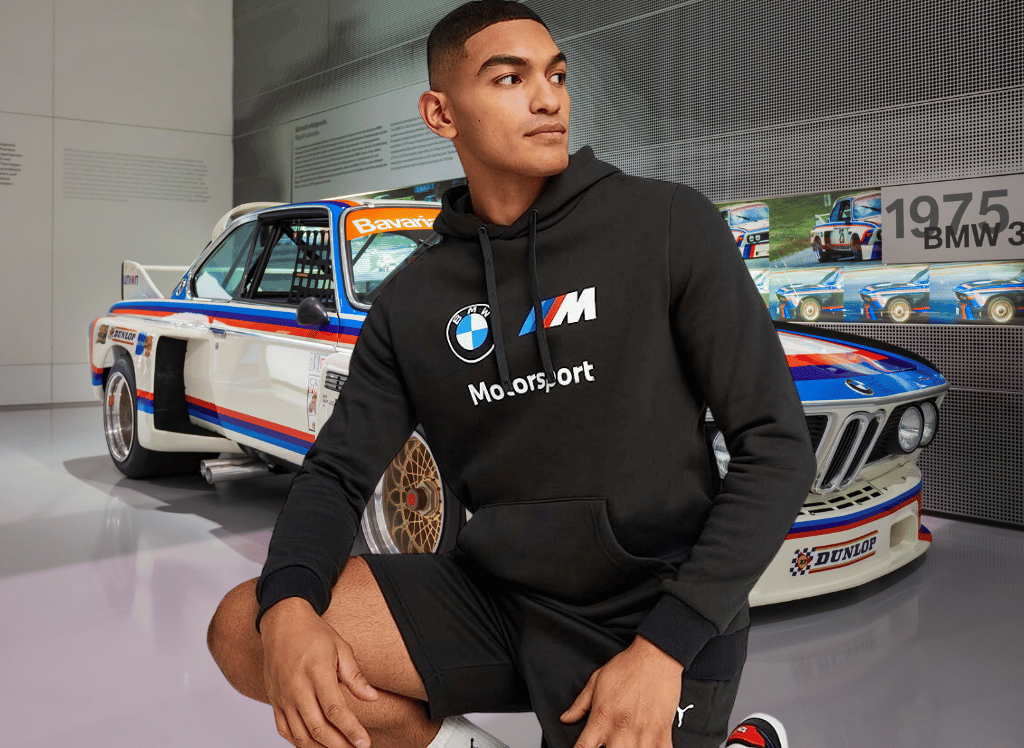 PUMA Men's Standard BMW M Motorsport Essentials Fleece Hoodie
Check Price
Why We Love It
Experience the perfect blend of comfort and style with the PUMA Men's Standard BMW M Motorsport Essentials Fleece Hoodie. Crafted from a superior blend of 66% cotton and 34% recycled polyester, this imported hoodie is designed to ensure all-day comfort.
Its functional design boasts a pull-on closure for easy wear and machine wash compatibility for uncomplicated care. In line with PUMA's commitment to a sustainable future, the hoodie is made with more sustainable cotton, reducing our environmental impact.
Its regular fit and warm, comfortable design, made from soft and cozy fleece, make it a must-have addition to any wardrobe. For added functionality, the jersey-lined hood features a drawcord for adjustability, while the kangaroo pocket offers convenient storage for small items. The eye-catching design, featuring an iconic bold BMW propeller and Motorsport print on the chest, ensures you make a style statement.
Size:
XX-Small
X-Small
Small
Medium
Large
X-Large
XX-Large
3X-Large
---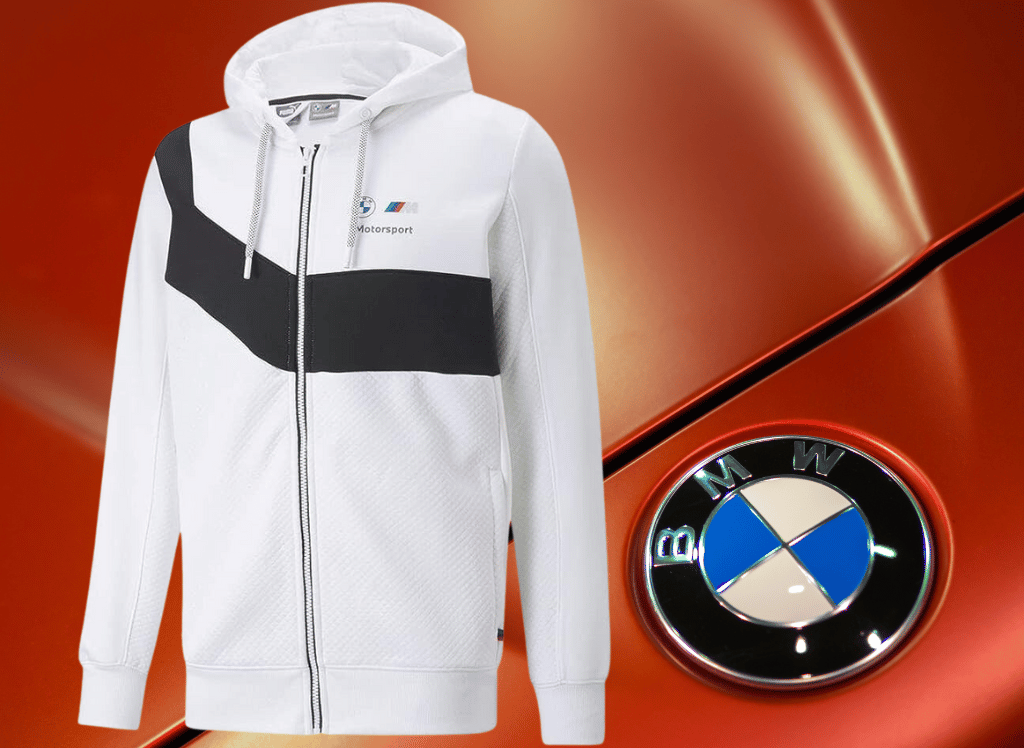 PUMA Mens Bmw Mms Sweat Jacket Coats Jackets Outerwear
Check Price
Why We Love It
The PUMA Mens BMW MMS Sweat Jacket uniquely blends style, comfort, and durability. This outerwear is designed with 100% cotton on the outer layer, providing a comfortable and breathable experience for the wearer. The jacket is proudly made in the USA, ensuring the highest quality standards.
With a convenient full zip closure, it offers easy wearability. Its double-face jacquard fabric is designed with a wicking finish and a drawstring making it perfect for all weather conditions. This jacket with long sleeves proudly showcases BMW M Motorsport branding on the left chest, making it a must-have for brand enthusiasts.
Integrating 77% cotton and 23% polyester, this jacket combines comfort with durability to offer a long-lasting wardrobe addition. Hand-washing this jacket is recommended only to maintain its quality and longevity.
Size:
Small
Medium
Large
X-Large
XX-Large
---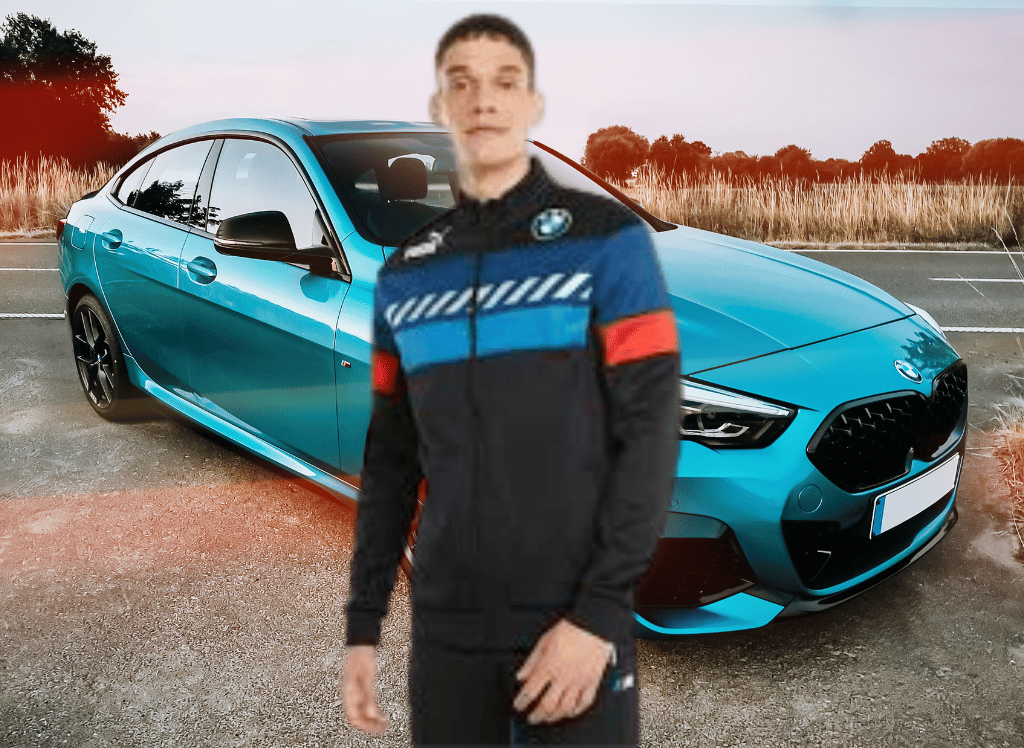 BMW Jackets FAQs:
1. What Materials Are BMW Jackets Typically Made Of?
BMW jackets are typically made from high-quality, durable materials such as leather, polyester, or nylon. These materials are chosen for their ability to withstand wear and tear and provide comfort and protection in various weather conditions.
2. Are BMW Jackets Suitable for Motorcycle Riding?
Yes, some BMW jackets are designed not only for style but also for functionality. They are well-suited for motorcycle riding, with features like removable padding and weatherproof materials.
3. Do BMW Jackets Come In Different Sizes?
BMW jackets come in various sizes to cater to different body types. You can typically find sizes from small to extra-large, with some models available in plus sizes for men and women.
4. Where Can I Buy an Authentic BMW Jacket?
Authentic BMW jackets are on sale and can be purchased from BMW's official dealer online store, authorized BMW dealerships, and select high-end clothing retailers. Contact and request the number of items you would like, and then add them to your cart for your next favorite thing.
5. Are There Specific Care Instructions for BMW Jackets?
Yes, care instructions may vary based on the material of the jacket. Most BMW jackets come with detailed care instructions on the label. Following these instructions is crucial to maintain the jacket's quality and preserve its lifespan.
Final Thoughts About BMW Jackets
In conclusion, BMW jackets are more than just a fashion statement - they embody the spirit of freedom, adventure, and the sheer joy of driving intrinsic to the BMW brand.
Crafted with unmatched attention to detail and a commitment to quality, these jackets offer superior comfort and protection against the elements and serve as an emblem of your love for the iconic brand.
Be it on the road or off, in a BMW car or out. These jackets ensure that you carry the BMW legacy with you. Don't just wear a coat; wear a statement, wear your passion - with BMW.
Thank you for reading!
Your friend,
Todd
Are you looking for the best products? We've got you covered! Our editors independently selected each item on this list. Mechanicaddicts may collect a share of sales or other compensation (at no cost to you) from links found within these pages if they choose to buy something (that's how we stay in business); as an Amazon Associate, we earn from qualifying purchases. Reviews have been edited for length and clarity; enjoy finding your next favorite thing today.