Complete Your Soldering Repairs with a Butane Torch Kit
Are you looking for a tool to help you with all your soldering and wiring repairs? Then it's time to get a butane torch! We've rounded up the best butane torches for all your wiring and soldering needs!
Butane torches use combustible fuel to produce a hotter, more powerful flame than an ordinary lighter. Butane torches are used for various purposes, such as soldering, cooking, and sterilizing surfaces. The construction of butane torches typically consists of a long handle with a trigger at one end and a nozzle at the other.
How Mechanicaddicts Chooses the Butane Torch
Mechanicaddicts is adamant about providing the right tools for automotive repairs, and a butane torch is no exception. When searching for the best butane torch, we choose models made with durable materials and safety features, such as an adjustable blue flame, to ensure proper use.
The flame's size and the heat's intensity can be easily adjusted, depending on the type of work that needs to be done. Our team considers user reviews, price points, and other features, such as versatility, to determine which butane torch is best for our customers.
Ultimately, Mechanicaddicts wants to ensure our customers have the best tools for all their automotive repairs. Therefore, we strive to provide a wide selection of butane torches that are reliable and safe to use.
---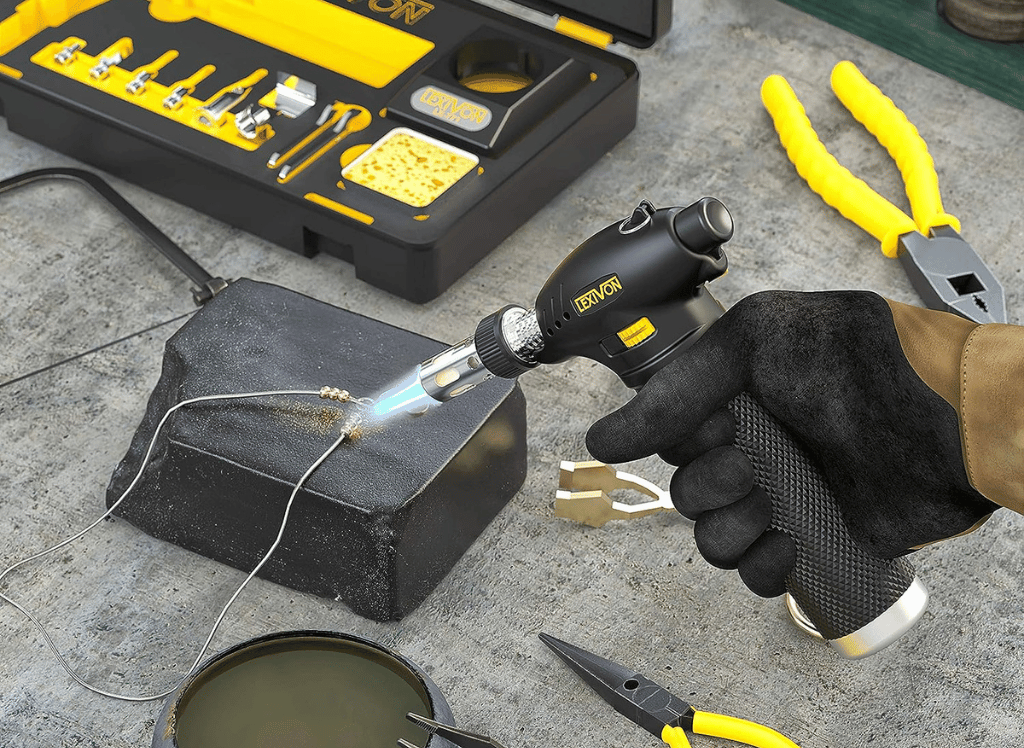 LEXIVON Butane Torch Multi-Function Kit
Check Price
Why We Like This Butane Torch
Introducing the LEXIVON Butane Torch Multi-Function Kit - your go-to tool for crafting and creating various projects. Taking control into your own hands, this 12-piece set's adjustable flame and heat up to 2400° F will ensure you get precisely the desired effect.
Get ready to impress yourself with what you can create using the power of fire! Whether burning wood or soldering metal, this butane-powered kit will surely become a must-have in your DIY arsenal. Let your masterpieces unfold with LEXIVON!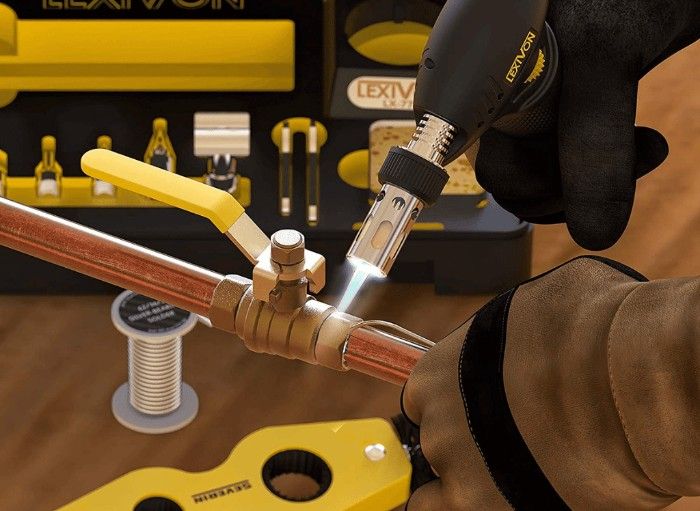 Things to Know
The LEXIVON Butane Torch Multi-Function Kit is perfect for any DIY job. Featuring a 100% metal refillable fuel tank that lasts longer than standard plastic tubes, this torch offers an impressive 2 hours of run time and can be refilled in as little as 15 seconds.
Additionally, it features a convenient hands-free flame lock-on so you can stay on task without interruption. Whether you're a professional or a hobbyist, this butane soldering torch will meet your needs.
About This Product:
Brand: LEXIVON
Power Source: Butane
Wattage: 125 watts
Included Components: Butane Torch Multi-Function Kit
Style: Gun
---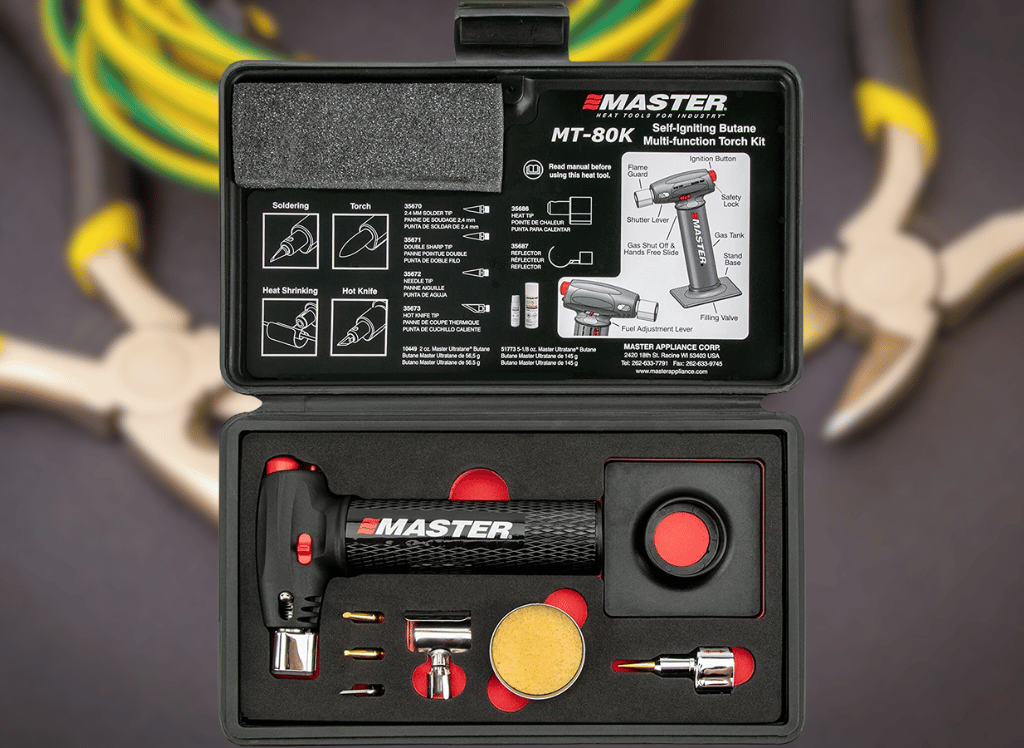 Master Appliance MT-80K Butane Micro Torch Kit
Check Price
Why We Like This Butane Torch
The Master Appliance MT-80K Butane Micro Torch Kit is the perfect tool for professional tasks. Manufactured by a US family-owned company with over 60 years of experience, this torch has been trusted and used in some of the world's most well-known manufacturing companies.
The versatile design offers multiple uses, such as heating materials, igniting materials, pinpoint torching, shrinking tubing or soldering, and desoldering electric wire connectors. It can even be used as a cigar lighter or kitchen cooking torch! Ensure you're prepared for any task with the powerful performance only the MT80K from Master Appliance can provide.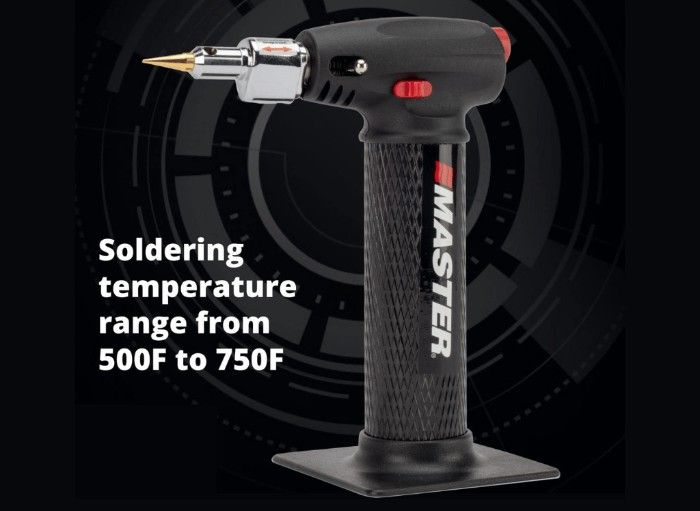 Things to Know
The Master Appliance MT-80K Butane Micro Torch Kit is the perfect tool for soldering, welding, heat shrinking, and other applications. It has 3 Soldering Tips, a flameless heat shrink adapter, a hot knife tip, a sponge & case for maximum versatility.
The refillable tank provides up to one hour of run time on a full butane fuel tank. It can be operated using the integrated ignition trigger for easy startup without an independent ignition tool. Furthermore, its flame temperature can reach up to 2500 degrees Fahrenheit which can be adjusted from a thin blue pinpoint flame to a full butane torch flame using the red lever. With such features in mind, this kit will provide an efficient and reliable solution for any project or task!
About This Product:
Color: Blue
Brand: Master Appliance
Item Weight: 1.19 Pounds
Maximum Temperature: 2500 Degrees Fahrenheit
---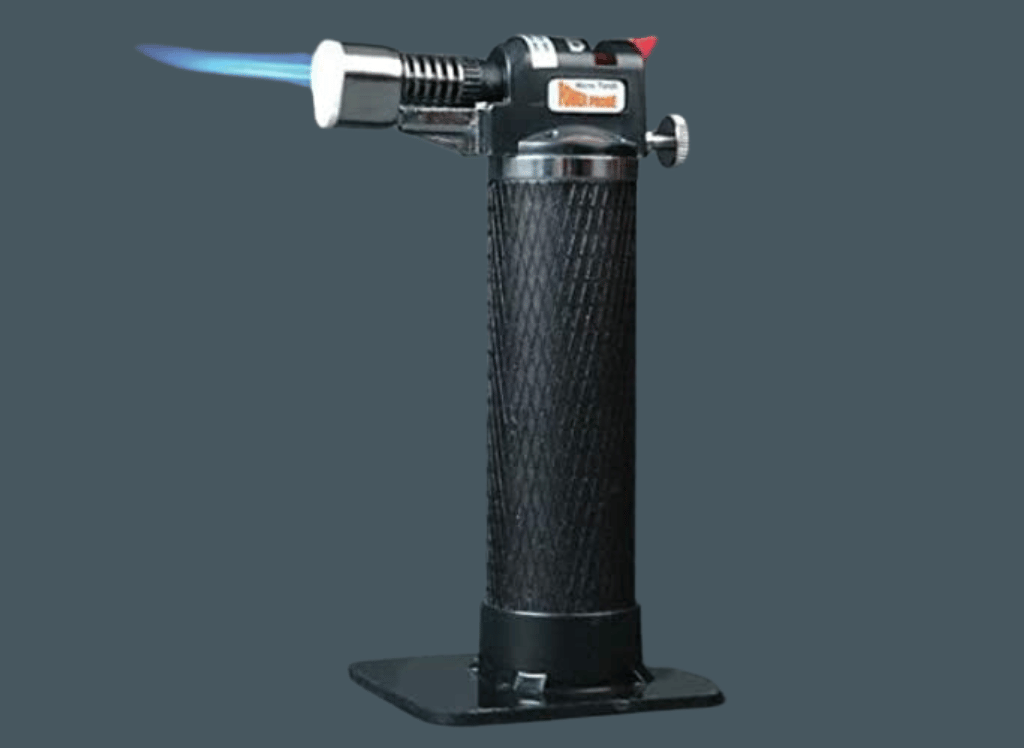 Power Probe PPMTKIT01 Micro Torch Kit
Check Price
Why We Like This Butane Torch
The Power Probe PPMTKIT01 Micro Torch Kit is the perfect choice for any professional looking to tackle any job confidently! The leading manufacturer of high-quality products has designed this product specifically with professionals in mind, so you can expect it to meet and exceed your expectations.
It's easy to use and provides stellar performance that will make quick work of whatever project you have planned. So don't settle for anything less than the best - get a Power Probe PPMTKIT01 today!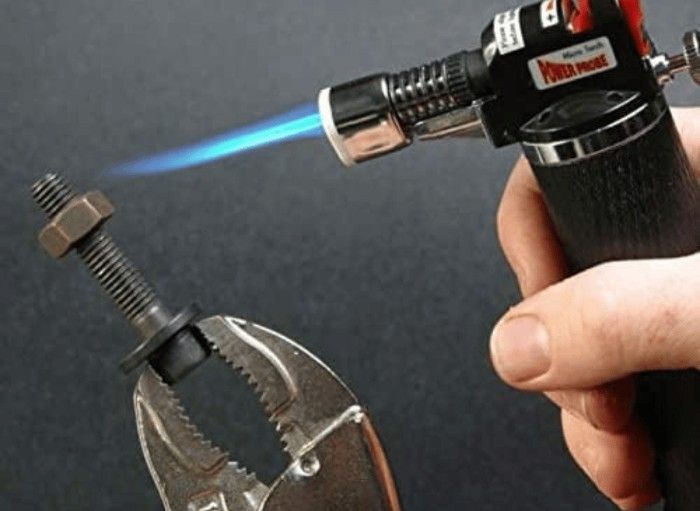 Things to Know
The Power Probe Micro Torch Kit is invaluable for automotive and home use. It features an electronic ignition, adjustable flame from 1/2" to 2 1/2", and can last up to two hours between refills when filled with butane.
This powerful yet versatile torch kit also comes with various tips and attachments stored in a convenient blow-molded case, making it the perfect addition to any toolkit.
About This Product:
Color: Black
Brand: Power Probe
Item Weight: 0.45 Kilograms
Item Dimensions LxWxH: 10 x 7.4 x 2.7 inches
Maximum Temperature: 2500 Degrees Fahrenheit
---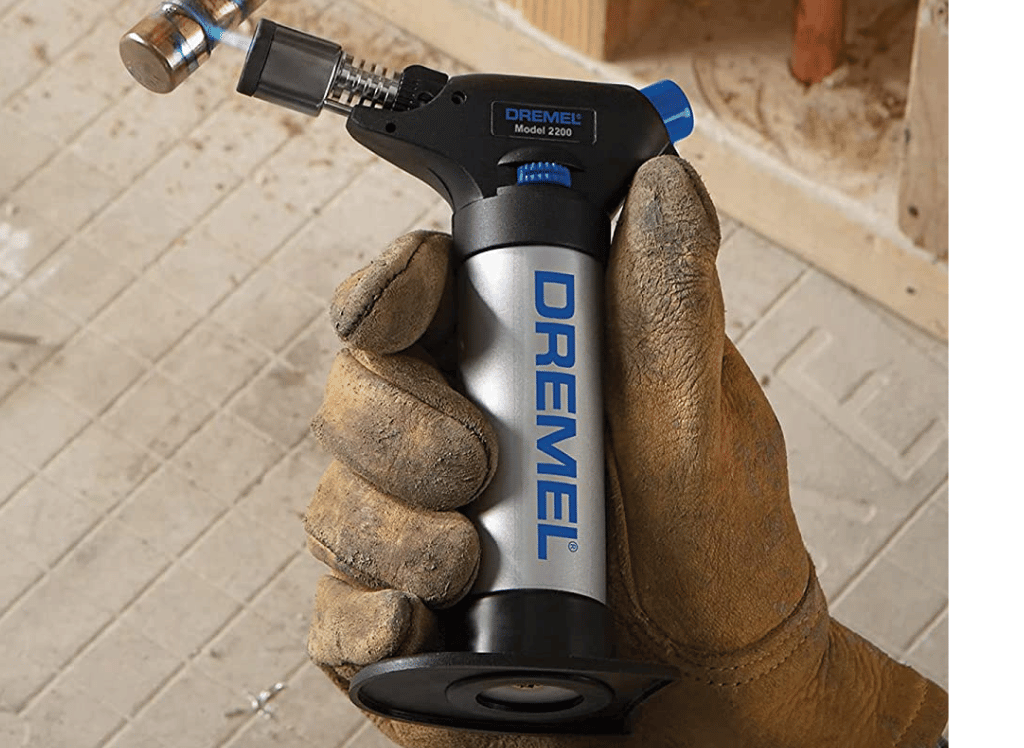 Dremel 2200-01 Versa Flame Multi-Function Butane Torch
Check Price
Why We Like This Butane Torch
The Dremel 2200-01 Versa Flame Multi-Function Butane Torch is the perfect tool for any job. Its integrated ignition trigger ensures easy startup every time, and its variable temperature feature allows you to adjust the flame intensity based on your project's needs.
The 9-piece accessory kit included with this torch provides all the essential tools needed for soldering, heat blowing, deflecting, and even flame diffusing. This product is excellent for wood burning, leather crafting, stencil cutting, and more!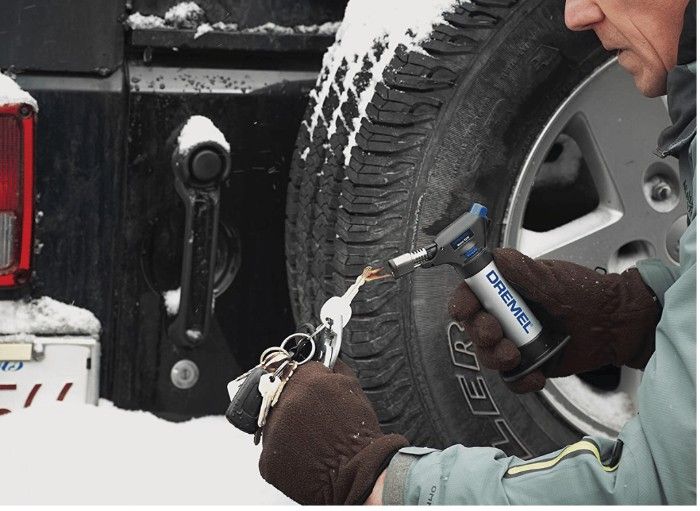 Things to Know
The Dremel 2200-01 Versa Flame Multi-Function Butane Torch is a powerful and versatile tool for various projects. It features a flame lock switch for easy operation on extended-use projects and an attachable base for hands-free and cordless operation.
The torch is made with premium quality materials that ensure long-term durability. Whether you need light grills or do intricate detail work, the Dremel 2200-01 Versa Flame Multi-Function Butane Torch will do the job quickly and safely.
About This Product:
Color: Silver
Brand: Dremel
Item Weight: 0.7 Kilograms
Item Dimensions LxWxH: 13 x 7 x 2.13 inches
---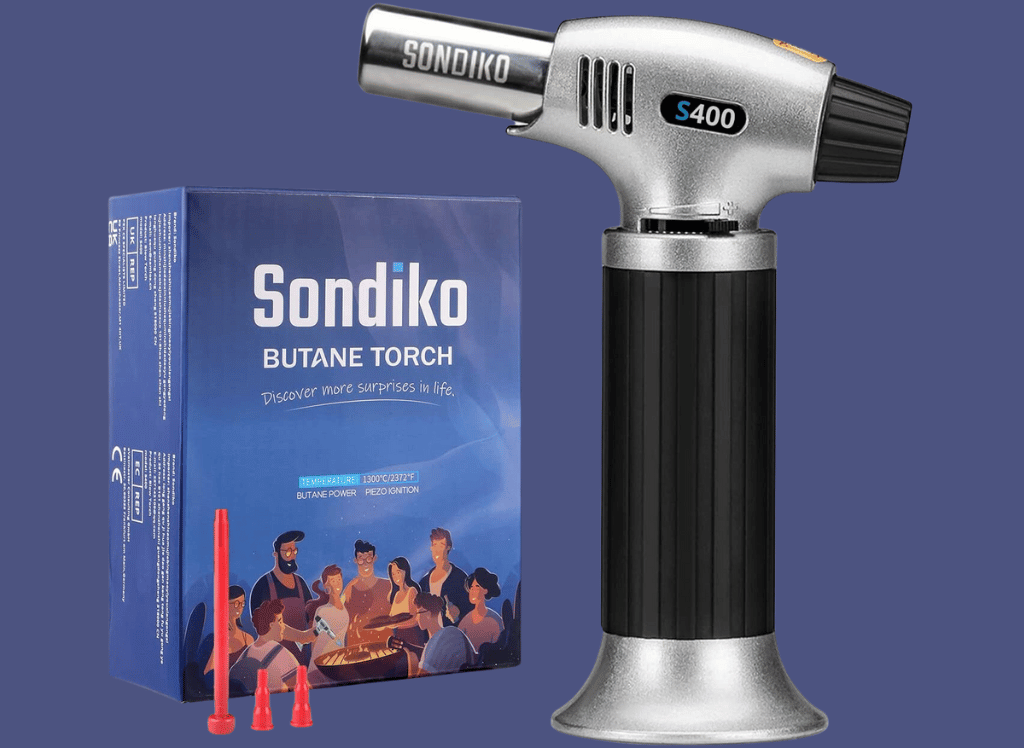 Sondiko Butane Torch
Check Price
Why We Like This Butane Torch
The Sondiko Butane Torch is a safe, durable, and easy-to-use tool for all your culinary needs. It features a safety lock to prevent accidental ignition and a broad base to keep it from falling over while in use.
The long angled nozzle and burn-free finger guard ensure your hands are always kept safe from the flame. This torch can be refilled with any brand of butane gas, and its Piezo Ignition Technology makes it simple to operate. Take this portable mini torch along on camping trips or BBQs – put the power of fire in the palm of your hand!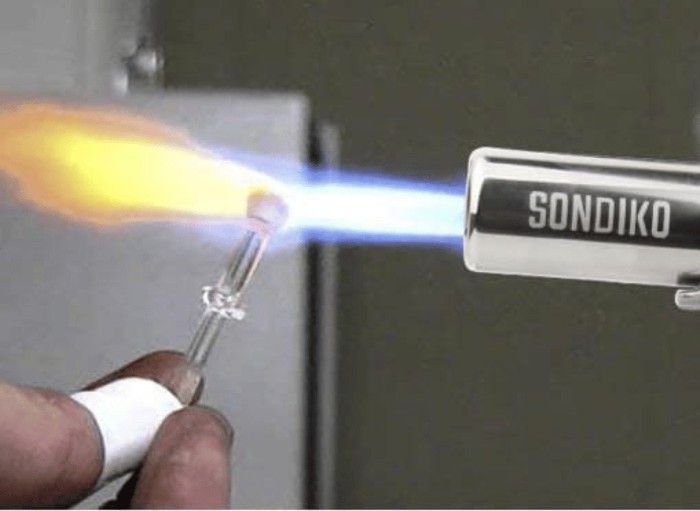 Things to Know
The Sondiko Butane Torch is a versatile and reliable tool that can help you with various tasks. It features an adjustable flame, continuous flame mode, and Piezo Ignition Technology for easy one-handed operation.
The refillable kitchen torch lighter also fits all butane tanks, making it even more straightforward. With its high-temperature output of up to 1300 °C/2372 °F, this culinary torch can handle any task you throw at it. Whether baking or cooking, this is the perfect tool!
About This Product:
Color: Black&silver
Brand: Sondiko
Item Weight: 0.48 Pounds
Item Dimensions LxWxH: 4.7 x 2.2 x 6.1 inches
Material: Aluminum
---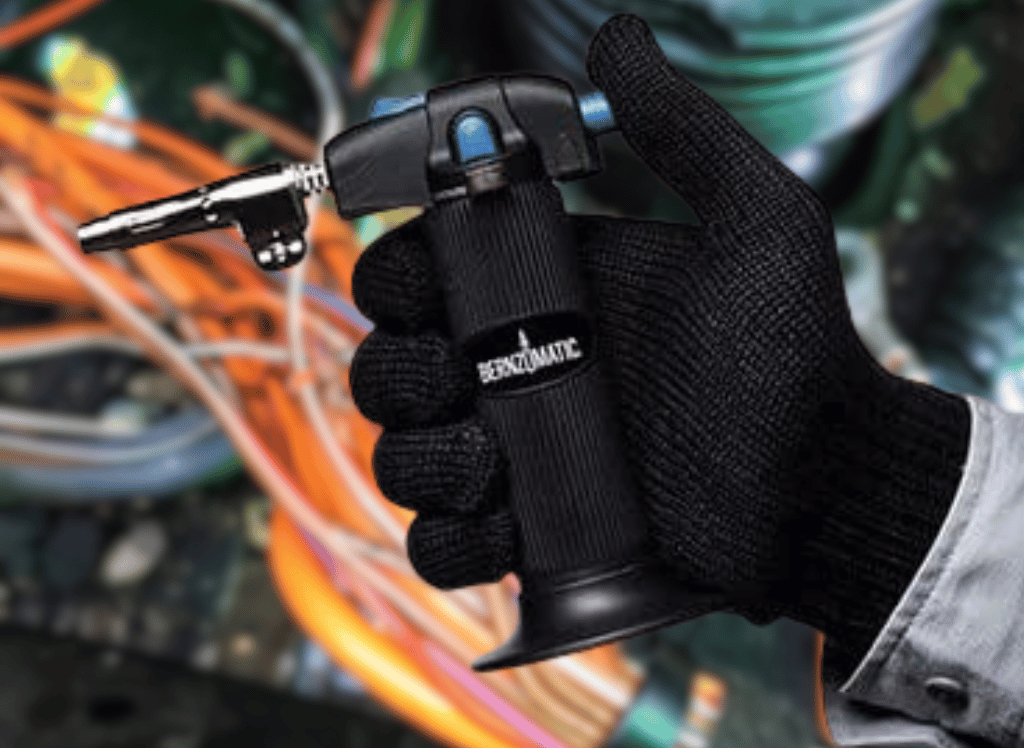 Bernz-O-Matic ST2200T Micro Flame Butane Torch Kit
Check Price
Why We Like This Butane Torch
The Bernz-O-Matic Micro Flame Butane Torch Kit is a multi-purpose tool designed with construction, soldering, and heat guns in mind. Its lightweight and compact design offers maximum portability and precision flame control for any task.
This powerful little torch can be used for tasks such as welding thin metals or soldering delicate components. The kit includes all the tools needed to get started right away, plus it's manufactured here in the United States, so you know you're getting quality products that will last. Get flexible heating solutions with this versatile micro torch today!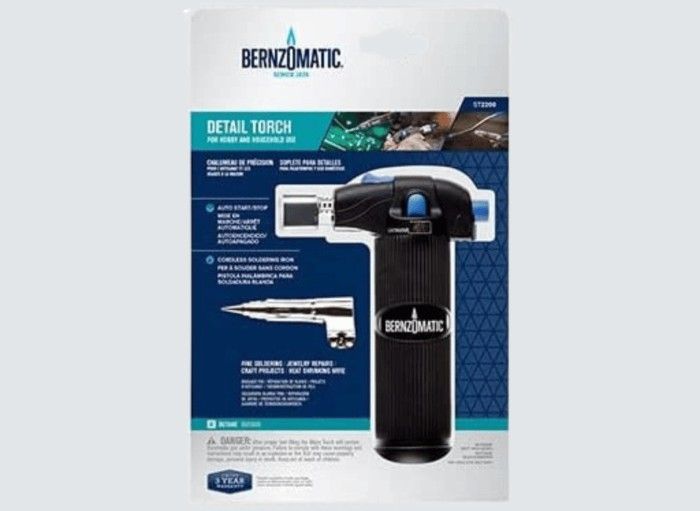 Things to Know
The Bernz-O-Matic Micro Flame Butane Torch Kit is a reliable and well-crafted tool for any professional or hobbyist who requires precise, pinpoint flames. With its built-in push button igniter and continuous run Lock button, this torch kit ensures ease of use. It also includes a spark-igniting solder tip.
About This Product:
Color: Black
Brand: Bernz-O-Matic
Item Weight: 0.5 Pounds
Item Dimensions LxWxH: 3 x 6.5 x 9.5 inches
Material: Other
---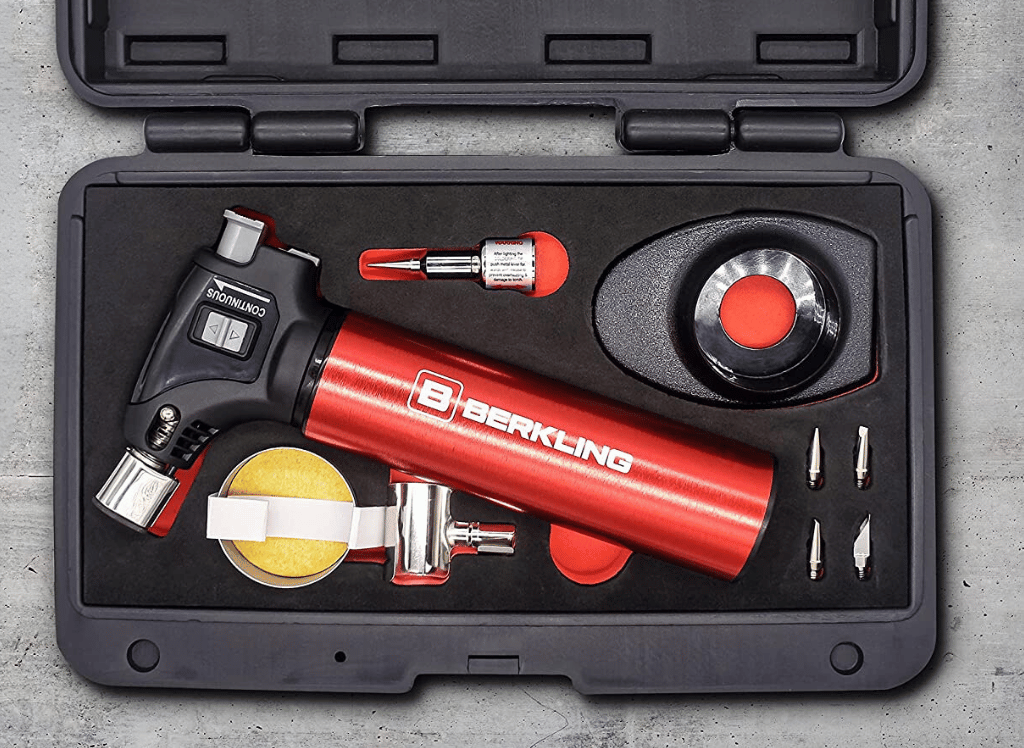 Berkling Butane Soldering Torch Kit
Check Price
Why We Like This Butane Torch
The BERKLING butane torch kit is the perfect solution for completing all your soldering, heat blower, and flame torch tasks. Our comprehensive kit includes a cordless butane torch, a hot blower with a soldering tip, a deflector tip, 2mm conical and chisel tips, and an angled tip for precision work.
The hot knife and base are also included to provide maximum convenience during use. This multifunctional kit suits professional works like jewelry making, mechanics, and everyday kitchen tasks. The carrying case allows you to easily transport it from one job site to another - giving you added mobility!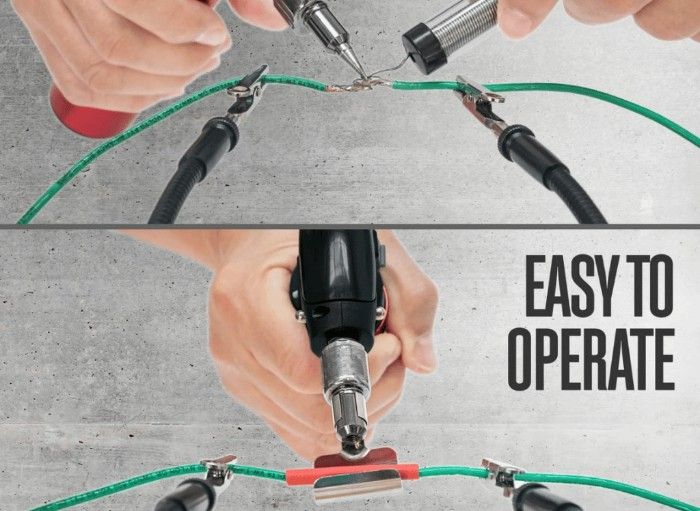 Things to Know
The Berkling Butane Soldering Torch Kit is perfect for soldering or heat-blowing projects. It features a quick start and long runtime, with its sizeable 30ml tank refilling in just 5 seconds and lasting up to 1.5-2 hours of use while heating up quickly in 10 seconds or less.
The adjustable temperature control allows precise operation between 2000 to 2370 degrees F (torch) and 840 to 930 degrees F (soldering). Its cordless design means it's easy to operate without electricity or batteries - refill the torch with butane fuel! Ergonomic and comfortable, this mini butane torch will save time on all your projects.
About This Product:
Color: Red
Brand: Berkling
Item Weight: 223 Grams
Item Dimensions LxWxH: 10 x 6.88 x 2.38 inches
Material: High-temperature ABS plastic body & handle. Stainless steel and copper for heating parts.
---
Butane Torch FAQs:
Are you looking to buy a butane torch but don't know where to start? With all the options out there, it can be overwhelming and confusing. You have many questions about which one is right for you - what size should you get?
What features are essential? How do you use it safely? Don't worry! We've got your back with our comprehensive list of Butane Torch FAQs. Get the answers to all your questions so you can make an informed decision and purchase confidently.
1. What Is a Butane Torch?
A butane torch is a portable, handheld tool that generates high temperatures for soldering metals, culinary uses in cooking and baking, lighting cigars and pipes, crafting glass artworks, removing paint or putty from surfaces, and melting jewelry materials like wax.
2. How Do I Light My Butane Torch?
You'll need to ignite the fuel using a lighter or match to light your butane torch. Once lit, hold down the igniter button until the flame catches on, and adjust the flame height with the flame setting knob as needed for your particular task.
3. Can a Butane Torch Be Used for Welding Metal?
Yes! But it's important to remember that when welding with a butane torch, you will not achieve as strong of welds since they produce lower temperatures than an oxy-acetylene setup would provide. So it's best reserved for small repairs that don't require excessive strength in their welded seams.
4 . Does My Butane Torch Require Any Maintenance?
Yes, your butane torch should be regularly maintained to ensure optimal performance. You should check the fuel level of your torch regularly and refill it when necessary.
You should also check the flame setting to ensure it is adjusted correctly. It is also essential to clean the torch's nozzle periodically to prevent clogging and ensure an even flame.
5. How Do You Adjust the Flame Length and Flame Adjustment on Heavy-Duty Torches?
First, to adjust the flame length and flame adjustment on a heavy-duty torch, ensure the torch is in the off position. Then, adjust the gas valve to the desired flame length. Finally, use the flame adjustment knob to adjust the size and shape. Adjust the flame size and shape slowly and steadily to ensure proper flame control.
6. Is a Propane or Butane Torch Better?
It depends on what you are using the torch for. Propane torches burn hotter and are better for soldering, brazing, and welding. Butane torches burn at lower temperatures and are better for small jobs like jewelry making, plumbing, and electronics repair.
7. Are There Safety Locks on a Butane Blow Torch?
Yes, most butane blow torches have safety locks that prevent the torch from being accidentally activated. The safety locks are usually located on the torch handle and must be disengaged before the torch can be used. Many models also come with an adjustable flame control to give you more control over the size and intensity of the flame.
8. Do Most Butane Tanks' Blow Torch Functions Have an Adjustable Flame?
Yes, most butane tanks' blow torch functions have an adjustable flame. This allows you to adjust the size and intensity of the flame to meet your needs.
The flame size can be adjusted by turning a knob or lever on the torch. You can also adjust the flame's intensity by adjusting the pressure of the butane gas in the tank.
9. How Long Should a Butane Torch Last?
A butane torch should last anywhere from 2-4 hours on a full tank, depending on the tank's size and the flame's size. The flame size will also determine how long the torch will last, as a larger flame will use up the butane faster. Additionally, the temperature of the environment can also affect how long the torch will last, as colder temperatures can reduce the efficiency of the torch.
10. What Butane Should I Use in a Torch?
Butane is the most commonly used fuel for torches and is available in various formulations. The best type of butane to use in a torch is a butane fuel designed specifically for torches.
This type of butane is usually labeled as "torch fuel" or "refined butane." It contains a higher percentage of isobutane and n-butane, which are the components of butane that burn cleanly and efficiently.
Final Thoughts about Butane Torch
Regarding butane torches, there are a few factors to consider before purchasing. Not all butane torches are designed the same, and depending on what you plan to use yours for, certain features may be more important than others.
Make sure you read reviews of different models and find one suitable for your needs. By considering size, power output, valve type, flame control settings, and other considerations such as price point or warranty coverage, you can select the suitable torch for any job or hobby application.
With these details in mind, we hope this guide has helped provide an overview of the essential information needed when selecting a butane torch!
Thank you for reading!
Your friend,
Todd
If you are interested in entertainment while you shop, you can get a 30-day free trial of Amazon Prime Music or listen to your favorite audiobook with Two Free Audiobooks from Audible Plus! Additionally, if you want to take advantage of 2-day shipping, try Amazon Family 30-day Trial.
Are you looking for the best products? We've got you covered! Our editors independently selected each item on this list. Mechanicaddicts may collect a share of sales or other compensation (at no cost to you) from links found within these pages if they choose to buy something (that's how we stay in business); as an Amazon Associate, we earn from qualifying purchases. Reviews have been edited for length and clarity; enjoy finding your next favorite thing today!