The Power and Precision of a Pneumatic Orbital Sander
If you're looking for a dependable tool to get the job done, investing in a pneumatic orbital, sander may be the solution! This powerful and versatile power tool is perfect for sanding down wood, metal, and other materials. Check out our top picks.
Pneumatic orbital sanders are a type of power tool used for sanding. These tools are air-powered, utilizing compressed air to generate the oscillating motion of the sanding pad.
They are mainly known for their smooth and swirl-free finish, making them ideal for various applications, from auto body work to woodworking and metalworking. The 'orbital' in their name refers to the circular movement of the sanding disc, which ensures even and consistent results.
How Mechanicaddicts Chooses the Pneumatic orbital sander
When searching for the best Pneumatic Orbital Sander, we at Mechanicaddicts don't compromise on quality, efficiency, and durability. Our selection criteria involve a thorough examination of the tool's performance, ease of use, and construction quality.
We scrutinize customer reviews and manufacturer details, check the sander's speed controls, and test its vibration levels and dust extraction capabilities. It's not just about finding a tool that gets the job done; it's about finding the optimal tool that offers a seamless, comfortable, and efficient sanding experience.
---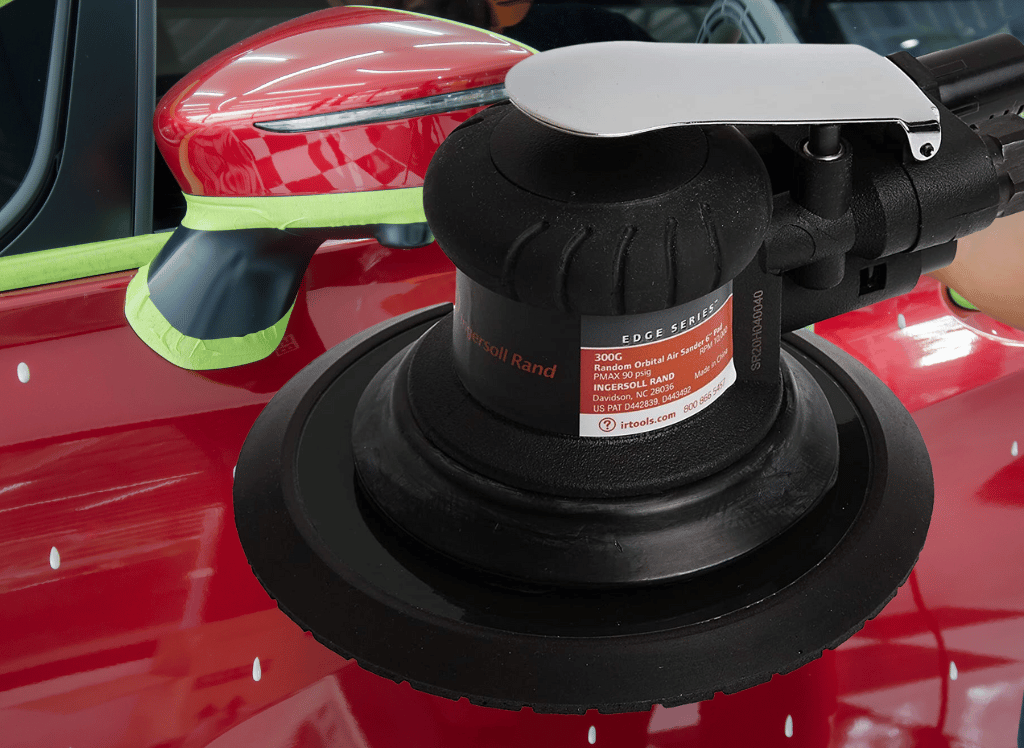 Ingersoll Rand 300G Edge Series 6" Air Random Orbit Sander
Check Price
Why We Like This Pneumatic Random Orbital Sander
The 300G Edge Series 6" Air Random Orbit Sander by Ingersoll Rand presents a unique blend of power, performance, and portability. Designed with the user's comfort, it boasts an incredibly lightweight frame of just 1.9 pounds, complemented by a compact size of 7.5 inches.
Despite its minimal weight, the sander's composite design ensures its robustness, guaranteeing long-lasting performance. The integrated 360-degree swivel vacuum adapter, a standout feature, connects seamlessly to central and portable vacuum systems.
This allows for a more flexible range of movement, eliminating the nuisance of tangled hoses and cords. With this sander, Ingersoll Rand provides the perfect tool to tackle any sanding task quickly and efficiently.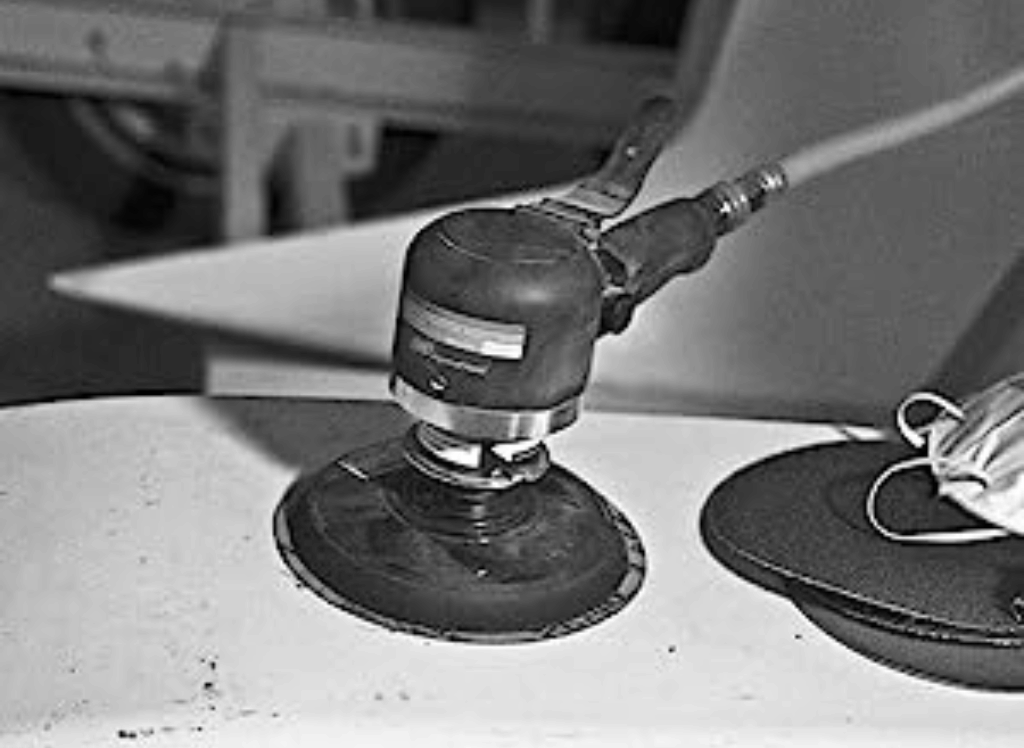 Things to Know
The Ingersoll Rand 300G Edge Series 6" Air Random Orbit Sander is a powerful tool with a diffused rear exhaust that enhances productivity by extracting dust and particles through its 6-inch pad orbit diameter.
This feature safeguards the motor from potentially damaging foreign material and ensures a high-quality, swirl-free finish. Tailored for woodworking and auto body projects, it prepares metal and wood surfaces excellently for painting and finishing.
The tool embodies dependable reliability with its durable design and rigorous testing of every component and function, guaranteeing a performance that meets your expectations each time you engage the trigger.
Specifications:
Brand: Ingersoll Rand
Item Dimensions: 8 x 6.5 x 4.75 inches
Grit Type: Medium
Power Source: Air Powered
AC Adapter Current: 4.5 Amps
---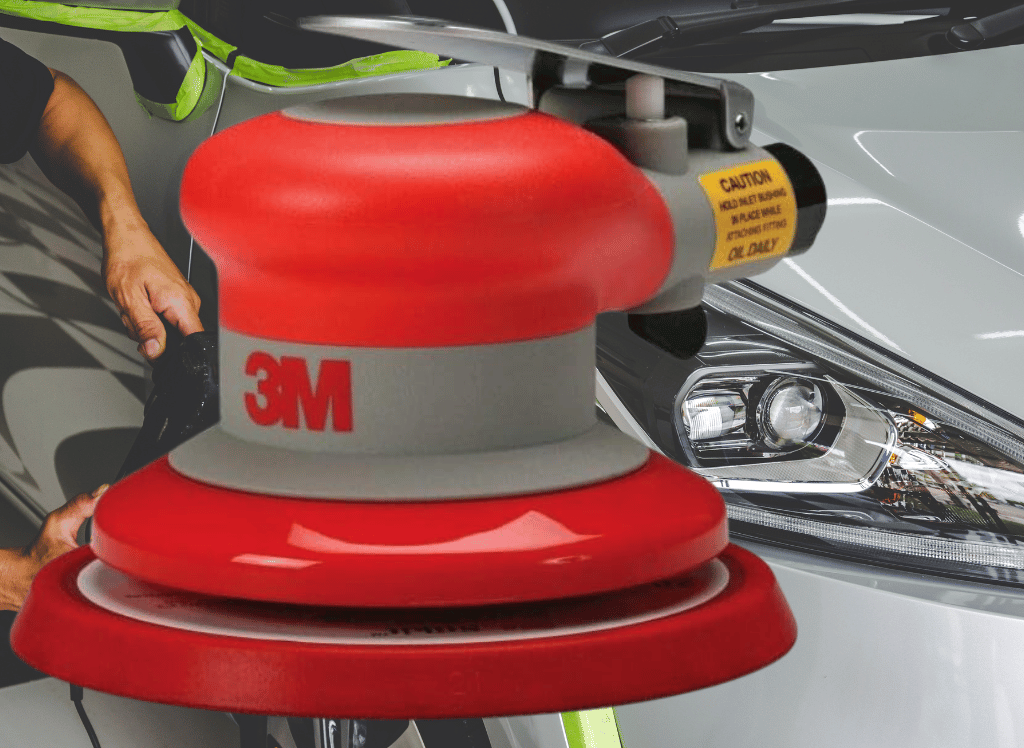 3M Random Orbital Sander
Check Price
Why We Like This Pneumatic Random Orbital Sander
The 3M Random Orbital Sander's robust 0.28 HP motor is a professional-grade tool for high-performance sanding and finishing applications. This powerful sander surpasses the capability of standard electric sanders, providing hours of continuous use with ease.
Its precision-balanced motor ensures a smooth operation, reducing vibration and providing superior comfort and control for the user. The 3M Random Orbital Sander is not just a tool but a reliable partner for all your sanding needs. Experience the perfect blend of power and precision with the 3M Random Orbital Sander.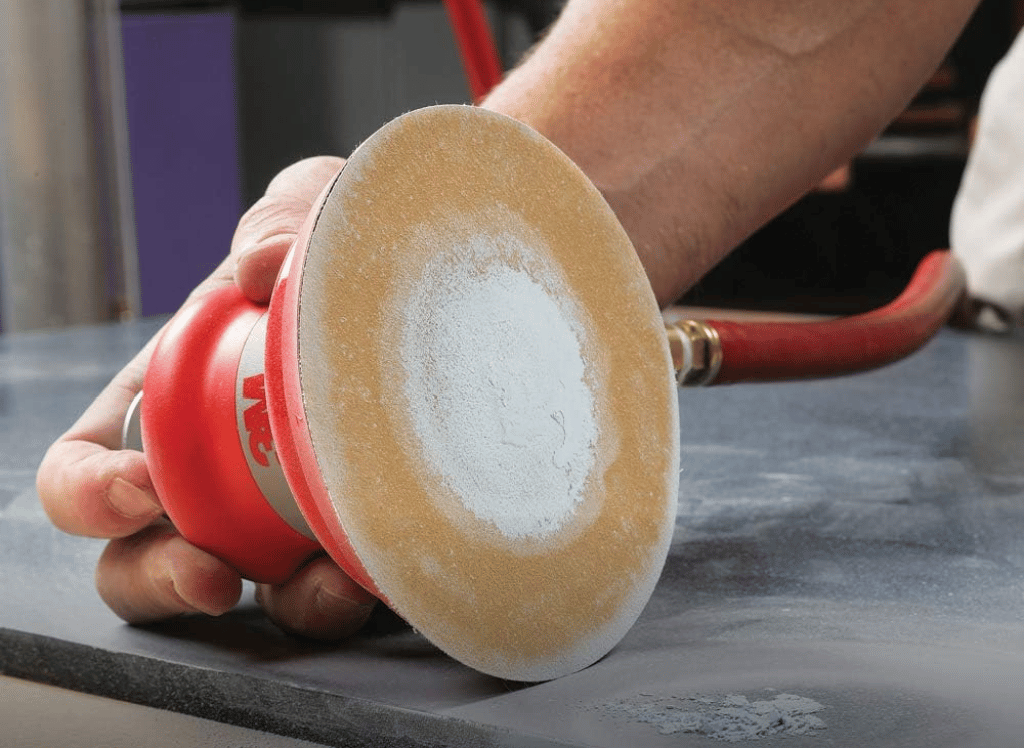 Things to Know
The 3M Random Orbital Sander, renowned for its durability and practical design, embodies the perfect fusion of performance and comfort. Engineered with an easy adhesive disc attachment, it seamlessly incorporates adhesive-backed sanding discs, making it a versatile tool for any crafting or construction project.
The sander's robust construction, composed of an aluminum body and a sturdy composite cover, significantly mitigates the possibility of housing cracks, translating into less downtime and improved productivity.
Its eminent feature, however, is its ergonomic design. With a low-profile and balanced structure, it optimizes the performance of 3M sanding abrasives, delivering superior results while minimizing user fatigue.
Specifications:
Brand:3M
Item Dimensions LxWxH: 9.62 x 6.88 x 4.16 inches
Grit Type: Fine
Power Source: Air-powered
AC Adapter Current: 2 Amps
---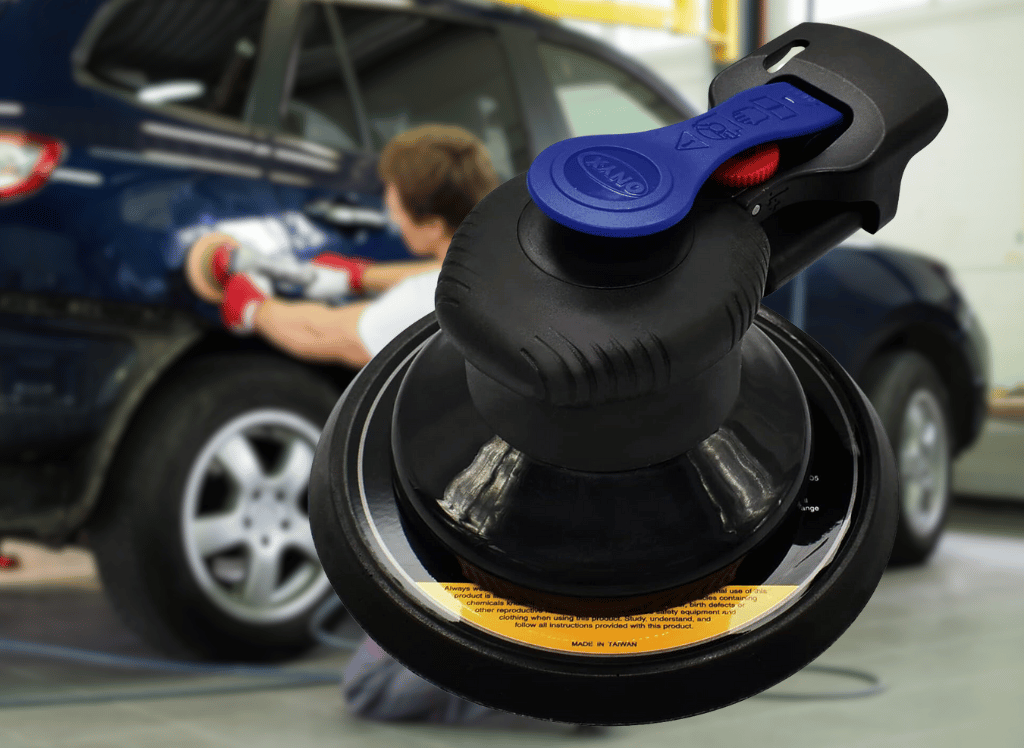 Astro 325P ONYX 6-Inch Finishing Palm Sander
Check Price
Why We Like This Pneumatic Random Orbital Sander
The Astro 325P ONYX 6-Inch Finishing Palm Sander is a highly-powerful tool designed for those seeking precision and control in their work. Its 3/32-Inch Stroke Finish ensures a smooth, seamless finish on your surfaces, perfect for large-scale projects and intricate detailing.
This lightweight model weighs only 1.5 pounds (or .68 kilograms), providing unmatched portability and minimizing operator fatigue. This sander is compact yet robust for professionals who demand reliability, performance, and comfort in their tools.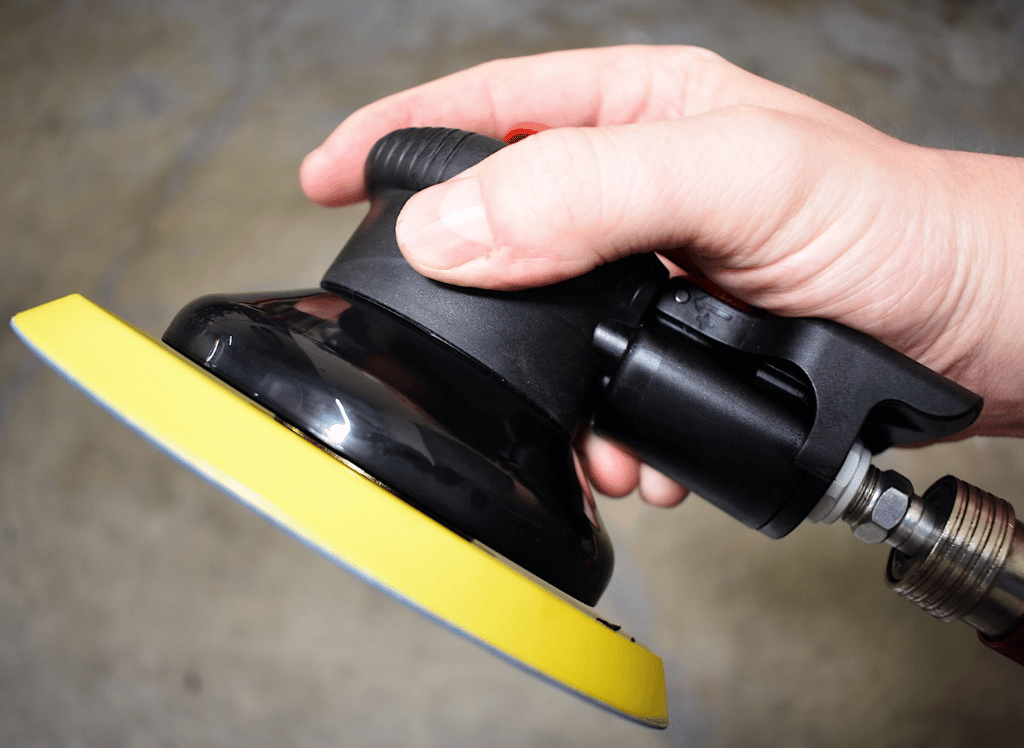 Things to Know
The Astro 325P ONYX 6-Inch Finishing Palm Sander offers an exceptional tool for both professional craftspeople and DIY enthusiasts. Its key advantage lies in its orbital action, which guarantees a swirl-free finish, ensuring your projects have a smooth and professional look.
This device also has a built-in speed regulator, giving users absolute control over their work. This vital feature enhances safety and ensures accuracy and precision in every task.
Specifications:
Brand: Astro Pneumatic Tool
Item Dimensions LxWxH: 7 x 4 x 4 inches
Power Source: air-powered
Grit Number: 120
Item Weight: 1.95 Pounds
---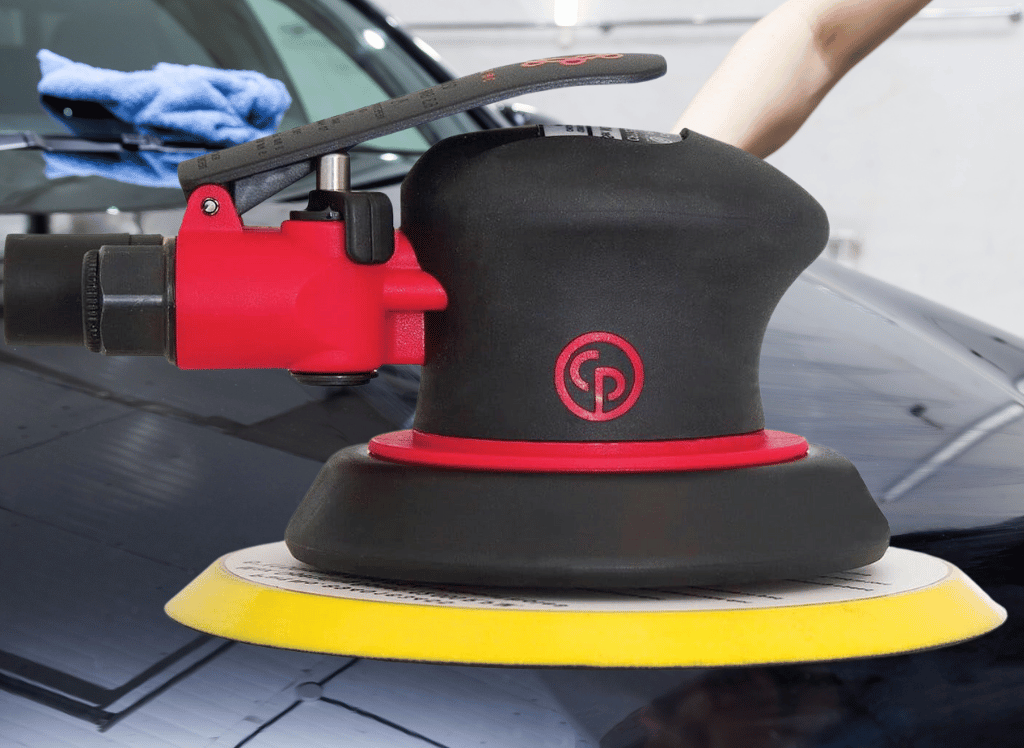 Chicago Pneumatic CP7255 - Air Random Orbital Sander Tool
Check Price
Why We Like This Pneumatic Random Orbital Sander
The Chicago Pneumatic CP7255 is a robust air random orbital sander tool explicitly designed for longevity and durability. Engineered with the user's comfort and needs at its core, this tool can endure-various high-intensity jobs, making it an ideal choice for both professional and home environments.
Whether in the shop, at home, or in the field, this sander caters to various applications, delivering superior performance and reliability. Its ergonomic design ensures user-friendliness and reduces fatigue during prolonged use, providing an efficient and smooth sanding experience.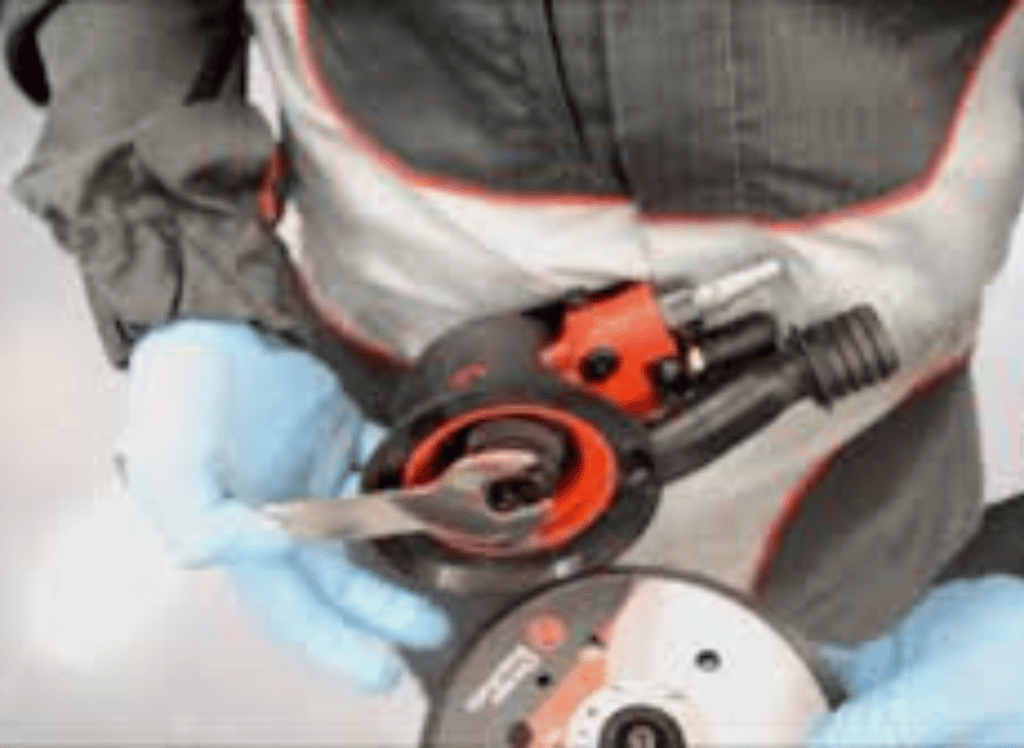 Things to Know
The Chicago Pneumatic CP7255 is an air random orbital sander tool that is a testament to the brand's commitment to delivering high-performance, reliable, and durable products.
This tool has undergone rigorous testing in real-world conditions, ensuring it can withstand the most demanding tasks and environments. Beyond its robust and durable nature, the CP7255 distinguishes itself through its user-centric design.
Using the finest materials and benefitting from world-class craftsmanship, this tool is designed to deliver functionality, exceptional user comfort, and ease of handling. It serves as an embodiment of Chicago Pneumatic's dedication to quality, performance, and user satisfaction.
Specifications:
Brand: Chicago Pneumatic
Item Dimensions LxWxH: 12.7 x 7.7 x 3.4 inches
Grit Type: Medium
Power Source: Air Powered
AC Adapter Current: 6 Amps
---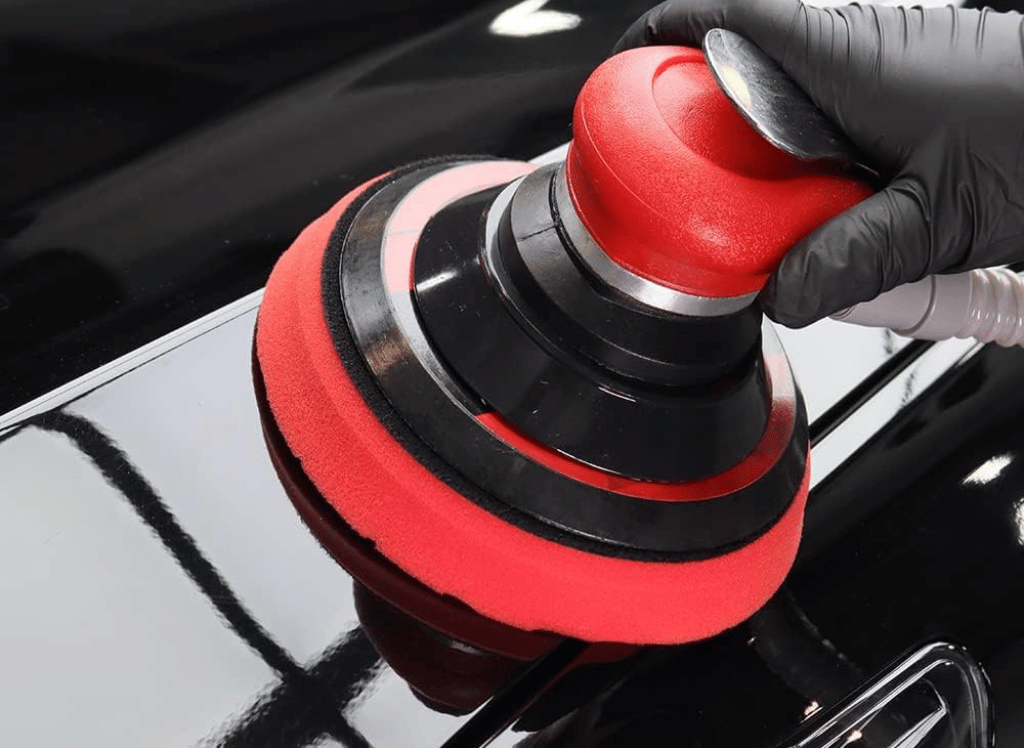 ZFE Random Orbital Sander
Check Price
Why We Like This Pneumatic Random Orbital Sander
The ZFE Random Orbital Sander is a robust, high-quality pneumatic power tool, expertly engineered to tackle various surface preparation tasks. Lightweight yet powerfully efficient, its ergonomic design facilitates easy handling, making it a perfect tool for diverse applications, including wood deburring, metal de-rusting, or paint surface polishing and buffing.
The hallmark of this sander is its high-precision all-steel construction, produced using a quenching process, which ensures impressive durability and resistance to wear. Its all-steel rotor, cylinder, and high-hardness fan blade are designed to match speed and performance, reducing the risk of damage and extending the tool's lifespan.
The built-in regulator enables speed control up to 10,000 rpm, offering high horsepower and excellent balance even for extended usage. This results in a productive tool that reduces user fatigue and meets any professional project's demands.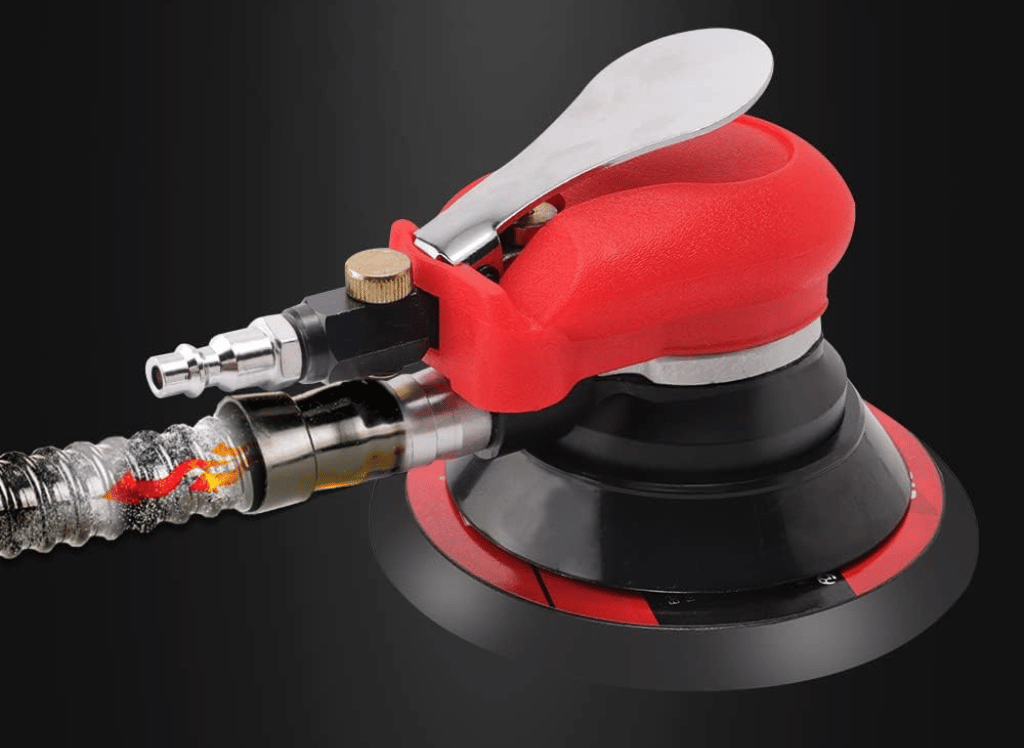 Things to Know
The ZFE Random Orbital Sander is an essential tool for anyone who values efficiency and quality in their work. This versatile equipment comes with a dust bag and a practical 1-meter vacuum tube, making it convenient for both workshop and home use.
It boasts a broad range of applications, including furniture, metal products, and paint surfaces, and it is helpful for tasks ranging from rough grinding to cutting. The ZFE sander set is cost-effective, including the air sander and backing plates, sandpapers, polishing pads, microfiber cloths, a washing mitt, and other accessories. This comprehensive set caters to all your project needs, making the ZFE Random Orbital Sander a prudent investment.
Specifications:
Brand: ZFE
Grit Type: Fine
AC Adapter Current: 1 Amp
Grit Number: 36
Maximum Rotational Speed: 10000 RPM
---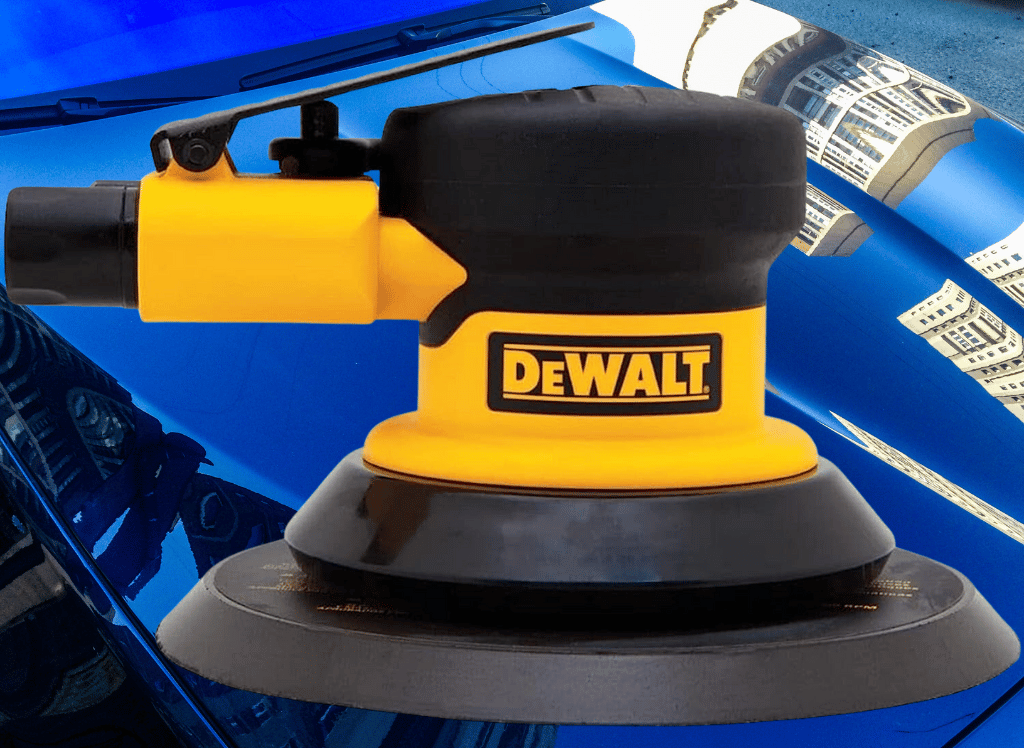 DEWALT Air Sander, Pneumatic Sander
Check Price
Why We Like This Pneumatic Random Orbital Sander
The DEWALT Air Sander, a pneumatic sander designed for efficiency and durability, is an essential tool for any professional. It features a lightweight composite body design, ensuring it can withstand the rigors of frequent use while reducing operator fatigue.
Equipped with robust performance capabilities, the sander operates at an impressive 12000 RPM (free speed @90PSI), ensuring a professional-quality sanding finish. Whether you're smoothing out rough surfaces or removing layers of old paint, this high-speed operation allows for superior sanding results.
Trust the DEWALT Air Sander to deliver outstanding performance for all your sanding needs, embodying the quality and reliability that DEWALT is renowned for.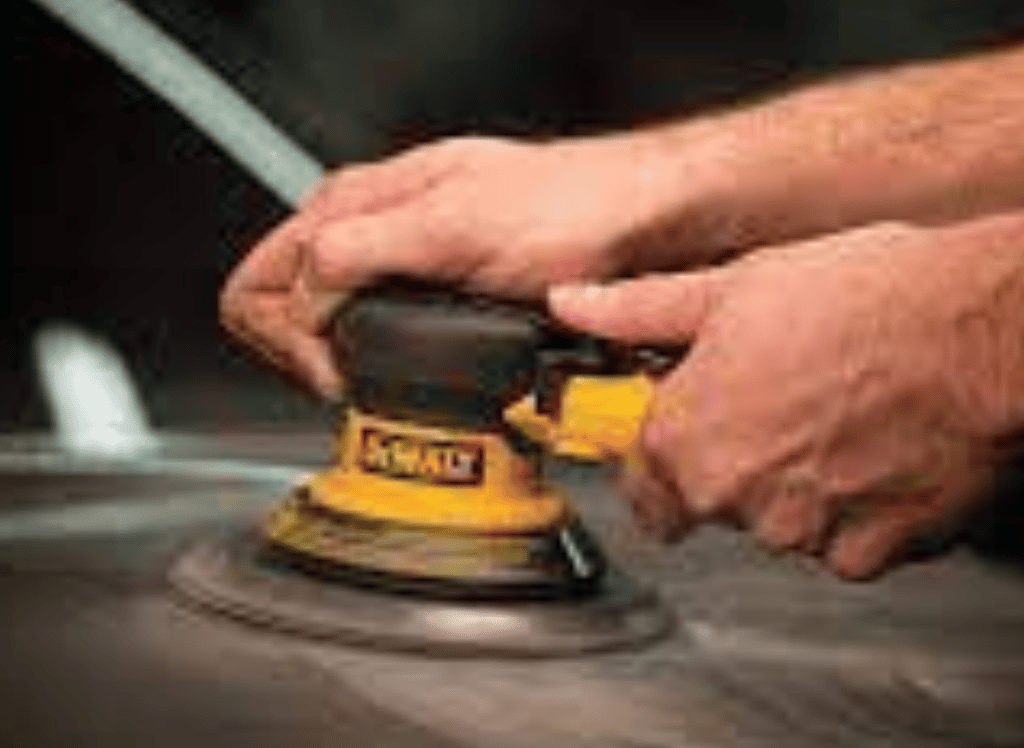 Things to Know
The DEWALT Air Sander is a superior pneumatic tool designed to cater to various sanding needs. Its distinguished feature of a Stick-On Pad facilitates swift and effortless changeover, enhancing operational efficiency.
This tool is further accentuated by integrating a Touch Control Trigger, which empowers the user to regulate the amount of power required accurately. The amalgamation of these features ensures that the DEWALT non-vacuum air sander is a robust and reliable choice for professionals striving for precision and excellence.
Specifications:
Brand: DEWALT
Grit Type: Medium
AC Adapter Current:1 Amp
Grit Number: 80
Power Source: Air Powered
---
Pneumatic Random Orbital Sander FAQs:
1. What is a Pneumatic Orbital Sander?
A Pneumatic Orbital Sander is a handheld power tool used for sanding. It is air-driven and uses a sanding pad that moves in a random orbital action. This ensures an even smooth finish without leaving sanding marks and can be used in small areas with light pressure.
2. When Should I Use a Pneumatic Orbital Sander?
This tool is best used for finishing work, especially on wood. It's ideal for surface preparation before painting or staining and for smoothing rough surfaces. It can also be used on other materials, such as metal or plastic.
3. How Do I Maintain a Pneumatic Orbital Sander?
Regular maintenance includes cleaning the sander after each use, lubricating the air motor as instructed by the manufacturer, and replacing worn-out parts like pads, bearings, or seals. Always refer to the user manual for specific maintenance guidelines.
4. What Safety Measures Should I Take When Using a Pneumatic Orbital Sander?
Always wear safety glasses to protect your eyes from dust and particles. It's also advisable to wear a dust mask, especially when working on materials that produce harmful dust. Hold the sander firmly but not too tightly to avoid hand and wrist fatigue.
5. Where Can I Buy Pneumatic Orbital Sanders?
Pneumatic Orbital Sanders can be bought from hardware stores, home improvement retailers, or online marketplaces. They come in various brands, so you can choose one that fits your budget and needs. Always check the product reviews and ratings before making a purchase.
6. Do They Make Pneumatic Random Orbital Sanders with a Vacuum Port Connecting to a Heavy-Duty Industrial Central Vacuum System?
Indeed, several manufacturers produce pneumatic random orbital sanders equipped with a vacuum port that can connect to a heavy-duty industrial central vacuum system. These sanders are designed to offer effective dust extraction, making them perfect for heavy-duty industrial use, where maintaining a clean and safe environment is pivotal.
The vacuum port can fit directly onto a central system, effectively removing dust and debris from the work surface. This improves the sander's performance and prolongs its lifespan by preventing dust accumulation, leading to a more efficient and smoother operation.
Final Thoughts about Pneumatic Orbital Sander
In conclusion, the Pneumatic Orbital Sander stands as a testament to the wonders of modern engineering, combining power, precision, and user comfort into a single tool. Its versatile nature and exceptional performance make it an invaluable asset for professionals across the woodworking and automotive industries.
Whether you're a seasoned veteran or a novice in these fields, investing in a Pneumatic Orbital Sander will undeniably elevate the quality of your work, saving time and boosting productivity. This tool truly reigns supreme when achieving a smooth and flawless surface finish.
Thank you for reading!
Your friend,
Todd
Are you looking for the best products? We've got you covered! Our editors independently selected each item on this list. Mechanicaddicts may collect a share of sales or other compensation (at no cost to you) from links found within these pages if they choose to buy something (that's how we stay in business); as an Amazon Associate, we earn from qualifying purchases. Reviews have been edited for length and clarity; enjoy finding your next favorite thing today.