Tighten Up Your Projects With An Electric Impact Wrench
Tightening lug bolts and bolts can be a real pain, but you can do the job quickly with an electric impact wrench. Check out our review of the best electric impact wrenches and make your life much easier!
Electric impact wrenches are powerful tools designed to make tightening and loosening bolts, nuts, and other fixings faster and more efficient. They work by delivering a sudden burst of rotational force when they come into contact with a fastener.
This force is applied to the spinning tool and creates an impact that assists in tightening or loosening the fastener quickly and with minimal effort. This makes them a great option for many DIY projects and professional tradespeople who require a reliable tool to work on projects quickly and efficiently.
Electric impact wrenches are usually powered by electricity or battery, although some models use air pressure. The power of an electric impact wrench will vary depending on the model and the type of work it is designed for.
Generally, a high-powered electric impact wrench can carry out more demanding tasks, such as tightening large nuts or bolts without difficulty. When looking for an electric impact wrench, it's important to consider the size and weight of the tool, as well as its power output. It's also worth checking what type of socket sets and accessories the wrench is compatible with.
Electric impact wrenches can be used in various tasks, including construction, automotive maintenance, furniture assembly, plumbing projects, and more. They are an invaluable tool for anyone who regularly needs to work quickly and efficiently on tight fixings or nuts and bolts.
Investing in a reliable electric impact wrench will ensure that any project you take on runs smoothly and can significantly reduce the time it takes to complete a task.
​How Mechanicaddicts Chooses the Electric Impact Wrench
When choosing the best electric impact wrench for your needs, Mechanicaddicts has you covered. With a range of options from top brands such as Milwaukee, Hitachi, and Dewalt, you're sure to find the perfect tool for your job. Our experienced mechanics and technicians work hard to provide accurate information about each product so you can make an informed decision.
We understand that an impact wrench is a critical tool in mechanics and technicians' workshops, so we carefully select only those products that will meet your needs and exceed your expectations and the best value for your application.
---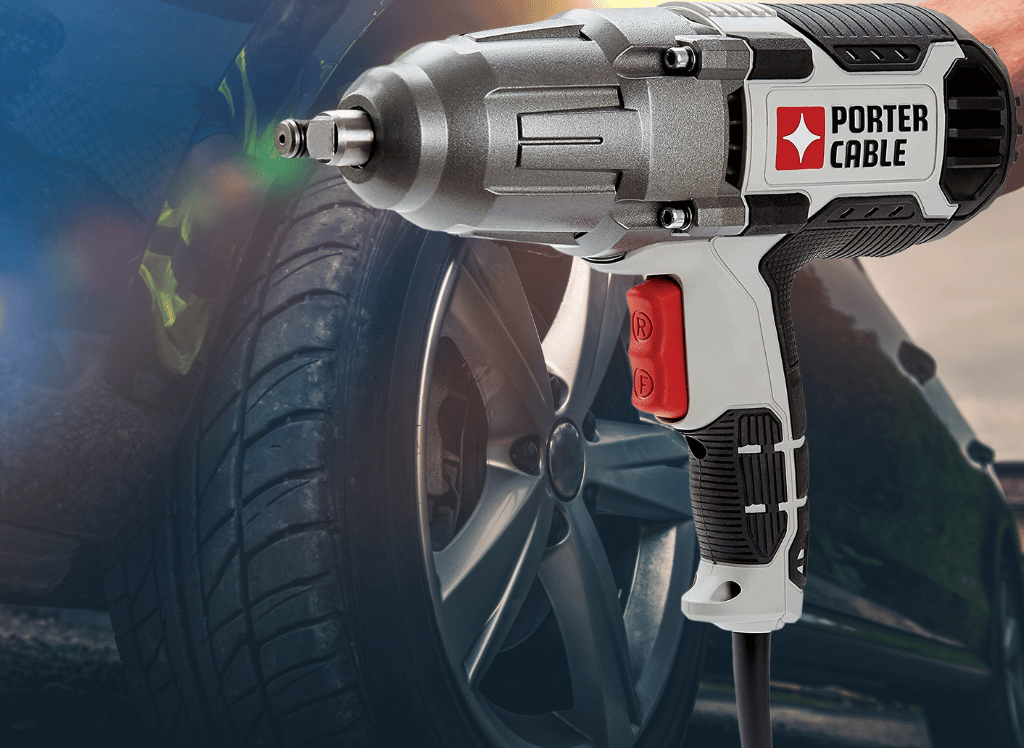 PORTER-CABLE 1/2 Impact Wrench
Check Price
Why We Like This Product
The PORTER-CABLE Impact Wrench is the perfect solution for heavy-duty applications, providing a powerful 7.5 Amp motor with 450 ft-lbs of torque for installing and removing tough fasteners. It features an ergonomically designed handle to reduce user fatigue during extended usage.
It has all the necessary components, including a 1/2 inch square drive size anvil, friction ring chuck, convenience cord strap, and instruction manual. This high-quality impact wrench will make short work of any job you tackle! Get the power and performance only a top brand like Porter Cable can provide!
Things to Know
The PORTER-CABLE Impact Wrench is the perfect tool for any job requiring fast application speeds. This corded impact wrench provides 2,200 RPM and 2,700 BPM of power, making it a reliable and efficient option.
Additionally, the 1/2-inch hog ring anvil makes changing sockets quick and easy. With its robust design and powerful performance capabilities, this impact wrench from PORTER-CABLE will surely get the job done right every time.
About this item:
Color: Multi-color
Brand: PORTER-CABLE
Material: Blend
Item Dimensions LxWxH: 13 x 4 x 11 inches
Item Weight: 7.5 Pounds
---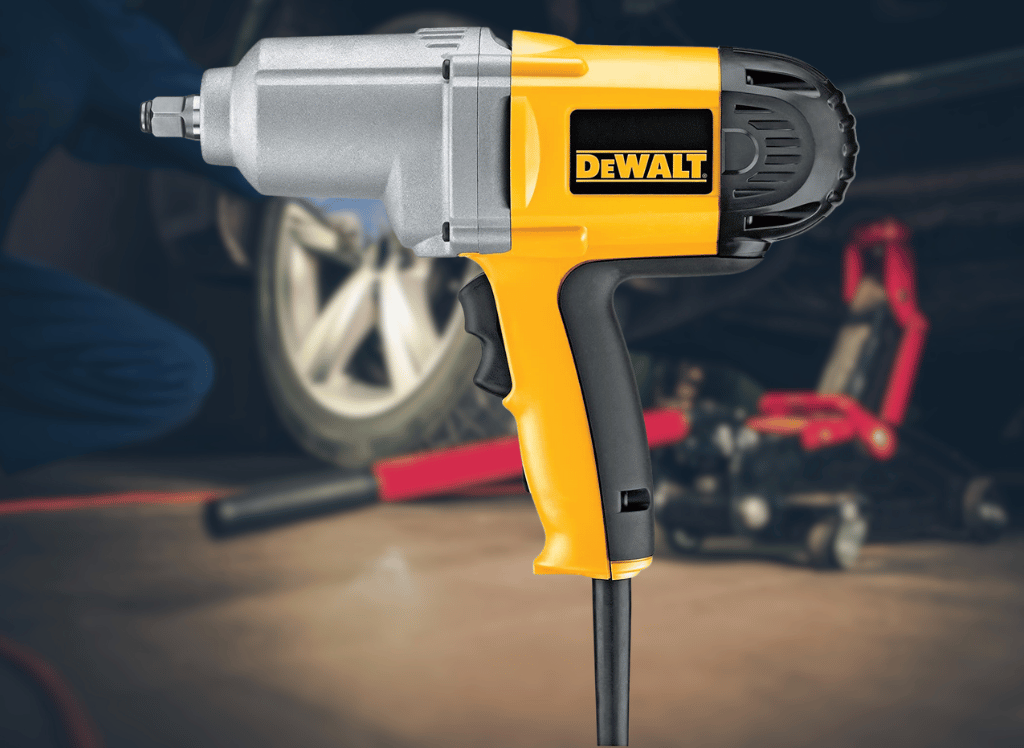 DEWALT 1/2 Impact Wrench
Check Price
Why We Like This Product
The DEWALT Impact Wrench is designed to make your jobs easier. It has a 1/2-inch electric impact wrench produces up to 345 ft-lbs of maximum fastening torque, and its 1/2-inch hog ring anvil ensures reliable connections. This tool simplifies the most difficult tasks, saving time and effort on every job.
It's also constructed with durable materials for a powerful, long-lasting performance that will complete projects quickly and efficiently. The versatile design means you can tackle all sorts of tasks, from basic home repairs to heavy industrial work, without switching out tools or changing settings between uses. With the DEWALT Impact Wrench, you'll experience ultimate convenience and reliability as it helps simplify any job in no time!
Things to Know
The DEWALT Impact Wrench is a powerful, versatile tool that can handle even the toughest jobs. It features an adjustable forward/reverse rocker switch for convenience and a soft-grip handle to reduce fatigue and ensure comfort during use.
With this impact wrench, you get the power of a corded model with the added benefit of improved control and ease of use. Whether working on cars, heavy machinery, or any other project requiring an impact wrench, this tool will make your job easier.
About this item:
Color: Yellow, Black, and Gray
Brand: DEWALT
Material: Blend
Item Dimensions LxWxH: 10.88 x 1 x 4.88 inches
Item Weight: 7.5 Pounds
---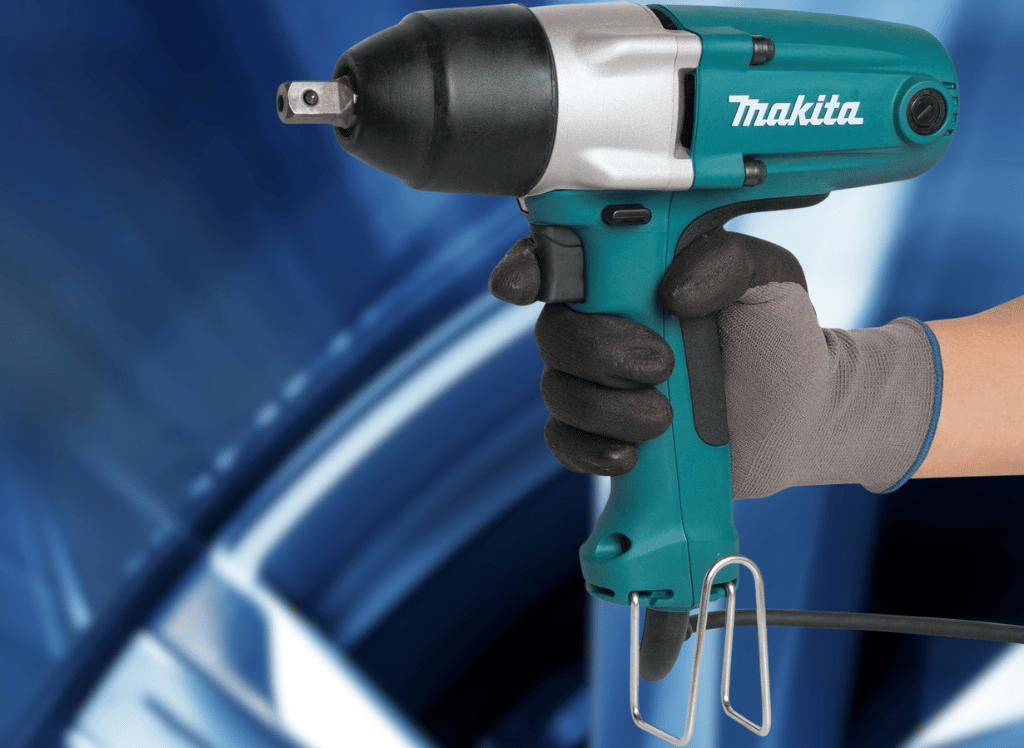 Makita TW0200 1/2" Impact Wrench
Check Price
Why We Like This Product
The Makita TW0200 1/2" Impact Wrench is an ideal tool for fastening applications. A variable speed switch allows you to control and adjust the operation to your needs easily. The efficient impact system of this tool offers less vibration, which in turn increases its life span.
Additionally, the externally accessible brushes make replacement easy and quick, giving you greater efficiency during tasks. This amazing solution from Makita is perfect for professional users and DIYers who want reliable performance and ease of use on the job site.
Things to Know
The Makita TW0200 1/2" Impact Wrench is a powerful and reliable tool designed to help you tackle tough jobs with ease. It features precision gearing with the ball and needle-bearing construction for smooth, efficient power transmission, while its compact and lightweight design (just 4.9 lbs.) makes it perfect for use in close quarters. With this impact wrench at your disposal, you can confidently handle any task that comes your way!
About this item:
Color: Factory
Brand: Makita
Material: Aluminum, Metal, Rubber
Item Dimensions LxWxH: 9.87 x 3.25 x 9.5 inches
Item Weight: 4.9 Pounds
---
MILWAUKEE'S 1/2 Impact Wrench
Check Price
Why We Like This Product
The Milwaukee Impact Wrench is a powerful tool designed to tackle tough jobs easily. This impact wrench delivers up to 300 ft./lbs. Of torque, making it perfect for heavy-duty projects. It has multiple power settings and an ergonomic handle for maximum comfort and control while working.
With its various power tools and accessories, users get professional-level results in less time - allowing them to take on more challenging tasks quickly and efficiently. MILWAUKEE's Impact Wrench is the ideal solution for DIYers and professionals who need a dependable tool that won't disappoint them when tackling the toughest projects.
Things to Know
The MILWAUKEE Impact Wrench is the perfect tool for any job. This powerful 7-amp motor drives an impact mechanism at 1800 rpm, allowing users to take on even the toughest jobs easily. The pin-detent system securely retains sockets and adapters so you can ensure your tools are firmly in place while working.
With an AC/DC rocker switch quickly switching forward and reverse, this lightweight (6 pounds) impact wrench offers a balanced feel and cushioned grip for maximum comfort during extended use. Backed by a limited warranty, you can trust that this reliable tool will always do the job.
About this item:
Brand: Milwaukee
Material: Plástico
Item Dimensions LxWxH: 12.99 x 3.35 x 12.2 inches
Item Weight: 6 Pounds
Item Package Quantity: 1
---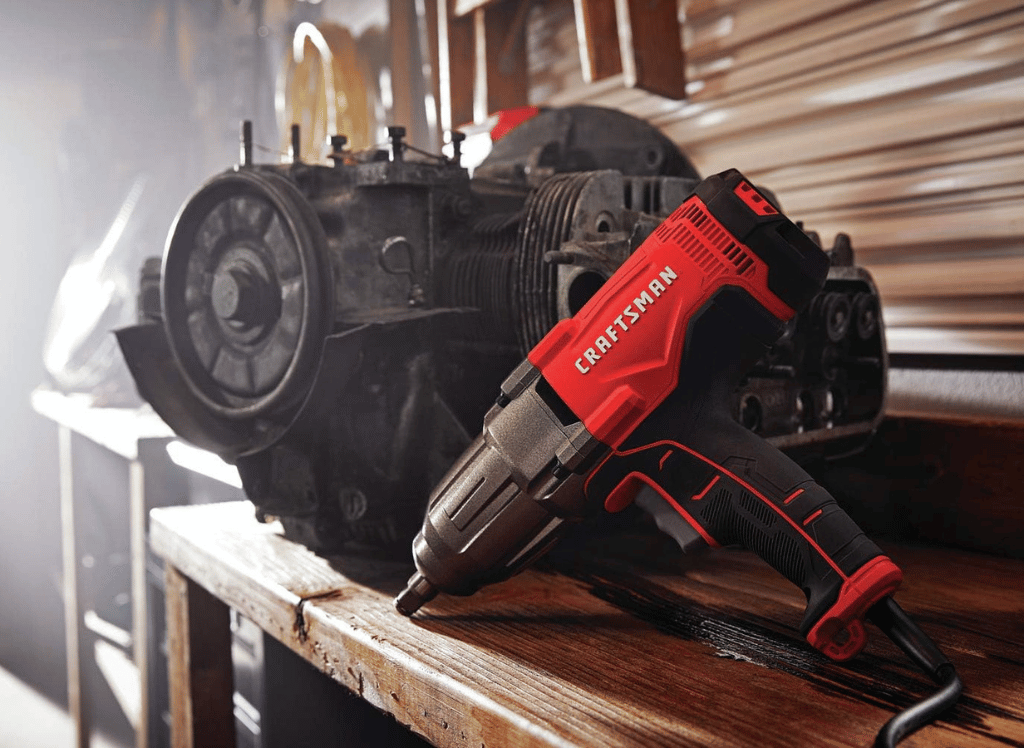 CRAFTSMAN 1/2 Impact Wrench
Check Price
Why We Like This Product
The CRAFTSMAN Impact Wrench is designed to help you quickly and easily complete your projects. Its Hog Ring Anvil makes it easy to switch out sockets, while its 450 ft-lbs of torque and 2,700 IPM provide the power needed for removing larger fasteners quickly. This corded impact wrench is a powerful tool that helps get any job done in no time with minimal effort.
Things to Know
CRAFTSMAN impact wrench also comes with a hog ring anvil allowing for speed and ease of removing large fasteners.
The CRAFTSMAN Impact Wrench is the perfect tool for quickly and efficiently loosening nuts, bolts, and other fasteners. Featuring a variable speed trigger that offers up to 2,200 RPM of power, this impact wrench provides you with added control over your projects.
In addition, it comes equipped with a convenient hog ring anvil which allows for quickly removing large fasteners without sacrificing precision or accuracy. This powerful yet versatile tool will make any job easier and more efficient than ever!
About this item:
Brand: Craftsman
Item Package Quantity: 1
Head Style: Fixed Square
Finish Type: Painted, Polished
Item Torque: 450 Foot Pounds
---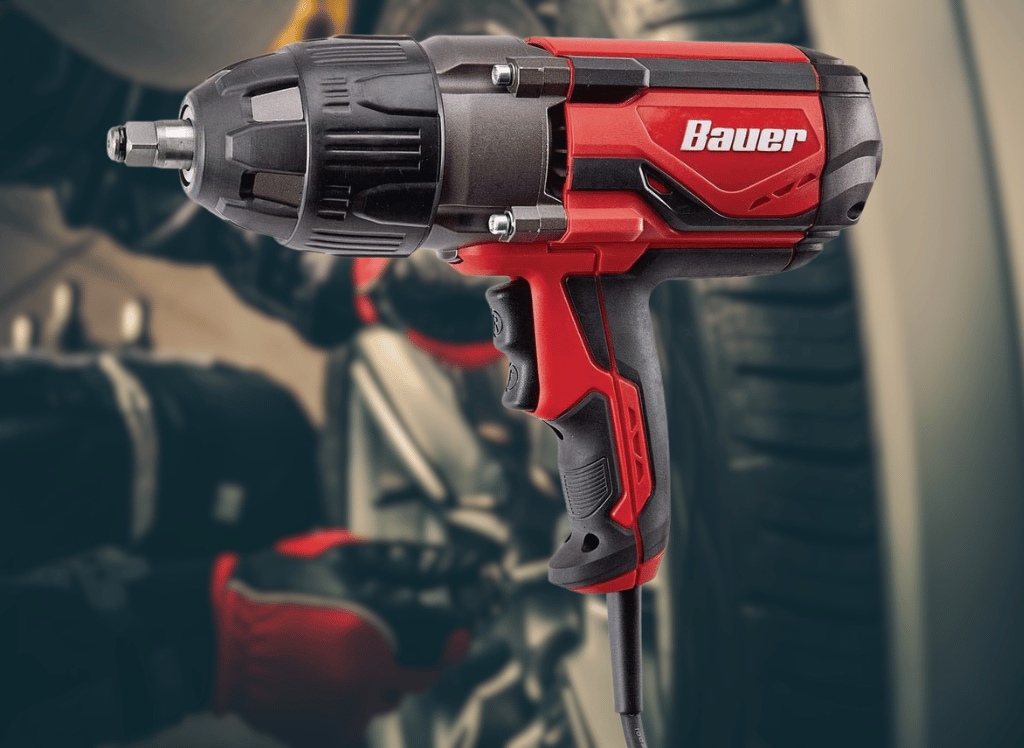 BAUER 64120 1/2 Heavy Duty Extreme Torque Impact Wrench
Check Price
Why We Like This Product
The BAUER 64120 is a 1/2 inch heavy-duty extreme high torque impact wrench with an 8.5 amp motor that delivers 1050 ft-lbs of bolt breakaway torque. It is designed for optimal performance and longevity, featuring a 1/2 in. anvil with a heavy-duty hog ring to secure socket retention during use. Ideal for professional and industrial projects, this tool provides the power and durability necessary to get the job done quickly and efficiently.
Things to Know
The BAUER 64120 1/2 Inch Heavy Duty Extreme Torque Impact Wrench is a powerful and reliable tool for any professional. It features all-metal gear construction, providing increased durability and longevity. Its rugged rubber nose and lightweight, high-impact housing offer superior performance in even the toughest job site conditions. This impact wrench has been designed to withstand heavy use, so you can be sure it will do the job right every time.
About this item:
Brand: Bauer
Material: Rubber
Item Package Quantity: 1
Head Style: Hex
Finish Type: Painted
---
Electric Impact Wrench FAQs:
1. What Are the Benefits of Electric Impact Wrenches?
An electric impact wrench offers several advantages over other types of wrenches. It can generate significantly greater torque than manual tools, making it ideal for loosening and tightening bolts quickly and efficiently.
Electric impact wrenches typically feature adjustable speed settings, allowing you to customize the speed for different applications. This makes it possible to work on a variety of materials and projects. Finally, electric impact wrenches are lightweight and easy to maneuver, making them great for working in tight spaces or hard-to-reach areas.
2. What Should You Consider When Purchasing Corded Impact Wrenches?
When purchasing an electric impact wrench, it is important to consider several key factors. First and foremost, you should consider the size of the bolts that need to be loosened or tightened, as this will determine the size of the electric impact wrench you need.
Additionally, you should also consider the power output of the tool, making sure that it can provide enough torque for your intended applications. Finally, you should also factor in the cost of the tool and any additional features it may feature (such as adjustable speed settings). Considering all these factors will help ensure you get an electric impact wrench best suited to your needs.
3. How Is an Electric Impact Wrench Used?
An electric impact wrench is typically used to loosen and tighten bolts, screws, and nuts quickly. To use the tool, you place it onto the fastener that needs to be reduced or tightened. Then, press the tool's trigger to activate its motor and deliver rotational force. Depending on your model's settings, this force may be adjustable so you can set it to the speed and torque needed for the job. Once the bolt is loosened or tightened, release the trigger and remove the tool from the fastener.
In addition to being used on bolts and screws, electric impact wrenches can also be used on other items, such as removing rusted nuts, installing decking boards, or even breaking up concrete. As long as the tool is powerful enough for the job, it should be able to handle almost any task.
4. How Do You Maintain an Electric Impact Wrench?
Maintaining the tool regularly and properly ensures optimal performance and a long lifespan for your electric impact wrench. This includes regularly cleaning the tool's air filter and motor to remove dust and debris that may accumulate over time.
Furthermore, it is also important to periodically check the condition of all components, such as the battery, brushes, and switch assembly, to ensure they all function properly. Additionally, you should regularly apply lubrication to any moving parts to reduce friction and extend the tool's life. These simple steps will help keep your electric impact wrench running at its best for years.
5. Does an Air Impact Wrench Have Higher Torque than Cordless Impact Wrenches for Tightening Lug Nuts?
Yes, an air impact wrench has higher torque than cordless impact wrenches for most applications. Air impact wrenches are powered by a compressed air supply, which provides more power than a battery-powered cordless impact wrench.
This higher torque makes air impact wrenches ideal for heavy-duty applications such as removing and installing lug nuts on cars and trucks.
Cordless impact wrenches are better suited for lighter-duty tasks such as assembling furniture or tightening screws. Many battery-powered impact wrenches have a light to access dark spaces while working.
Final Thoughts about Electric Impact Wrench
Electric impact wrenches are a great tool in your arsenal, and we hope this guide has helped you find the perfect one for your needs.
You'll easily tackle even the toughest jobs with the right electric impact wrench. So don't wait – check out the featured products and find the perfect electric impact wrench for you today! Thank you for reading!
Your friend,
Todd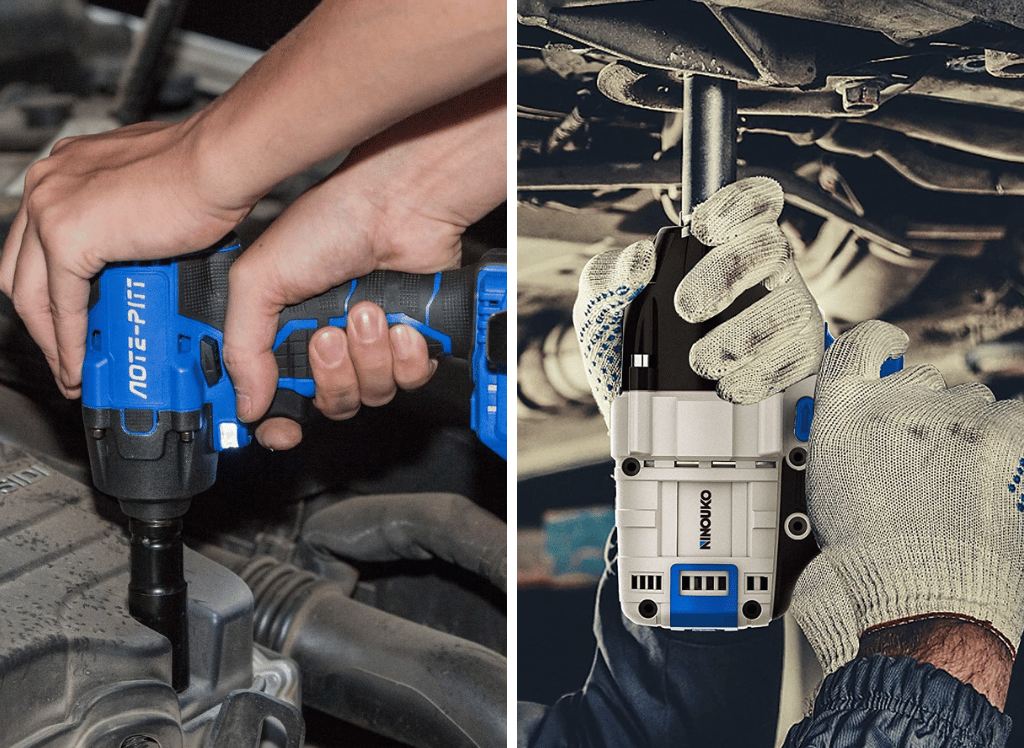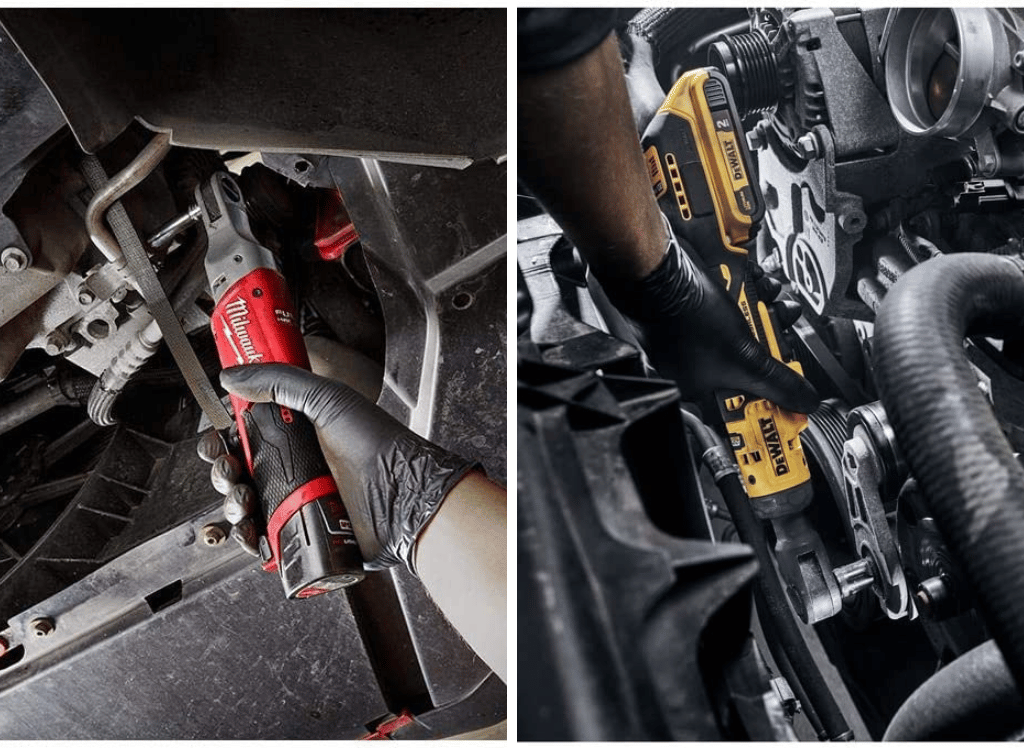 Are you looking for the best products? We've got you covered! Our editors independently selected each item on this list. Mechanicaddicts may collect a share of sales or other compensation (at no cost to you) from links found within these pages if they choose to buy something (that's how we stay in business); as an Amazon Associate, we earn from qualifying purchases. Reviews have been edited for length and clarity; enjoy finding your next favorite thing today!