Be Ready for Anything: Keep a Set of Tire Chains On Hand
Ensuring your vehicle is prepared for potential winter driving hazards is crucial with winter fast approaching. Tires and chains are two essential items that can make a significant difference in the safety of your travels.
Chains are another important tool for winter driving, particularly if you plan to travel through mountainous areas. They provide additional traction to help you safely navigate steep inclines and descents. When purchasing chains, you must ensure they're the right size for your tires and know how to install them correctly.
How Mechanicaddicts Chooses the Tire Chains
It can be overwhelming to choose the right tire chains for your vehicle. With so many options on the market, it's hard to know which ones are best suited for your needs and will provide you with the most value.
You don't want to waste time researching or money on a product that won't work for you - but how do you know what will be right?
At Mechanicaddicts, our expert reviewers have done all the research and testing for you! We've spent countless hours reviewing different products so that we can recommend only those that meet our high standards.
Our articles are designed to help guide you in making an informed decision about which tire chains best suit your needs. So if you're looking for reliable advice from experienced professionals, look no further than Mechanicaddicts!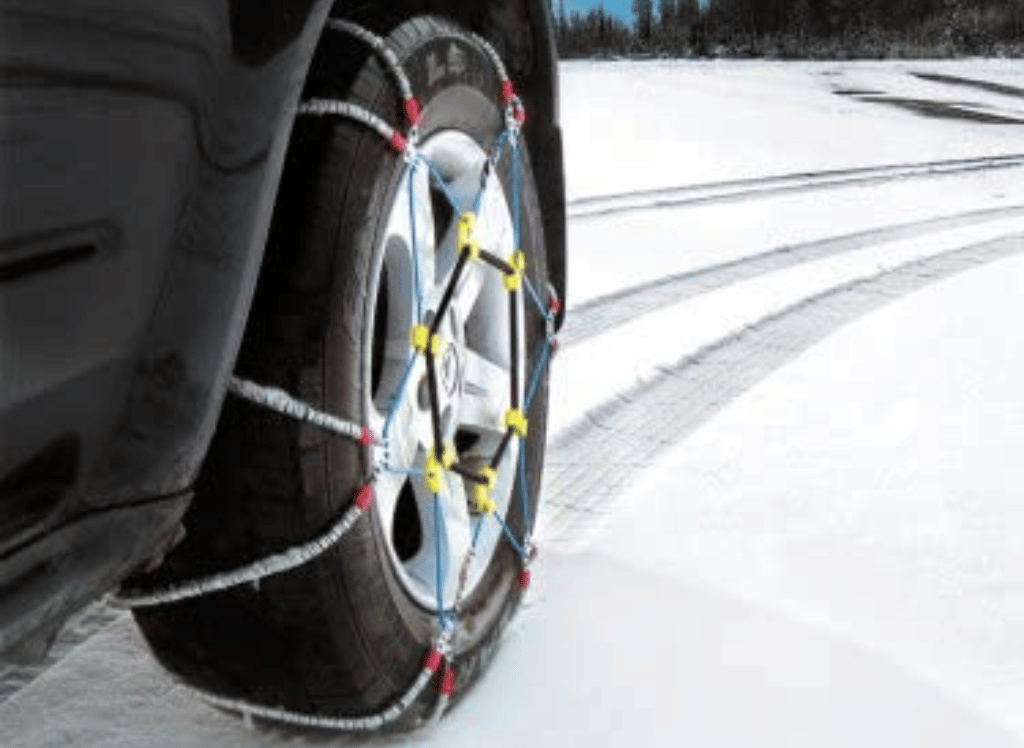 Security Chain Company SZ143 Super Z6 Cable Tire Chain
Check Price on Amazon
Why We Love It
The Security Chain Company SZ143 Super Z6 Cable Tire Chain is an excellent option for cars, pickups, and SUVs with limited operating clearance around the drive tires. Thanks to its built-in rubber tightener, it ensures fast and easy installation without moving the vehicle.
This design also eliminates the need for retightening after installation - saving you time and effort! By choosing this product, you can know your safety on the road won't be compromised.
Things to Know
Security Chain Company's SZ143 Super Z6 Cable Tire Chain is a revolutionary product that allows users to enjoy the benefits of snow tire chains and cables without sacrificing space.
This innovative design requires only 6.3 mm (1/4″) of operating space in the critical inside sidewall area of the tire, significantly less than most cable and tire chains today. The SZ143 Super Z6 Cable Tire Chain is available for passenger car, pick-up, and SUV tire sizes and offers an impressive combination of performance and convenience for every user.
About this item:
Brand: Security Chain
Material: Rubber
Item Weight: 1 Pound
Vehicle Service Type: SUV
---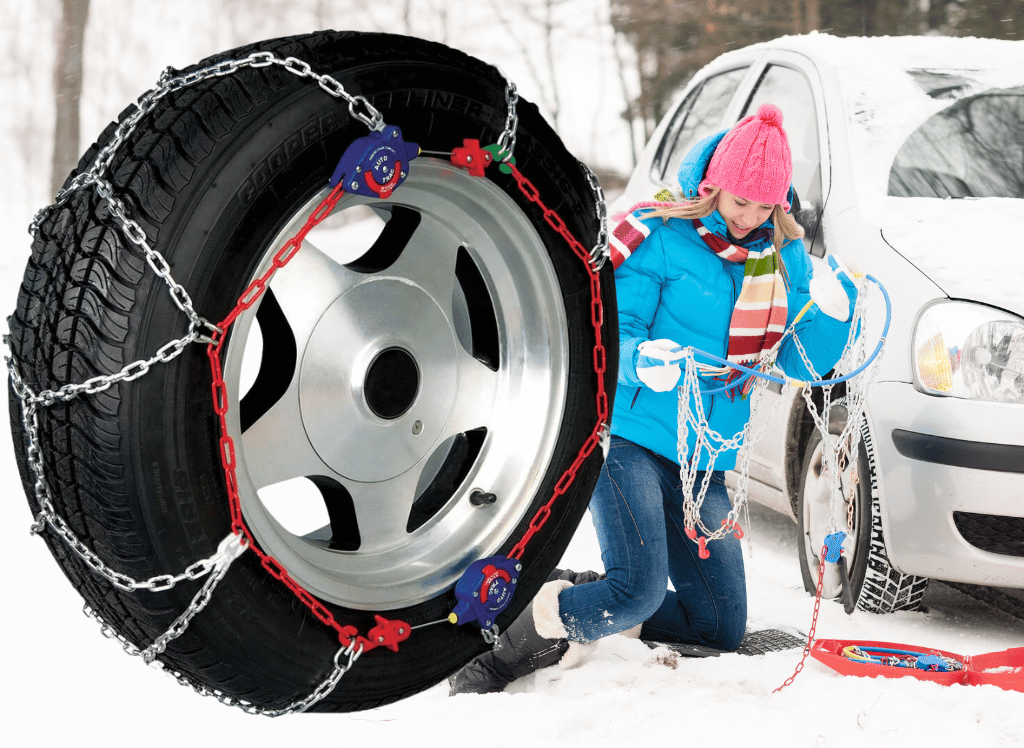 Peerless 0152005 Auto-Trac Tire Traction Chain
Check Price on Amazon
Why We Love It
The Peerless 0152005 Auto-Trac Tire Traction Chain is a reliable and secure solution for driving in even the worst winter weather. These chains are easy to install and remove in minutes and feature worry-free self-tightening ratchets that provide automatic tightening and centering.
The diamond pattern cross chain provides a smoother ride and superior traction, so you can confidently travel while keeping your vehicle safe from slipping or skidding on icy roads. However, it is essential to note that these chains must not be used when traveling faster than 30 MPH, which could cause unnecessary damage.
Things to Know
The Peerless 0152005 Auto-Trac Tire Traction Chain is ideal for those seeking to meet class 'S' clearance requirements. This tire traction chain provides superior performance and convenience thanks to its worry-free self-tightening ratchets, which provide automatic tightening and centering.
The chains can be installed and removed in minutes with minimal effort, making it an excellent choice for drivers who need reliable traction quickly and easily.
About this item:
Brand: Security Chain
Material: Alloy Steel
Item Weight: 8.45 Pounds
Vehicle Service Type: Car
---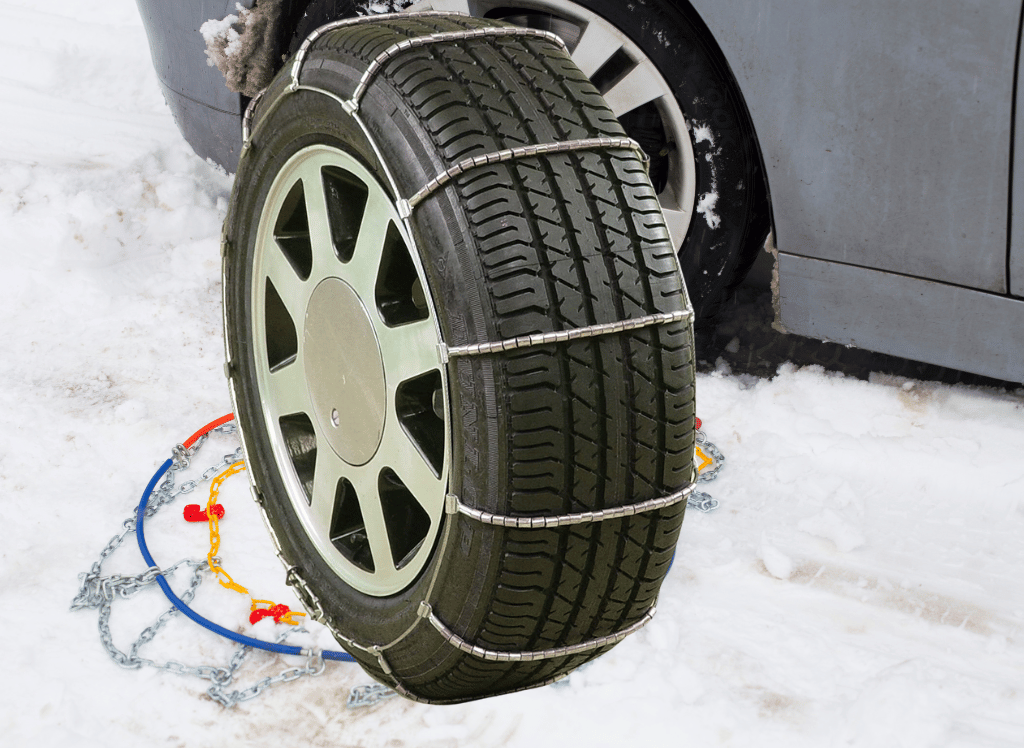 Glacier 1042 Passenger Cable Tire Chain
Check Price on Amazon
Why We Love It
The Glacier 1042 Passenger Cable Tire Chain is a reliable and durable solution for winter driving conditions. It is made from case-hardened steel rollers tightly secured to cross members, providing maximum traction when navigating snowy or icy terrains.
These tire chains are suitable for front-wheel and rear-wheel drive vehicles, making them perfect for most vehicle types. The Type S design of these tire chains also offers limited clearance, allowing you to maneuver easily in tight spots without compromising grip and safety.
Ensure you have the right equipment before braving cold weather roads - trust Glacier 1042 Passenger Cable Tire Chains!
Things to Know
The Glacier 1042 Passenger Cable Tire Chain is the perfect choice for drivers looking for reliable traction and long-lasting performance. This cable traction device meets all state requirements and fits 14" to 20" tires.
It features tough carbon steel rollers that provide excellent grip on various surfaces while reducing noise and vibration and an electro-galvanized coating for rust protection. With its durable construction and low-profile design, this tire chain will provide years of reliable service.
About this item:
Brand: Glacier Chains
Material: Alloy Steel
Item Weight: 6.34 Pounds
Vehicle Service Type: Car
---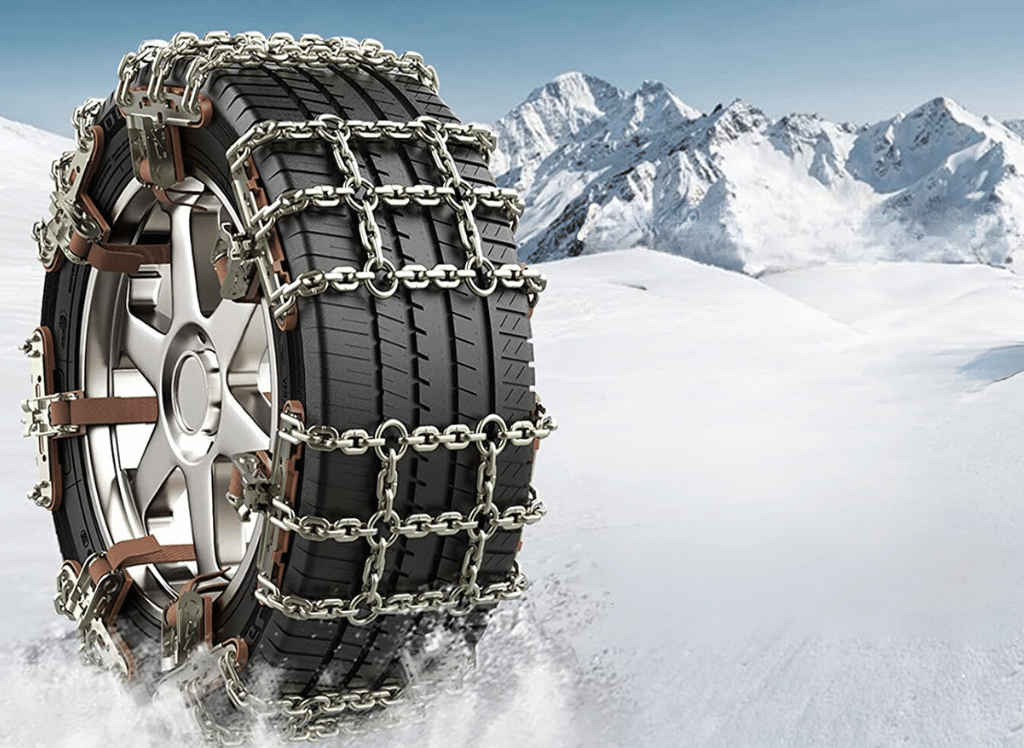 Agnuk Thickened Snow Chains
Check Price on Amazon
Why We Love It
The Agnuk Thickened Snow Chains provide better traction and smoother driving on slippery winter roads. Featuring a unique mechanical design, each chain consists of three leading chains and two balance stabilizers working together to grip the road surface while resisting skidding firmly.
Thanks to their electroplating process outer layer, they offer superior rust protection, ensuring the snow chains last all season long. Best of all, installation is easy – you won't need to dismantle tires or move your vehicle to install them! Simply follow our video installation instructions for a complete setup.
Things to Know
Agnuk Thickened Snow Chains are an essential winter driving gear, providing excellent traction and stability in icy or snowy conditions. Constructed with engineering-grade webbing and resin spacers at both ends, these chains are strong and durable enough to prevent side slipping during driving.
They're suitable for most models with tire widths between 195-225mm, making them an excellent choice for various vehicles. However, it's important to note that emergency braking is not allowed when using this product, and the speed should not exceed 40km/h.
About this item:
Brand: Agnuk
Material: Alloy Steel
Vehicle Service Type: SUV
---
Why We Love It
K&K Automotive Snow Socks for Tires are the perfect winter driving solution, providing safe snow and ice traction. The socks are easy to assemble in just five minutes and come with a pair of gloves and convenient storage bags.
They are EU EN-16662-1 certified, meaning they have been approved by Colorado's Department of Transportation as an alternate traction device that won't damage your tires or rims. Designed in Canada and manufactured in Europe, these socks provide optimal safety without sacrificing performance; they're thicker and more robust than competitors' products, yet still light and compact. Perfect for cars, SUVs, vans, pickup trucks, and 4x4s - get ready to take on the winters safely!
Things to Know
K&K Automotive's Snow tire socks for Tires are the perfect solution for winter travel. They provide superior traction, improved steering, and braking performance compared to tire chains or cables and are legally accepted as tire traction devices in most countries.
The snow socks are tear-resistant, washable, and reusable, making them an ideal emergency travel kit for winter driving conditions like blizzards. These durable snow socks can be used on cars, SUVs, trucks, vans, 4x4 vehicles, and all-wheel drive (AWD) vehicles of any size. With K&K Automotive's Snow Socks, you can know that your vehicle will have the ultimate grip when heading off to mountain areas or ski resorts this season.
About this item:
Brand: KNK Boutique
Material: Polyester
Vehicle Service Type: Bus, Motorcycle, Van, ATV, Car, UTV, Pickup Truck, Light Truck
---
Tire Chains FAQs:
1. What Are Tire Chains, and What Do They Do?
Tire chains are devices made of hardened steel chains that wrap around your tires for better traction on slippery roads. They provide more grip and help you maintain control in snowy or icy conditions.
2. Are Tire Chains Legal Everywhere?
Tire chain laws vary by state and country, so it is important to check with local authorities for guidelines on when and where to use them. Some areas even require specific types of tire chains that meet certain standards.
3. How Do I Install Tire Chains on My Vehicle?
The installation process can vary based on the type of chains and your specific vehicle. It is crucial to read the manufacturer's instructions thoroughly and practice installing them before using them in an emergency. Some experts recommend taking your car to a mechanic or tire shop for professional installation.
4. Do I Need to Use Tire Snow Chains on All Four Wheels?
It is recommended to use tire chains on all four wheels for optimal traction and control. However, in some cases, using them on only two wheels may be acceptable if your vehicle is designed for it or if the situation calls for less extreme measures.
5. How Fast Can I Drive with Snow Tire Chains On?
Driving at moderate speeds with tire cable chains is important, typically no faster than 30-40 mph. Driving too quickly can cause the chains to break or damage the tires, putting you and others on the road at risk. Removing the chains once you have reached dry, clear roads is also important to avoid further damage.
6. Can You Use Cable Chains on Winter Snow Tires?
Yes, cable chains can be used on winter tires. Some winter snow tires may even require cable chains in certain driving conditions. However, it is important to note that not all snow tires are created equal, and some may not be suitable for use with cable chains.
Select the correct size and type of cable chain for your specific tire size and vehicle. Using the wrong size or type of chain can cause damage to both your tires and vehicle and compromise your safety on the road. Before purchasing or installing cable chains, always consult the manufacturer's instructions and seek the advice of a trusted professional.
Final Thoughts about Tire Chains
Regarding winter driving safety, tire chains are an essential tool for tackling icy roads. Not only do they help provide superior traction and control in slippery conditions, but they also last a long time when properly maintained.
With the right chain type for your vehicle's tires and regular inspection throughout the season, you can be sure your car will stay safe on any road this winter. Investing in quality tire chains is a smart decision - not just for peace of mind but also to keep yourself, your passengers, and other drivers around you as safe as possible during inclement weather conditions. So don't wait until the snow is on the ground, check the lowest prices, grab a set, and prepare with reliable tire chains!
Thank you for reading!
Your friend,
Todd
If you are interested in entertainment while you shop, you can get a 30-day free trial of Amazon Prime Music or listen to your favorite audiobook with Two Free Audiobooks from Audible Plus! Additionally, if you want to take advantage of 2-day shipping, try Amazon Family 30-day Trial.
Are you looking for the best products? We've got you covered! Our editors independently selected each item on this list. Mechanicaddicts may collect a share of sales or other compensation (at no cost to you) from links found within these pages if they choose to buy something (that's how we stay in business); as an Amazon Associate, we earn from qualifying purchases. Reviews have been edited for length and clarity; enjoy finding your next favorite thing today!