Use a Hand-Held Vacuum Pump for Versatile Functions
Are you a car enthusiast looking for the best tool to help you diagnose your car? Get ready to rev up your engine and get the answers you need.
Are you a DIY mechanic who needs a helping hand? Check out our list of the top six hand vacuum pumps for vacuum supply and bleeding brakes – and get your car back on the road in no time!
Whether You're a Professional Mechanic or a Do-It-Yourselfer, We Want to Help You Find the Hand-Held Vacuum Pump for Your Needs.
Are you looking for the best hand-held vacuum pump but don't know where to start?
With so many products on the market, finding one that will work for your needs can be tricky. That's why we have put together this article – to help you make an informed decision when selecting a hand-held vacuum pump. We'll provide tips and advice on essential features, choosing the right product, and more!
You want a reliable hand-held vacuum pump that is easy to use and won't break down after a few uses. It would help if you also had something that would last through multiple projects without needing repairs or replacements. With our guide, you'll be able to find the perfect product for your needs in no time!
Read this article for expert tips and advice on choosing the best hand-held vacuum pump!
How Mechanicaddicts Chooses the Hand-Held Vacuum Pump
With so many hand-held vacuum pumps on the market, it can be challenging to know which one is right for you.
You don't want to waste time researching and testing products that may not even work for you. And you certainly don't want to spend money on something that won't do what you need it to do.
That's why Mechanicaddicts has done all the hard work for you! Our expert reviewers have spent countless hours researching and testing the best hand-held vacuum pumps available today, so all you have to do is read our reviews and decide which product suits your needs. Let us help take away some of the stress of shopping with confidence!
Why We Love It
The HTOMT Brake Bleeder Kit Hand-held Vacuum Pump Test Set is an essential tool for any automotive mechanic or enthusiast. Its built-in vacuum gauge provides a convenient readout of pressure levels up to 0-30 inches Hg or 0-760mm Hg.
The kit has four tubes of different lengths to satisfy various needs and a spare O-ring for every product. This handy device is perfect for checking brake lines, carrying out vehicle maintenance tests, and more. Make sure you're always prepared and get the most out of your car with this reliable brake bleeder kit!
Things to Know
The HTOMT Brake Bleeder Kit Hand-held Vacuum Pump Test Set is designed for home and business applications, making it an ideal choice for those needing to bleed brakes by themselves. The kit comes with different adapters that make it suitable for all vehicles, and the high-quality material of its carrying case ensures durability and portability.
This makes the set easy to transport and store, giving users more flexibility when using the tool. This brake bleeder kit allows users to bleed their car brakes while ensuring safety and accuracy easily.
Why We Love It
The Thorstone Brake Bleeder Kit with Hand-Held Vacuum Pump is an invaluable tool for the DIY mechanic. It lets you flush out old brake fluid and air and guide new fluid into your vehicle's brake system. The manual pump and vacuum gauge can be used on various parts and systems while providing convenient pressure readouts between 0-30inHg (0-760mmHg).
Things to Know
The Thorstone Brake Bleeder Kit with Hand-Held Vacuum Pump is the perfect tool for brake bleeding. It features a pressure-proof stalinite stronger than typical material and metal parts made of alloy and copper for corrosion-proof solid performance.
The tubes are made from premium PVC to ensure maximum sealing performance and heat resistance. With the included accessories such as a vacuum pump with gauge, 4.5oz reservoir jar, three transparent hoses, six adapters, two connectors, and a blow mold case, this kit meets all your needs when it comes to brake bleeding on cars, bikes, and motorcycles.
Why We Love It
The Mityvac Manual Brake and Clutch Bleeding Tune-up Kit with Hand-Held Vacuum Pump Tester is an ideal manual brake bleeding solution. It enables you to easily and quickly bleed brakes, test vacuum readings, and pump out oil and other fluid transfer from any motorcycle, car, or truck braking system.
The vacuum gauge provides efficient readouts to diagnose various parts and systems in your vehicle effectively. In addition to its automotive uses, this handy device is also perfect for use on household kitchen vacuum sealers for sealing food jars and bags.
Things to Know
The Mityvac MV8000 kit is a comprehensive tool that simplifies engine performance diagnostics and other automotive tasks. This product provides users with a powerful Selectline hand-vacuum pump, fluid reservoir and lids, seven tapered adapters, two manifold plugs, three bleed screw adapters, and four connection tubes in length from 24"to 3-5/8''.
The MV8000 also features a convenient one-finger vacuum release, premium gearless diaphragm gauge, and reinforced handle for improved durability. With the MV8000, you can efficiently perform one-person engine performance diagnostics, vacuum brake and clutch bleeding, fluid transfer, evacuation, sampling, windshield repair, turbocharger testing, and more. This handy tool allows you to take on various automotive tasks quickly and easily.
Why We Love It
The DASBET Hand-Held Vacuum Pump is the perfect tool for automotive maintenance. This multi-functional device can test essential vehicle settings and serve as a vacuum bleeder for brakes. The pump has a cushioned pistol grip handle and a convenient installation with an exquisite design for simple operation. It also provides excellent sealing performance and has an easy-to-use vacuum gauge that measures pressure from 0 to 30 inHg (0 - 760 mmHg).
Things to Know
The DASBET Hand-Held Vacuum Pump is a durable and dependable tool designed to make your life easier. Made of high-quality materials, including alloy steel, plastics, and rubber, this vacuum pump is built to last. It also comes in a blow-molded case for safe and easy transport and storage. With the DASBET Hand-Held Vacuum Pump, you can be sure that it will provide reliable performance for all your needs.
Why We Love It
The HAOFANG Hand-Held Vacuum Pump is a versatile automotive tool for brake bleeding and other diagnostic purposes. It features an easy-to-use design that allows you to test various vehicle systems and components effectively.
The complete kit includes the necessary accessories, including adapters suitable for all vehicles. This multifunctional vacuum pump will allow you to quickly identify any problems in your car's engine or brakes, ultimately saving you time and money. With the HAOFANG Hand-Held Vacuum Pump, maintaining your vehicle has never been easier!
Things to Know
The HAOFANG Hand Held Vacuum Pump is a versatile and powerful tool for automotive maintenance. It can be used as a vacuum pump brake bleeder kit, vacuum test kit, motorcycle brake bleeder vacuum pump, hand vacuum pump, master cylinder bleeder kit, and more.
This reliable device comes with a storage case that's made of high-quality material to ensure maximum durability and portability. With the HAOFANG Hand-Held Vacuum Pump in your arsenal of tools, you can rest assured that all your automotive needs will be taken care of quickly and efficiently.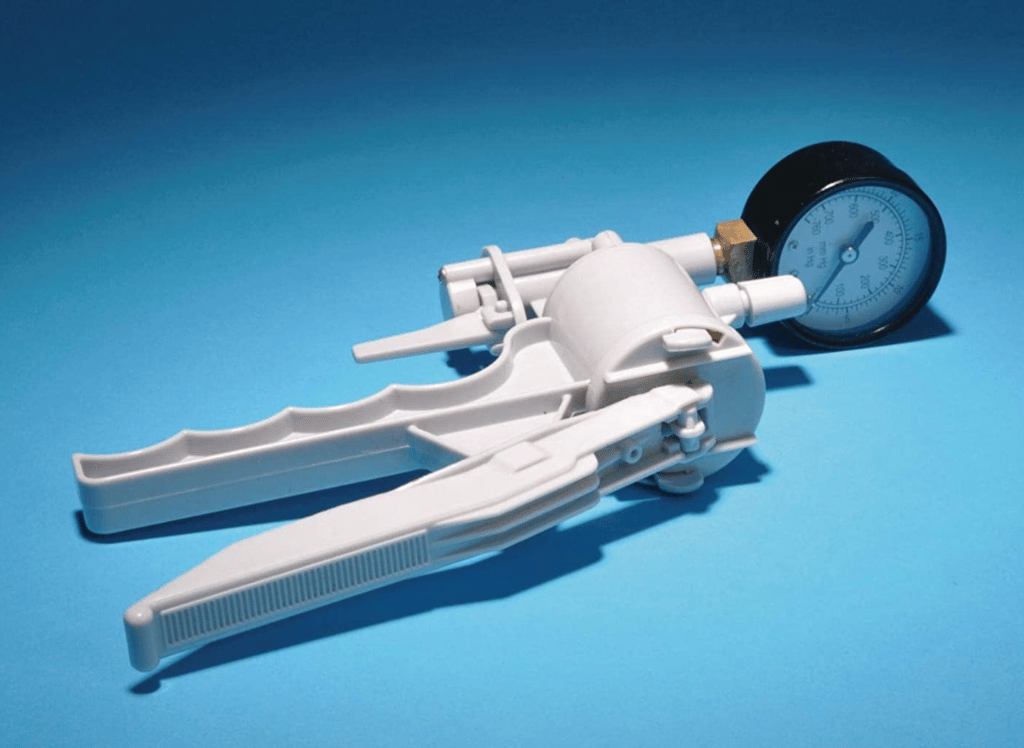 HVP001- Hand Vacuum Pump
Check Price on Amazon
Why We Love It
The HVP001 Hand Vacuum Pump from United Scientific Supplies is a reliable and efficient tool for creating a vacuum or pressure. With each squeeze of the pump, you can expect to deliver approximately 15ml of air into an environment with up to 50mm Hg of vacuum or 2 atm (standard atmosphere) of air pressure. This hand pump provides convenience and accuracy to your lab setup, allowing you to fine-tune your experiments quickly and easily.
Things to Know
The HVP001 Hand Vacuum Pump is an ideal solution for users seeking a reliable and efficient vacuum pump. This pump features a removable cap and elastic valve that provide quick and easy vacuum release without dismantling the pump from the line. The design of this pump makes it highly durable, withstanding wear and tear over extended periods.
Hand-Held Vacuum Pump FAQs:
Are you looking for a Hand-held vacuum pump but feeling overwhelmed by the number of options available?
With so many choices, knowing which suits your needs can be challenging. You may have even more questions now than when you started.
Don't worry! We've covered you with our list of Frequently Asked Questions about Hand-held vacuum pumps. Get all the answers and information you need to make an informed decision and purchase with total confidence!
1. What Are the Advantages of Using a Hand-Held Vacuum Pump?
Hand-held vacuum pumps offer many advantages over traditional stationary models, including portability and convenience. These pumps can be used in various applications, such as automotive repair, industrial maintenance, HVAC systems, and medical procedures.
2. What Is the Best Way to Ensure That a Hand Vacuum Pump Works Appropriately?
The best way to ensure that a hand vacuum pump works appropriately is to regularly inspect the vacuum pump for any signs of damage or wear and tear.
Additionally, ensure that all the connections are properly sealed and that all the pump components are adequately lubricated. It's also important to check the vacuum pressure gauge to ensure the pressure is within the manufacturer's recommended range. Finally, make sure to clean the pump regularly and replace any worn-out parts as needed.
3. What Is the Advantage of an Electric Vacuum Pump over a Hand Pump?
The primary advantage of an electric vacuum pump is its efficiency. Electric vacuum pumps can generate a vacuum faster and at a higher pressure than a hand pump, making them ideal for applications that require a high level of precision or for a vacuum to be maintained for an extended period.
Electric vacuum pumps also require less effort to operate, as they are powered by electricity rather than manual effort. Electric vacuum pumps are typically more compact and lightweight than hand pumps, making them easier to transport and store.
4. How Do You Build Vacuum Pressure with a Hand Pump?
Building a vacuum and pressure with a handheld vacuum pump is relatively simple. First, ensure that the pump is correctly connected to the vacuum chamber vacuum line in which you are trying to create a vacuum. Once the pump is connected, turn it on, and it will begin to draw air out of the chamber, creating a vacuum. You can measure the vacuum pressure by using a vacuum gauge, which will give you a reading of the pressure inside the chamber. You can adjust the vacuum pressure by adjusting the pump's speed or the size of the vacuum chamber.
5. Are Hand Pumps Corrosion-Resistant?
Yes, hand pumps are corrosion-resistant. Hand pumps are typically made of stainless steel, aluminum, or plastic, all of which are resistant to corrosion. The pump body, valve, and other components are usually made of materials resistant to corrosion, making them suitable for use in many environments.
Additionally, hand pumps are usually designed to be self-priming and easy to maintain, making them an excellent choice for various applications. You can generate pressure for vacuum experiments, and replacement parts are always available.
Final Thoughts about Hand-Held Vacuum Pump
A hand-held vacuum pump is an indispensable tool for any professional who needs to test and maintain their equipment. Its versatility makes it great for many applications, from automotive repair to HVAC systems.
The combination of quality construction and efficient operation makes this device a must-have item in your toolbox that will serve you well over the years.
With its wide range of features, there's no doubt that this product can help you get the job done quickly and efficiently while saving time and money in the long run. Investing in a high-quality hand-held vacuum pump today will ensure that your work stays up to standard tomorrow!
Thank you for reading!
Your friend,
Todd
Are you looking for the best products? We've got you covered! Our editors independently selected each item on this list. Mechanicaddicts may collect a share of sales or other compensation (at no cost to you) from links found within these pages if they choose to buy something (that's how we stay in business); as an Amazon Associate, we earn from qualifying purchases. Reviews have been edited for length and clarity; enjoy finding your next favorite thing today!