Make That Critical Solder Connection with a Soldering Iron
Are you ready to take on the challenge of wiring repairs? Whether you're a beginner or an expert, our list of the best soldering irons for wiring repairs will help you get the job done!
A soldering iron is a tool to combine pieces of metal by melting and fusing them using a heat source. It consists of an electrically heated metal tip connected to a handle with an electrical current running through it.
The soldering iron tip's heat melts the solder, allowing the user to create a strong connection between two pieces of metal. Soldering is a great way to fix broken electronics, create jewelry and other art pieces, or do any repair work that requires joining two pieces of metal together. It is also often used to construct circuit boards for electronic devices.
How Mechanicaddicts Chooses the Soldering Iron
Mechanicaddicts considers factors such as temperature range, power rating, tip size and shape, handle type, and grip comfort to choose the soldering iron. Temperature range is crucial when selecting a soldering iron because it affects how quickly the job can be completed and how hot the soldering iron will get.
Power rating is also essential because it determines how much power the soldering iron needs to work correctly. Tip size and shape determine the type of job that can be done, while handle type and grip comfort help ensure that the user will have a comfortable experience while using it.
---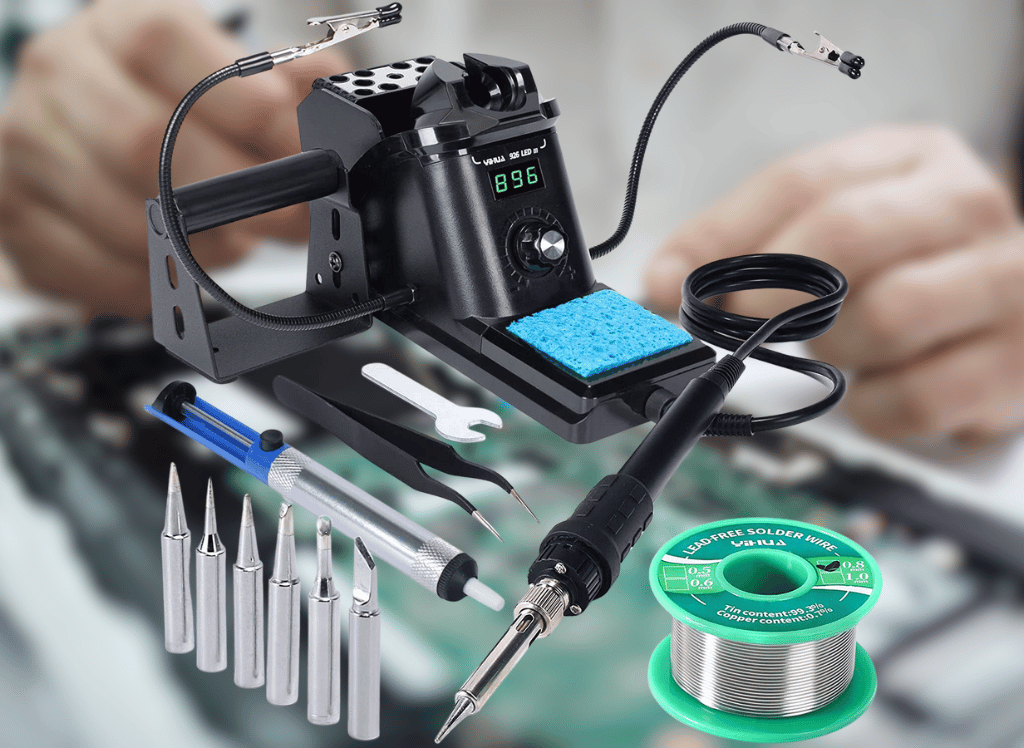 YIHUA 926 III 60W Digital Display Soldering Iron Station Kit
Check Price
Why We Love It
The YIHUA 926 III 60W Digital Display Soldering Iron Station Kit offers superior performance with its fast heating and adjustable temperature. The temperature range (194℉~896) allows users to get the desired solder joint quickly and consistently.
It features a UL Standard-compliant heating element that ensures safety and a space-saving design with an integrated soldering iron holder and metallic protective mesh at the rear of the station to prevent accidental contact. This product is ideal for anyone looking for reliable, efficient soldering solutions.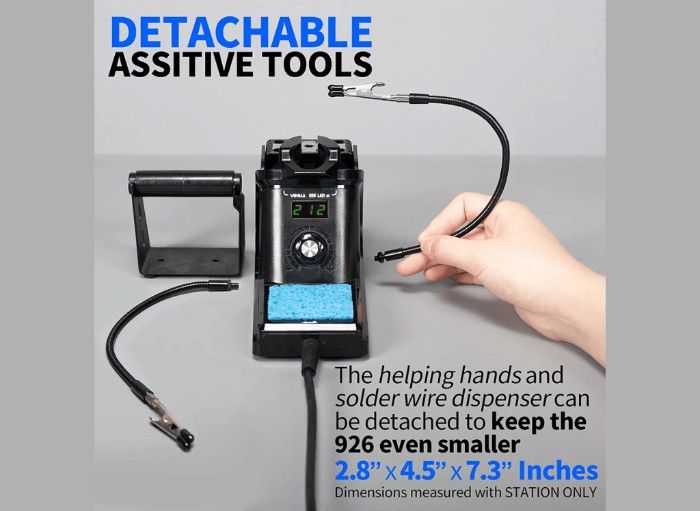 Things to Know
The YIHUA 926 III 60W Digital Display Soldering Iron Station Kit is the perfect tool for any professional or hobbyist. This kit has many features and functions that make soldering more straightforward and efficient. The station features easy °C to °F conversion, Sleep Mode (5/10/30 mins adjustable), and Digital Temperature Calibration, all accessible through the digital display master control knob.
Additionally, this 12-in-1 kit includes 2 Helping Hands, 6 Soldering Tips, a Roll of Lead-free Solder Wire (35g), a Solder Sucker, ESD Safe Tweezers, a Solder Wire Dispenser, and a Cleaning Sponge to provide an optimal experience for your work.
About This Product:
Brand: YIHUA
Item Dimensions LxWxH: 7.28 x 2.83 x 4.53 inches
Wattage: 60 watts
Display Type: LCD
Included Components: 1 x Mini-Wrench, 1 x Pair of ESD-Safe Tweezers, 1 x Roll of LEAD-FREE Solder Wire (35g 0.8mm), 6 x Assorted Iron Tips, 1 x Desoldering Pump (Solder Sucker)
1 x Mini-Wrench, 1 x Pair of ESD-Safe Tweezers, 1 x Roll of LEAD-FREE Solder Wire (35g 0.8mm), 6 x Assorted Iron Tips, 1 x Desoldering Pump (Solder Sucker)
---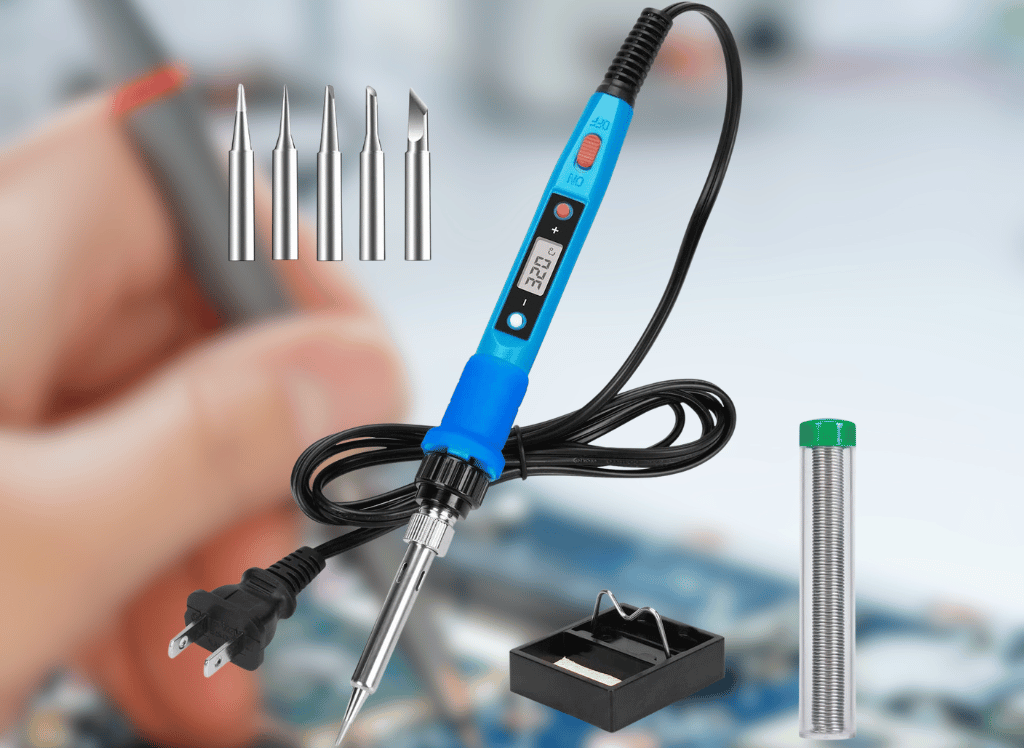 Q-MING 80W 110V LCD Digital Soldering Welding Iron Kit with Ceramic Heater
Check Price
Why We Love It
The Q-MING 80W 110V LCD Digital Soldering Iron Kit is an upgraded, high-powered soldering iron that reaches its peak temperature in just 20 seconds. It features precise temperature adjustment and a wide range of temperatures from 180℃ to 480℃ (or 356°F - 896°F).
The digital display gives precise readings on the current temperature, so you can quickly select the perfect heat setting for each welding job. This kit is ideal for business owners looking for an efficient way to complete their projects.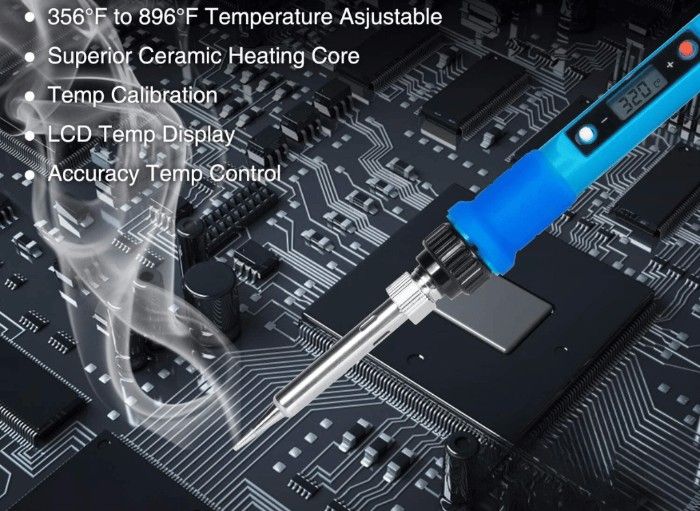 Things to Know
The Q-MING 80W 110V LCD Digital Soldering Welding Iron Kit is the perfect tool for any welding and repair job. This soldering iron set includes all the essential components – a soldering iron, a simple soldering iron stand, a conventional sponge, and a 1mm tin lead rosin core 60/40 solder.
Its four ventilation holes on the solder tip provide better heat dissipation than others, while its heat-resistant handle insulates temperature effectively to ensure long-term usage. With this kit, you can tackle any project with ease and precision.
About This Product:
Brand: Q-MING
Specific Uses For Product: Jewellery Soldering
Power Source: Ac
Wattage: 80 watts
Special Feature: Electric
---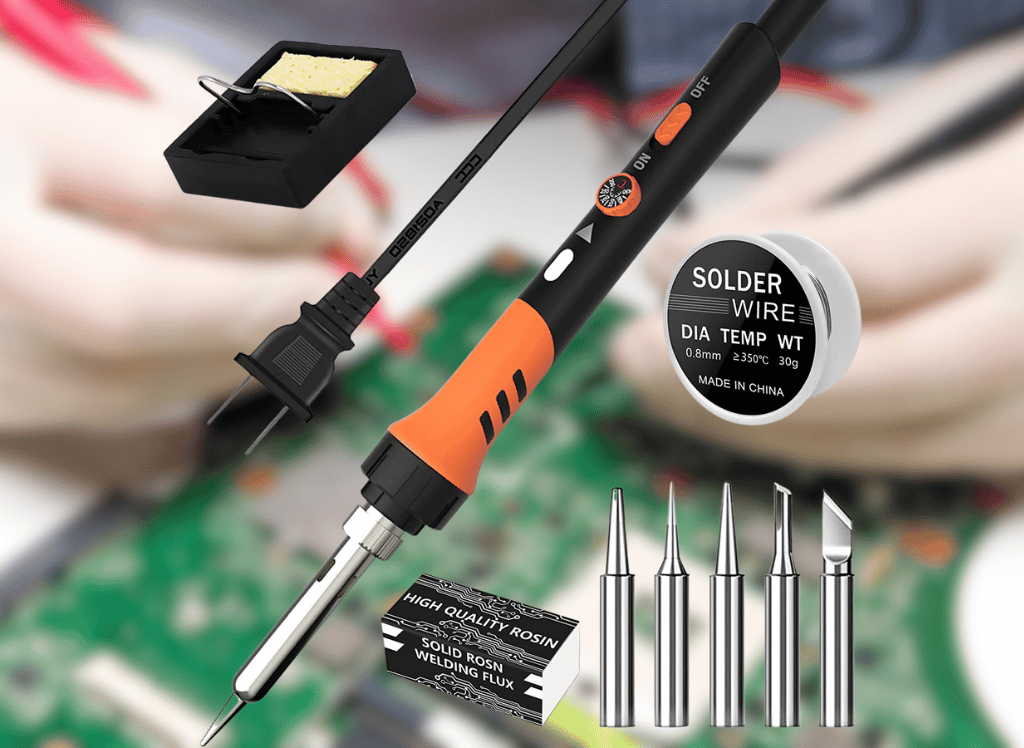 MEAKEST 60W soldering gun, 9-in-1 solder iron kit tool
Check Price
Why We Love It
The MEAKEST Solder Iron Kit Tool is the perfect solution for all your soldering needs. This reliable 110V 60W adjustable temperature electric soldering iron heats up quickly and has an on/off key for easy energy saving. Its six exhaust vents extend the soldering iron's life while preventing it from overheating.
Also included in this kit are five pcs of variously shaped solder tips that make installation easier on guitars, watches, wires, mobile devices, computer hardware, TV capacitors, or any other small electronic products and accessories. Get the quality assurance with MEAKEST!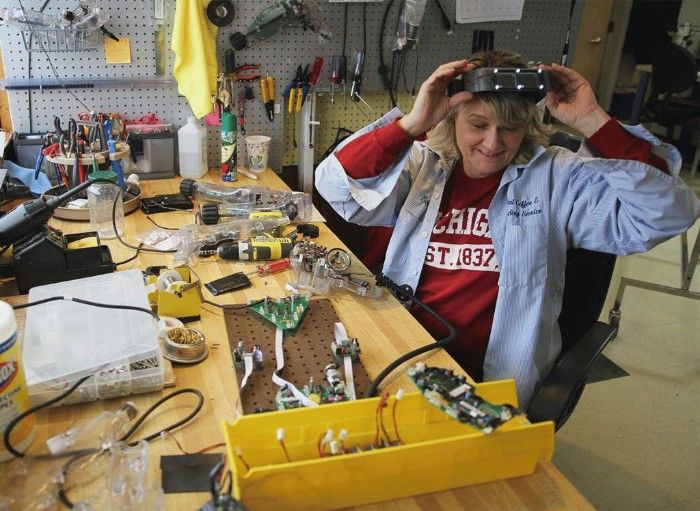 Things to Know
The MEAKEST Solder Iron Kit Tool is ideal for all your soldering needs. This reliable and efficient tool comes with an on/off switch, allowing you to easily control the temperature range from 200 to 450℃ to complete tasks under different conditions.
The ergonomic design of the handle and high-temperature resistant silicone protective cover ensures a comfortable grip while providing safety throughout use. Additionally, the insulating rubber materials improve safety using this versatile soldering iron kit tool.
About This Product:
Brand: MEAKEST
Specific Uses For Product: Industrial Use, Jewellery Soldering, Residential Use
Power Source: Corded Electric
Wattage: 60 watts
Special Feature: Heat Resistance Handles
---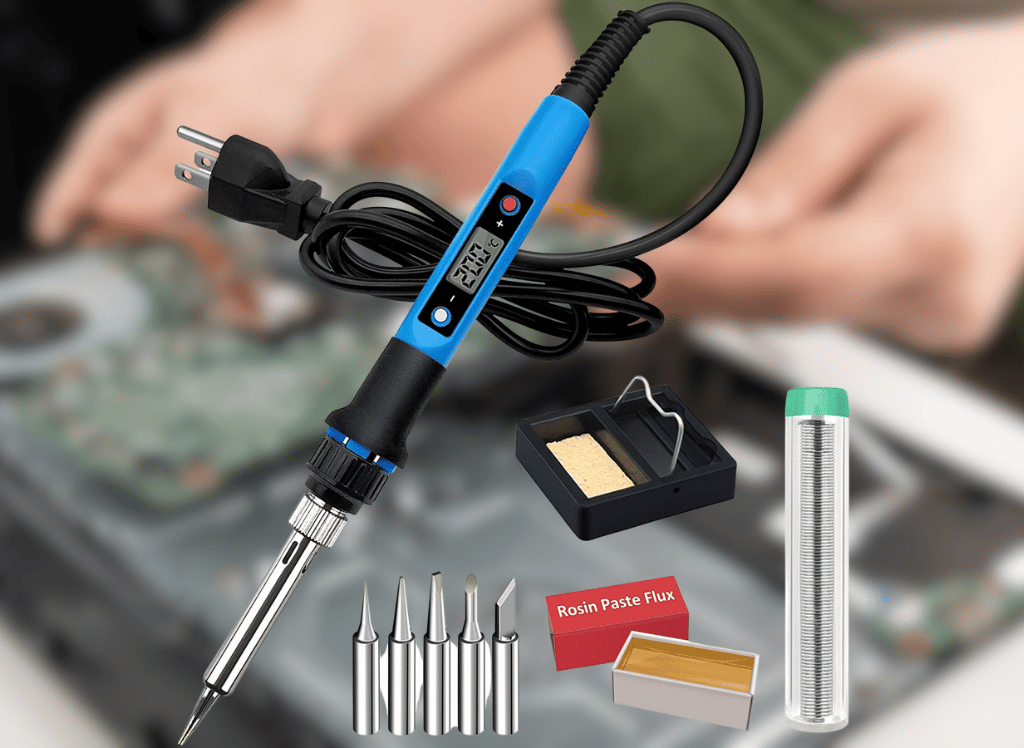 Liouhoum 80W 110V Fast Heat up in 10s LCD Digital Adjustable Temperature Soldering iron
Check Price
Why We Love It
The Liouhoum LCD Digital Adjustable Temperature Soldering Iron is a powerful and precise tool for heavy-duty soldering projects. Featuring an 80w high power ceramic core, it takes only 10 seconds to heat up to your desired temperature from 180℃-480℃/ 356°F-896°F and switch between ℃ / °F.
The bright soldering iron also features automatic sleeping and temperature memory functions. After 5 minutes of being left on the stand, the LCD will indicate "OFF" as it drops to a lower temperature level, while holding the handle will bring it back up again.
Additionally, when turned off at a specific temperature setting, the subsequent usage will automatically heat up to that setting! With this tool, you can guarantee exact temperatures every time for optimal results with any project.
Things to Know
The Liouhoum LCD Digital Adjustable Temperature Soldering iron is an excellent tool for professionals and hobbyists. It features an easy-to-read LCD screen that displays the temperature status clearly, so you can accurately control the heat.
The anti-scalding handle ensures your safety and makes it comfortable to hold in your hand. This soldering kit is also lightweight and portable, so you can take it on the go or use it at home for any DIY project or electronics repair.
With its wide range of applications, such as welding circuit boards, jewelry welding, appliance repairs, and more, this soldering iron is perfect for anyone looking into electronics projects and repairs.
About This Product:
Brand: Liouhoum
Specific Uses For Product: Welding Beginner, Soldering Teaching, Electronic Repair,
Power Source: Ac
Wattage: 80 watts
Special Feature: Portable
---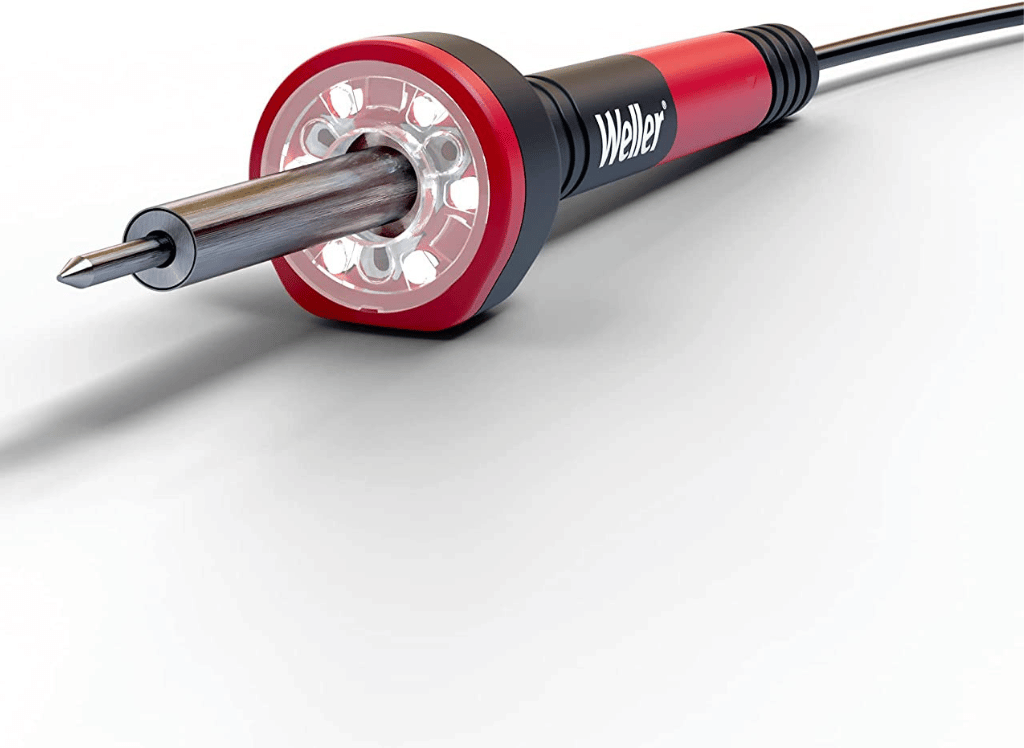 Weller 30W/120V Soldering Iron
Check Price
Why We Love It
The Weller 30W/120V Soldering Iron is the perfect tool for anyone looking for professional-quality results. It's high visibility LED Halo Ring provides 360-degree illumination, providing a focused and bright light to ensure your solder joints are of superior quality.
The ergonomic molded pencil grip also ensures optimal precision and control while soldering, ensuring comfort and accuracy with every use. With its powerful heat output and intuitive design, this soldering iron is ideal for any experienced or novice user who wants reliable performance and outstanding results.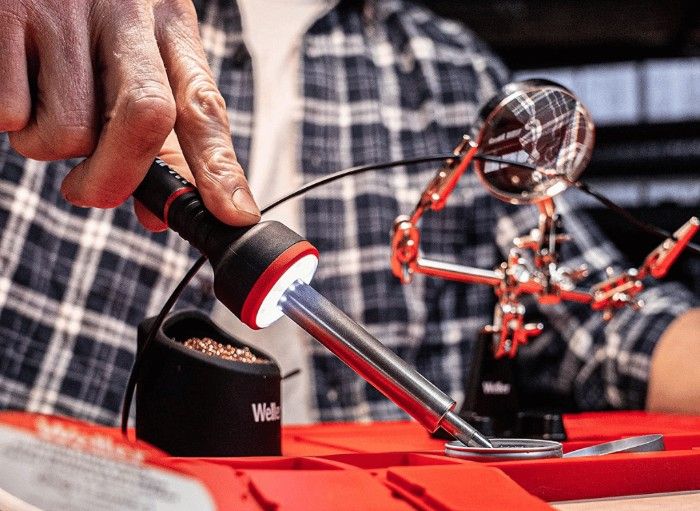 Things to Know
The Weller 30W/120V Soldering Iron is a powerful and versatile tool for any soldering job. The iron features an easy, quick tip change, allowing users to quickly replace worn tips or switch between different applications.
The range of available tips – including conical, chisel, or screwdriver designs – makes it perfect for intricate soldering tasks. The iron also comes with an integrated safety rest that securely holds the iron when not in use to ensure safety during and while not in use. With this feature-rich soldering, users can take on any project with confidence.
About This Product:
Brand: Weller
Specific Uses For Product: Professional
Power Source: AC
Included Components: (1) Weller 30W Soldering Iron, LED Halo Ring
Style: Pencil
---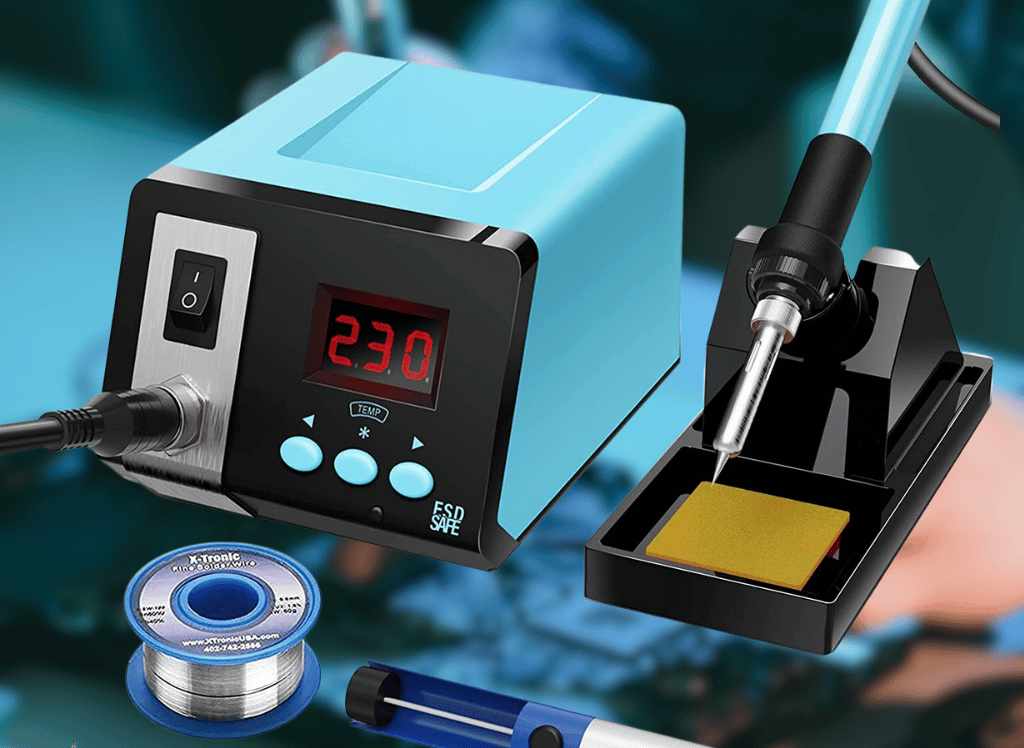 Daxiongmao Soldering Station, 75W Soldering Iron Kit
Check Price
Why We Love It
The Daxiongmao Soldering Station is a professional-grade tool for maximum safety and accuracy. This station heats up quickly and maintains superior temperature stability, featuring an LED three-digit digital display constant temperature system with adjustable temperatures from 50°C to 480°C.
It also has a built-in transformer that outputs contact safety voltage, so you can trust that your project will be done safely. With its top-end performance and reliable results, this soldering iron kit is ideal for professionals in the welding industry and DIYers or hobbyists looking to easily tackle precision electronics projects at home, in school laboratories, or other settings.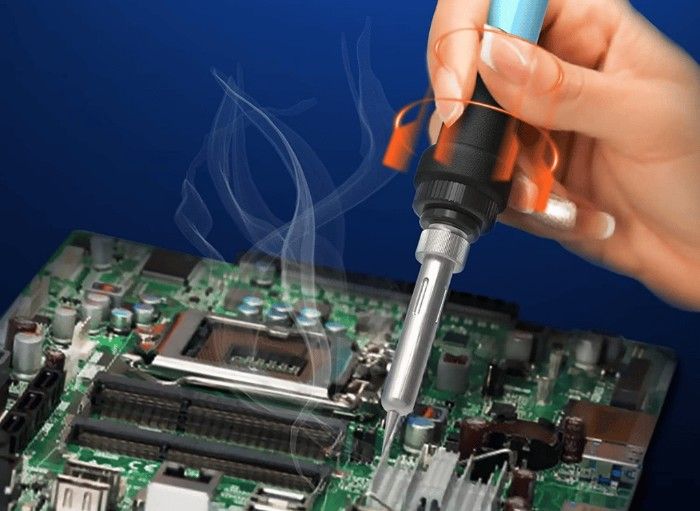 Things to Know
The Daxiongmao Soldering Station is a professional-grade soldering iron kit that offers all the features and accessories required for welding projects. It includes five soldering iron heads, brackets, lead-free tin wires, tin suction guns, tweezers, and sponges - making it suitable for beginners and experienced welders.
The station also has an automatic standby sleep mode which ensures energy conservation while extending the life of the device. Furthermore, its upgraded safety design meets UL standards in the USA to ensure user safety. This model applies to 110-127V with an American plug but does not directly plug into a 220V~240V power socket.
About This Product:
Brand: Daxiongmao
Item Dimensions LxWxH: 5 x 4 x 4 inches
Voltage: 110 Volts (AC)
Wattage: 75 Watt-hours
Included Components: Case
---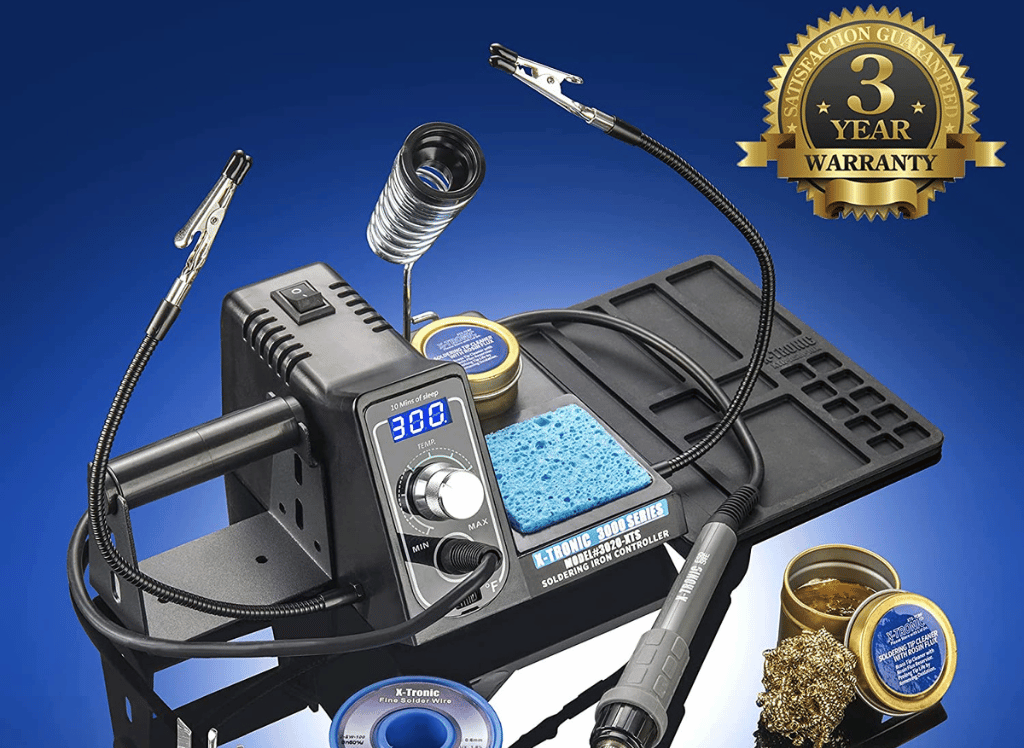 The Original X-Tronic 3020-XTS 75W Soldering Iron Station Kit
Check Price
Why We Love It
The X-Tronic Model 3020 Digital 75-Watt Soldering Station is a powerful, high-quality solution for beginner and expert users. It heats up quickly in under 30 seconds to a range of 200°C to 480°C (392°F to 896°F), making it ideal for detailed soldering projects.
This complete kit includes the station itself, five extra sizes/styles of soldering iron tips with side mount solder roll holder, brass sponge tip cleaner, plus cleaning flux in the tin, along with two helping hands for propping up smaller PCBs right in front of the unit and a 100% silicone tool mat.
Additionally, you will receive a 50g roll of 60/40 solder, a spring-style soldering iron holder, and a wet sponge to get started immediately! The X-Tronic Model 3020 is an excellent choice for reliable yet cost-effective equipment to last through all your soldering challenges.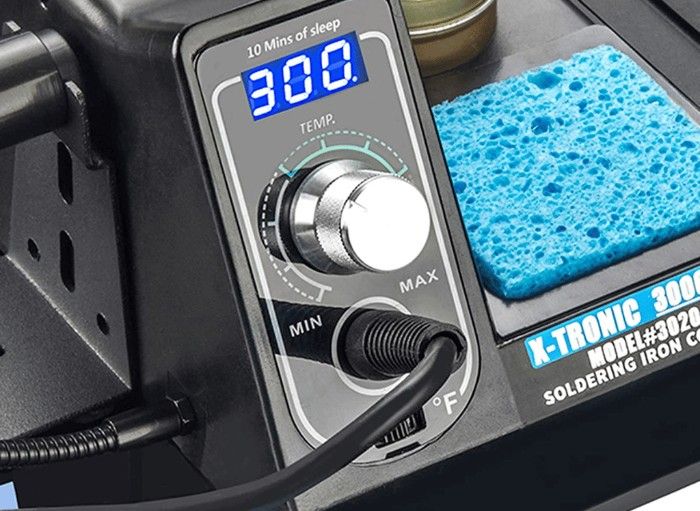 Things to Know
The Original X-Tronic 3020-XTS 75W Soldering Iron Station Kit is the ideal choice for those who require precision and accuracy in their soldering projects.
This kit offers a range of features, including ESD Safe technology, a 10-minute sleep timer, a Centigrade to Fahrenheit toggle switch, a blue LED readout on the control panel, PID (Proportional-Integral-Derivative) Technology, often referred to as Magic Temperature Compensation Technology, and 40 inches very pliable soldering iron cord (virtually no memory).
This kit also has a 55-inch power cord from the wall plug to the central unit. With its high-quality components and reliable performance, you can be sure your soldering jobs will always be done right.
About This Product:
Brand: X-TRONIC
Item Weight: 0.01 Ounces
Wattage: 75 watts
Display Type: LCD
Included Components: Brass sponge
---
Soldering Iron FAQs:
Finding a suitable soldering iron for your project can be a daunting task. With so many options available, it's hard to know which one suits your needs and budget best.
You need to consider the power source, wattage, temperature range, safety features, accessories included in the kit, and more. It's easy to get overwhelmed by all these choices!
Don't worry - we've got you covered! We have compiled a comprehensive list of frequently asked questions about soldering irons so that you can decide when to choose the perfect tool for your next project.
Our guide will help you find exactly what you're looking for with confidence and ease – whether you are a beginner or an experienced user. So don't wait any longer – start shopping now!
1. What Is a Soldering Iron?
A soldering iron is a hand-held tool used to heat metal parts to the point of melting solder onto them, forming a permanent electronic connection. It consists of an insulated handle with a metal tip that gets hot when plugged into an electrical outlet or other power source. The tip is heated by a coil surrounding it or by heating elements.
2. What Are the Different Types of Soldering Irons?
Several soldering irons are available, including corded, battery-powered, and gas-powered. Corded models typically have adjustable power settings that let you customize the temperature for various applications.
Battery-powered and gas-powered models are usually used in more industrial settings, providing greater power and heat output than corded versions. They also run off their power sources to be used in locations without an electrical outlet.
3. What Types of Materials Can Be Soldered?
Soldering can join various metals and other materials, such as copper, brass, steel, tin-based alloys, and aluminum. It is also commonly used for circuit board components and electronics. In addition, soft plastics like PVC can also be soldered if the correct type of solder is used. Finally, soldering is also used to join glass, which requires a specially formulated flux and low heat.
4. What Safety Precautions Should Be Taken When Using an Electric Soldering Iron?
Soldering tools can be dangerous if proper safety precautions are not taken. Always wear protective equipment, such as eye protection, gloves, long sleeves, and pants, when using a soldering iron.
Ensure the area you are working in is well-ventilated, and never put your face or body near the tip of the hot iron while it's hot. Additionally, always unplug the iron when not used and store it away from flammable materials. Finally, use only lead-free solder, as lead can be hazardous if ingested.
5. What Are the Best Practices for Soldering?
Following some essential best practices is necessary to ensure a successful soldering job. Before beginning, ensure the area is clean and dirt-free, and all components to be joined are free from oxidation.
When using the soldering iron, always heat the part first and apply the solder thereafter to avoid cold joints. Finally, keeping the soldering iron tip of the iron clean is essential, and never use too much solder, as this can lead to a weak connection. Following these best practices will help ensure that your soldering job is successful.
6. Is an Electrical Soldering Iron Better for Melting Solder than Cordless Irons?
Yes, an electric soldering iron is generally better than a cordless hot soldering iron for melting solder. This is because electrical soldering irons can reach higher temperatures more quickly and maintain them more efficiently, which makes them better suited for melting solder.
Additionally, electrical soldering irons are often more precise and more accessible to control than cordless irons, making it easier to achieve the desired results when soldering.
7. What Type of Soldering Equipment Is Available with Soldering Stations?
Soldering stations typically include a soldering iron, a soldering tip, a soldering stand, a soldering sponge, and a soldering flux. Some stations may also include a soldering gun, a soldering torch, a soldering wire, and a solder sucker. Each piece of equipment serves a different purpose but is necessary for successful soldering.
The soldering iron is used to heat the metal pieces to be joined, the soldering tip is used to direct the heat, the soldering stand is used to keep the soldering iron in place, the soldering sponge is used to wipe away any excess solder, and the soldering flux is used to prevent oxidation of the metal pieces.
8. Why Won't Solder Iron Melt Solder?
Soldering irons are designed to generate heat, not melt solder. Solder melts when heated to a specific temperature, usually between 370°F and 410°F (188°C and 210°C).
The soldering iron is used to apply heat to the solder joint, which melts the solder and allows it to flow freely and form a strong bond. If the temperature of the soldering iron is too low, it won't be hot enough to melt the solder, and if it's too high, it can damage the components you're trying to solder.
9. What Is the Difference Between Soldering Guns and Soldering Irons?
Soldering guns are typically used for larger projects like electrical wiring and automotive repairs. They are more potent than soldering irons and usually have a trigger that you can press to activate the heat.
Soldering irons are commonly used for smaller projects, such as jewelry making and electronics repair. They are more precise and have a smaller tip for more intricate work.
10. Do I Need a Soldering Island Stand?
It depends on the type of soldering work you plan to do. A soldering island stand is helpful if you plan to do a lot of soldering, as it provides a stable and comfortable work surface. It can also help protect your work area from the heat generated by the soldering iron. If you are doing occasional soldering, a soldering island stand is unnecessary.
Final Thoughts About Soldering Iron
Soldering irons are a handy tool for a variety of tasks. Whether fixing electronics, creating jewelry, or even doing DIY projects around the house, soldering irons can make your life easier and help get the job done quickly and efficiently.
When choosing a soldering iron, it's essential to consider what type is best for your needs - from budget-friendly options with basic features to more expensive models that offer better performance and outstanding durability. With all this in mind, we hope our guide has helped you decide which model will work best for your project!
Thank you for reading!
Your friend,
Todd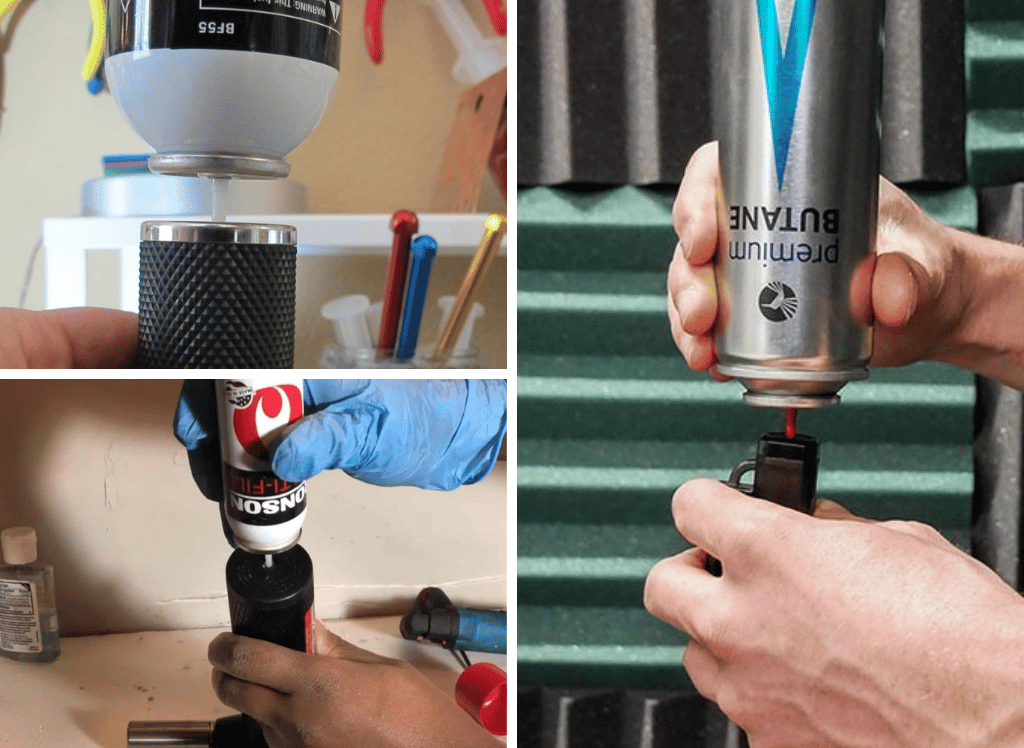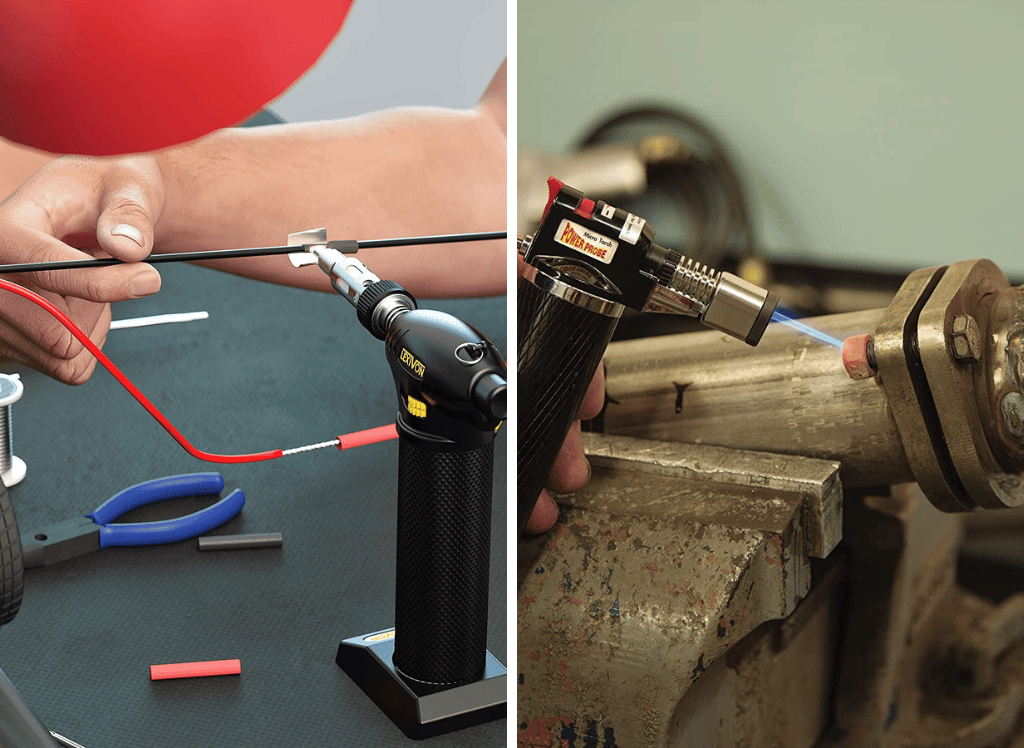 If you are interested in entertainment while you shop, you can get a 30-day free trial of Amazon Prime Music or listen to your favorite audiobook with Two Free Audiobooks from Audible Plus! Additionally, if you want to take advantage of 2-day shipping, try Amazon Family 30-day Trial.
Are you looking for the best products? We've got you covered! Our editors independently selected each item on this list. Mechanicaddicts may collect a share of sales or other compensation (at no cost to you) from links found within these pages if they choose to buy something (that's how we stay in business); as an Amazon Associate, we earn from qualifying purchases. Reviews have been edited for length and clarity; enjoy finding your next favorite thing today!