Pull Your Way Out of Trouble with a Tow Strap
Stuck in a rut? Get yourself out of a jam with one of these six tow straps! Whether stuck in a ditch, mud, or snow, these tow straps will get you back on the road in no time!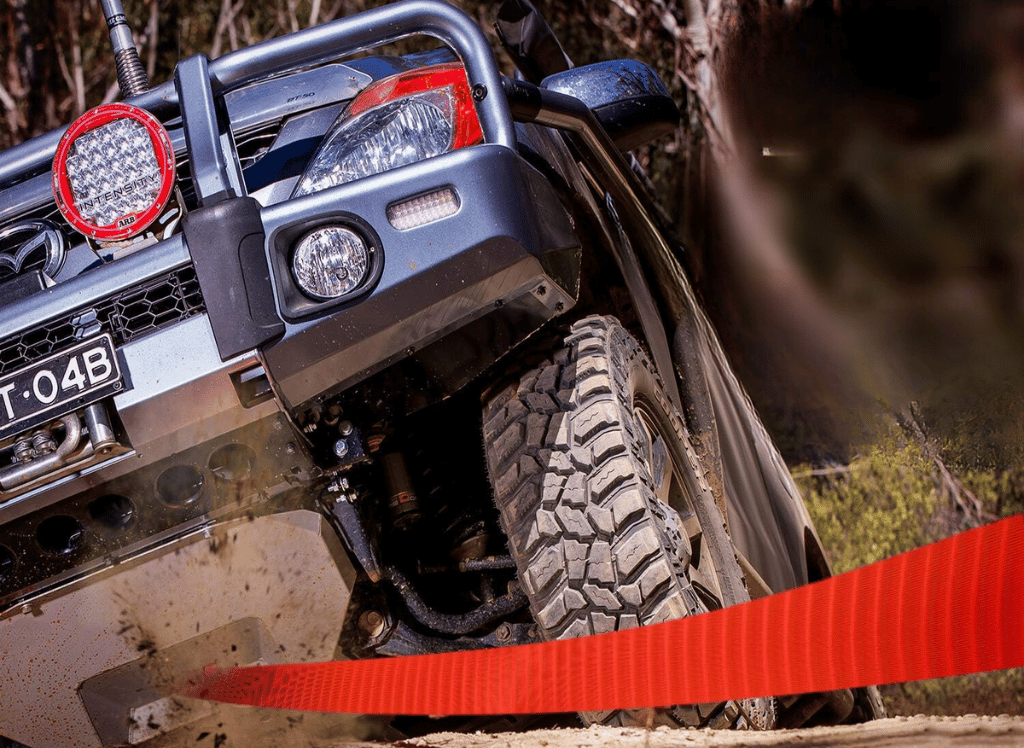 The heavy-duty tow straps are typically made from webbing, nylon, or polyester. These straps are designed to provide strength and stability when used for towing. They are often used in off-roading, automotive, and hauling applications to secure cargo or vehicles during transit.
Tow straps have a variety of applications, including towing vehicles, boats, trailers, and other heavy items. They can also be used for recovery purposes in off-roading situations or to secure a piece of cargo during transport.
---
Why We Like These Tow Straps
The Miolle Tow Strap is an extra durable, water-resistant polyester webbing strap of the highest quality material. It has a lift capacity of up to 30,000 lb (20000 lbs for some vehicles) and can be used as a pallet puller strap, lift sling, or tree saver in various applications such as boats, trucks, or ATVs.
The tow rope comes with two common fit 3/4 screw pin D-Ring loop shackles rated WLL 10450 lbs with a safety factor of 4:1 and breaking at 41 800LBS. In emergencies, this tow rope offers confidence that you will no longer be stranded and provides protection with its lifetime warranty guarantee.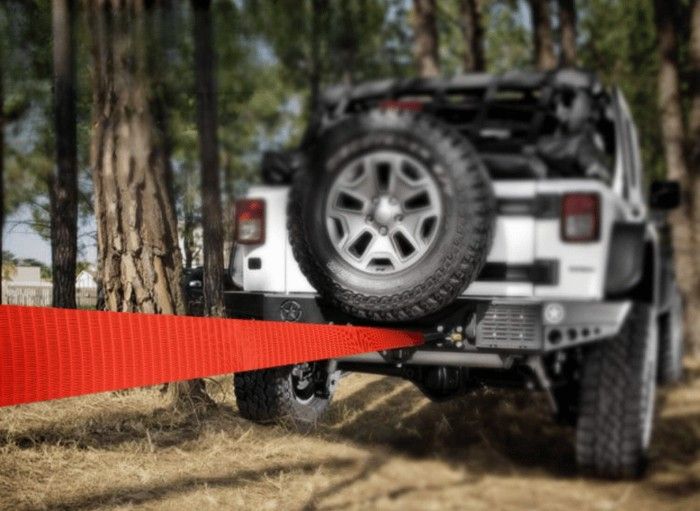 About this item:
Size: 3inch x 20ft
Material: Polyester
Color: Red
Brand: Miolle
Vehicle Service Type: SUV, VAN, TRUCK, SEDAN, UTV, ATV, Snowmobile
---
Why We Like These Tow Straps
The Rhino USA Recovery Tow Strap is incredibly reliable, rugged off-road equipment that provides exceptional peace of mind. It is crafted with heavy-duty poly/silk webbing and reinforced triple loop ends for maximum durability, supporting up to 31,518 lbs of breaking strength.
In addition, this recovery tow strap includes a drawstring carrying bag so you can keep all your vehicle accessories in one place. Best of all, every purchase comes backed by our lifetime warranty – if it ever rips or tears, we'll replace it free of charge! Keep your ATV, UTV, or Jeep secure on the toughest adventures with the Rhino USA Recovery Tow Strap.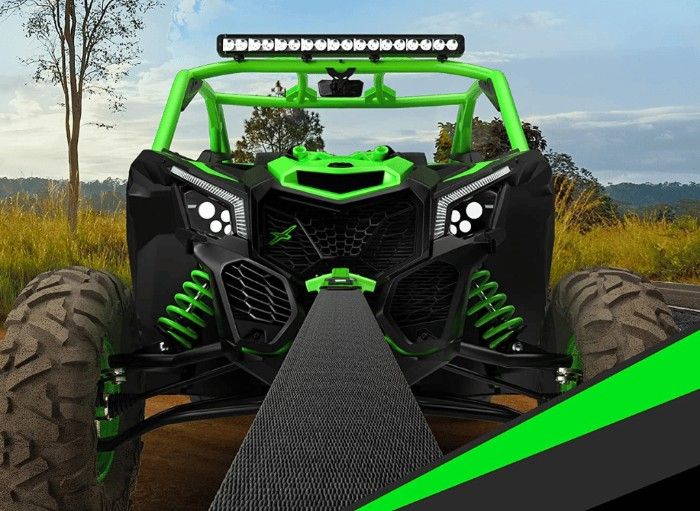 About this item:
Size: 3in x 20ft
Material: Exclusive PolyBlend Webbing
Color: Black
Brand: Rhino USA
Vehicle Service Type: Ultimate Sticker Pack Included (5 Rhino Stickers), Unlimited Lifetime Warranty Included
---
Why We Like These Tow Straps
The HORUSDY Nylon Heavy Duty Tow Strap is perfect for off-roaders, emergency personnel, and farmers who need to haul heavy items. With a breaking strength of 32,000 lbs and a total length of 30 feet, this strap provides reliable traction that lets you quickly remove fallen trees or debris in an emergency and recover a vehicle, whether in the city or country.
The 3/4 D Rings Shackles (2pcs) offer extra support and durability, while the reinforced double web ring ends ensure the belt can handle high tension without wearing out too soon. This tough tool will make your off-roading trips easier and safer!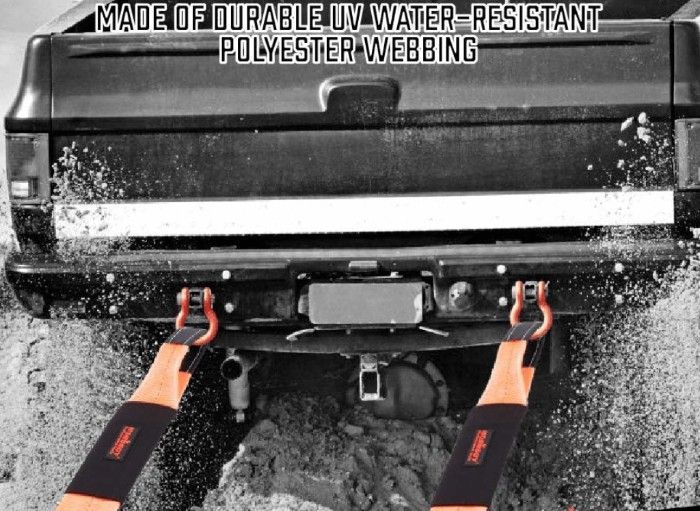 About this item:
Size: 3" x 30Ft
Material: Polyester
Color: Orange
Brand: HORUSDY
Vehicle Service Type: Universal
---
Why We Like These Tow Straps
SPIRANTHES Tow Strap Recovery Strap Kit 4-in-1 Vehicle Recovery Product is a versatile and comprehensive tool for emergency vehicle recovery. It includes a tow strap, recovery rope, tree saver strap, and winch extension strap, all stored neatly in a convenient storage bag.
Additionally, it comes with an important bundle of kits to increase effectiveness during recoveries. This vital kit contains two highly-rated bow shackles for any successful recovery mission. No permission is needed; get your tow strap today!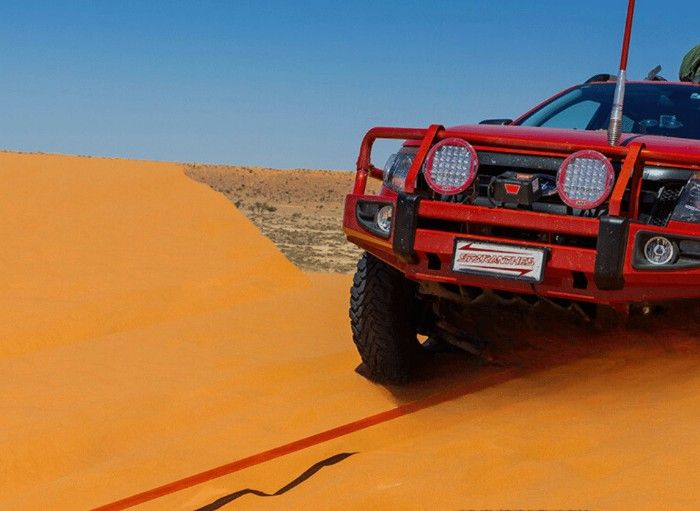 About this item:
Material: Nylon
Color: Orange 3 IN X 30 FT with Shackles
Brand: SPIRANTHES
Fastener Material: Stainless Steel
Number of Pieces: 2
---
Why We Like These Tow Straps
Rocket Straps Tow Strap is the perfect choice for reliable and secure towing solutions. Our tow straps, developed by an American family-owned business, provide superior strength and durability in even the most demanding towing applications.
Made from high-quality materials and featuring a straightforward design that makes it easy to attach or remove, this product is backed with Rocket Straps Limited Lifetime Warranty so that you can be confident in its performance. No matter what your cargo needs are, trust Rocket Straps Tow Strap to get the job done safely and securely every time.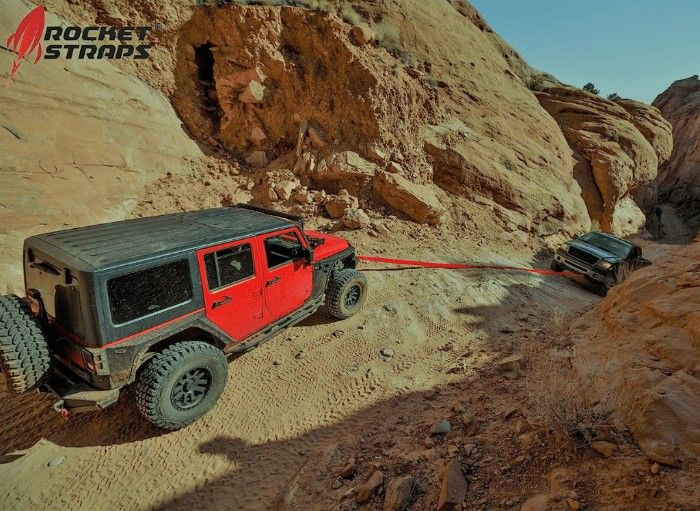 About this item:
Size: 3" x 30'
Material: Polyester
Color: Red
Brand: Rocket Straps
Vehicle Service Type: Passenger Car, Truck, Trailer
---
Why We Like These Tow Straps
The Motormic Recovery Tow Strap is essential for serious off-roaders, emergency personnel, and those who need access and haul heavy objects. Its enormous lab-tested strength of 41,455lbs (20.7 tons) makes it resilient enough to handle the toughest tasks with ease—and its generous 30 feet in length and 3-inch width helps offer extra safety measures so that drivers can avoid any collisions during the recovery process.
The large double web loop ends are well padded and reinforced, so you know your strap will not suffer damage in harsh conditions. Plus, with our dedicated customer service team always at hand, you can access the http server with your concerns and trust us when handling any situation quickly! And after use? Roll back up again for easy storage that won't take up much space, either!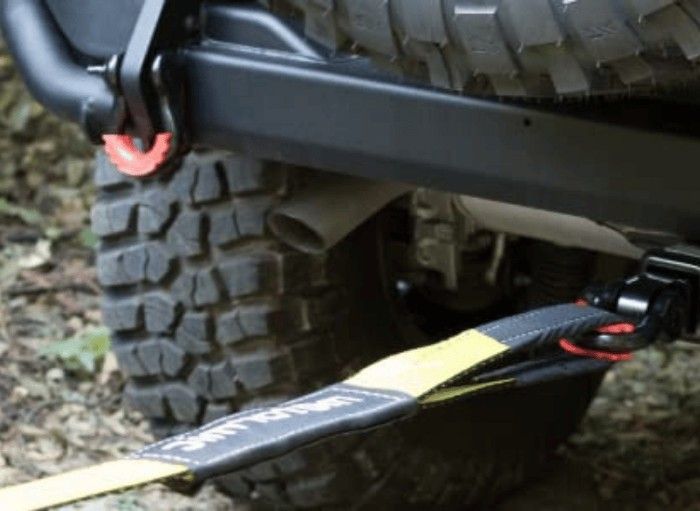 About this item:
Size: Large
Material: Polyester
Color: Tow Strap
Brand: motoric
Vehicle Service Type: Truck
---
Final Thoughts About Tow Strap
Tow straps are essential for any driver who needs to tow a vehicle. They offer extra security and peace of mind if an emergency occurs while you're on the road. At Tow Strap, we provide high-quality tow straps at competitive prices so everyone can access reliable safety products.
Kinetic energy recovery straps with reinforced eyes are designed to stretch when pulling a vehicle from the mud. Whether you need a basic strap or something more advanced with additional features, our selection has something for every type of driver. With fast shipping and easy returns available, there's no reason not to protect yourself when it matters most!
Thank you for reading!
Your friend,
Todd
Are you looking for the best products? We've got you covered! Our editors independently selected each item on this list. Mechanicaddicts may collect a share of sales or other compensation (at no cost to you) from links found within these pages if they choose to buy something (that's how we stay in business); as an Amazon Associate, we earn from qualifying purchases. Reviews have been edited for length and clarity; enjoy finding your next favorite thing today!